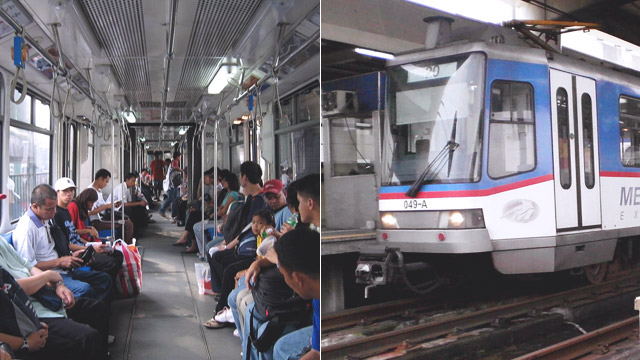 In case you missed it, the MRT-3 had to offload passengers between GMA-Kamuning and Araneta-Cubao stations due to "a reported smoke emission" near one of its doors on January 26 at 1:42 p.m.
A video shared by Inquirer.net on Facebook showed passengers walking along the tracks:
CONTINUE READING BELOW
Recommended Videos
ADVERTISEMENT - CONTINUE READING BELOW
According to initial reports, the smoke may have come from "electronic components under the seats." Due to this, passengers from Taft Avenue to Shaw Boulevard will experience limited and intermittent services.
Sadly, MRT-3 incidents like this are nothing new. In fact, Inquirer.net reports that the railway system broke down more than 500 times in 2017.
Basically, the meme is true: "Sasakay kang empleyado, bababa kang mandirigma." If you're to survive riding the MRT-3, then you must always remember the following:
1. Bring an umbrella, a mini-fan, and a small bottle of water.
This is just the pre-game because you'll probably have to wait for a really long time in line if you're boarding during rush hour. If you're starting from North Avenue Station, make sure you have your umbrella ready since the queue can possibly snake up to the overpass, and you'd want to protect yourself from both sunlight and rain.
ADVERTISEMENT - CONTINUE READING BELOW
2. Wear flats that cover your toes.
Better yet, wear sneakers and just change into your work shoes in the office as there's a huge probability that someone will step on your newly-pedicured nails. High heels are a definite no-no since you'll be standing for quite some time—and you wouldn't want to ruin your takong walking along the tracks in case the train bogs down.
3. Make sure your bag is zipped up and resting in front of you.
If you're wearing a cross-over bag, then by golly, cross it over your body. Don't sling it over one shoulder because once you get squeezed into a car, your bag will get smooshed behind you and you'll have to quickly pull it in lest it be left hanging outside once the doors close. No one wants a snapped bag strap, and no one wants to lose a purse.
ADVERTISEMENT - CONTINUE READING BELOW
4. Practice strength training.
Do those push-ups, ladies. Arm power is required if you're going to reach out for those overhead handles or far-away bars (that some people insist on leaning on). Core strength is also needed if you want to keep yourself from toppling over people when the train suddenly skids to a halt.
5. Practice vocalization.
A powerful voice will come in handy if ever someone gropes you in line or flashes you their thing in the mixed gender car. It does happen, and you'll need your vocal prowess to scream "Manyak!"
6. Do not forget your earphones.
When the gods of music created earphones, they probably foresaw that Pinays will rely on them so much during their daily MRT-3 struggle. Earphones can definitely help entertain you while in line and keep you calm during the ride. You'll forget your loss of personal space, and those long, unforgiving minutes as you slowly roll from North Avenue to Ayala will feel like seconds when you're listening to your favorite tunes.
ADVERTISEMENT - CONTINUE READING BELOW
7. Bring wet tissue.
Forget wearing makeup if you're planning to take the MRT-3 because by the end of your journey, you'll be totally hulas. Bring wet tissue instead so that you can easily freshen up once you get off the train.
8. Pack a lot of patience.
Probably the most important thing on the list, patience will keep you sane when riding the MRT-3. You'll need to be patient with the long lines, the MRT staff, your co-passengers, and the train itself. When you feel yourself losing your cool, go to your happy place and remember that you're not alone—the eight people shoved against your ribs, thighs, and face are also looking for Zen, after all.
Comments
Load More Stories