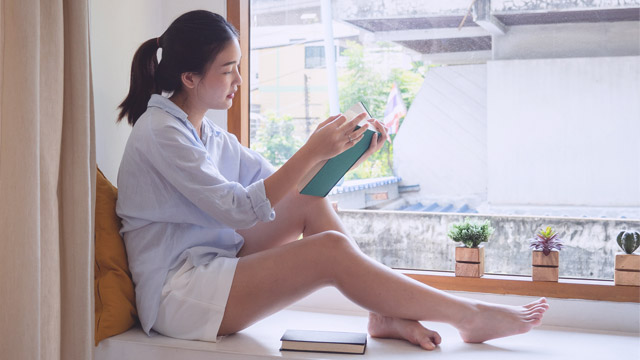 When something huge happens in your life, whether good or bad, there's always the urge to rearrange things at home. You'll probably need to throw out a few items that remind you of a bad breakup, or maybe you want to get better fixtures now that you finally got promoted.
ADVERTISEMENT - CONTINUE READING BELOW
Whatever your reason is, giving your personal space a fresh start needs a bit of work. To help you out, here's a compilation of a few must-dos that can help you achieve balance and light at home. Since it's your special retreat, it's very important that you keep it welcoming and comfortable. So wipe the slate clean, clear your mind, and get ready good things and positivity with these handy tips:
1. Make a list of plans and goals.
What do you hope to accomplish? Are there new appliances you plan to purchase? Have you been thinking about getting a new set of furniture? These are just some of the questions you can ask yourself. List all of your goals and set a timeline for each. Doing so can motivate you to see each goal through—from the first stages, down to the last step.
Aside from making plans for your space, don't forget to squeeze in some personal goals. Prepare a bucket list—with places you want to visit, new hobbies you want to take on, and even your target savings.
CONTINUE READING BELOW
Recommended Videos
2. Revamp an area at home.
Giving your space a makeover doesn't have to involve buying new things or painting the whole house. See if there are some things you can rearrange or if you can go for an entirely different layout. Move chairs around and see if you can lessen your decor. Set up a vignette of books, accessories, and scented candles for a quick update.
Working with a budget? New pillows and curtains can breathe life into a boring area without burning a hole through your pocket. You may want to get sheer curtains to let natural light into your space as well or work with bold and lively pillow covers to add some zest to your home.
3. Start a healthy habit.
Believe it or not, regular decluttering can do you and your space good. Aside from helping avoid a cramped home, it teaches you to let go of things you no longer use or need, too. You can even touch the lives of others by donating some of your pre-loved items to orphanages and charities.
ADVERTISEMENT - CONTINUE READING BELOW
4. Pick up a new hobby.
Tired of lazy afternoons? Aside from getting enough rest to help your body recharge, you may also want to learn new skills and discover hobbies that would allow you to create and have fun. Do you love plants and crafts? Why not create a succulent wreath or a terrarium? You can also check out different Youtube channels for easy tutorials, step-by-step hacks, and other fun must-dos that can help you prettify the home.
5. Carve out special corners where you can enjoy things you love.
Whether it's a reading nook, a coffee corner, or a tea station—have fun decorating your own personal spot. This area adds personality to space while giving you a nook where you can simply enjoy and take a breather.
6. Invest in new pieces.
If your budget permits, you may want to reward yourself with a new accent chair or even a sofa. This newest addition to your space can instantly serve as a focal point while adding pizzazz to your home. Keep in mind that you don't need to go all out at once when buying new items. You can start small with interesting tabletop decor, whimsical wall art, and even new frames for your photographs on display.
ADVERTISEMENT - CONTINUE READING BELOW
7. Believe in the power of plants.
Tough week at work? A few green wonders—on top of a shelf or a table can instantly freshen up the senses and renew your spirit. If you have a balcony or a small space outside where you can set up a mini oasis, you may care for a few plants and blooms. Indoor plants can also work well in the living area or kitchen. The possibilities are endless as long as you're ready to have fun and experiment.
8. Fill it with the things you love.
Your home must be a personal haven that reflects the things you love and enjoy. Double up the warmth and make your space truly execeptional by using your favorite things as accent pieces. A shelf of books can liven up the living area, a collection of plates and other dinnerware can add character to your kitchen and dining areas, and framed photographs can turn plain walls into an interesting and lovely focal point. Those who love collecting vinyl toys and other figurines can use these to spruce up side tables or complete different vignettes.
ADVERTISEMENT - CONTINUE READING BELOW
This story originally appeared on RealLiving.com.ph.
*Minor edits have been made by FemaleNetwork.com editors.
Load More Stories