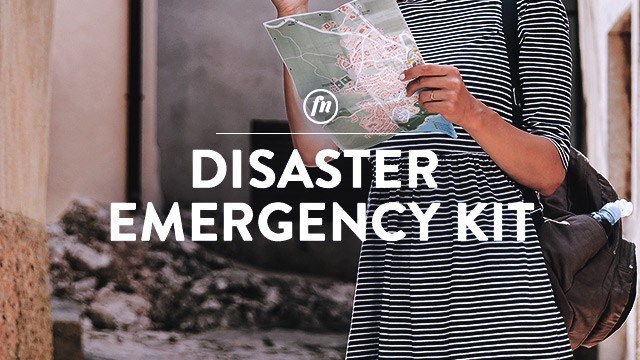 The Philippines is no stranger to natural disasters, which only highlights the need for each of us to always be prepared for anything. Aside from memorizing the duck-cover-hold technique the MMDA reiterates every time it instigates a Metro-wide shake drill and paying attention to those rainfall alert messages that NDRRMC sends everytime a storm hits, it's also important to remember that having an emergency kit is as important as knowing what to do during a natural disaster.
ADVERTISEMENT - CONTINUE READING BELOW
The Philippine Red Cross shares a list of things that should be in your kit to help increase the possibility of survival for five people within 72 hours prior to rescue: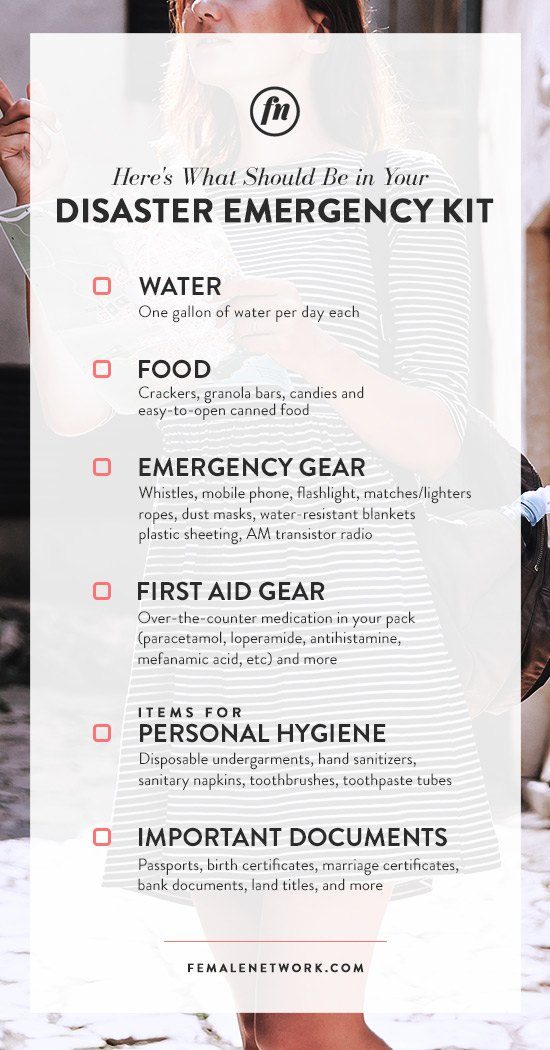 Water
While you can technically go on without food for weeks, water is a different story. According to research featured on Business Insider, the most that a person can survive without water is around three to four days, with seven being the extreme maximum. Water is needed for the body to lubricate organs and to help flush out waste: without it, you overheat, and worse, your blood volume drops.
If you're a group of five, each person has to have at least one gallon of water per day. Potable water should be placed in clean and airtight containers and kept in safe areas of your home, your office, or even in your vehicle's trunk.
Food
It's important to pack food that won't easily spoil and doesn't need to be cooked. Crackers, granola bars, and easy-to-open canned food are your best bet. It's also important to pack candies to avoid hypoglycemia, or blood sugar drop.
Emergency Gear
This goes beyond having a handy multi-purpose knife in your pocket. Your emergency gear should include items that will help identify you, as well as make it easier for rescuers to find you. Laminated IDs with complete contact details is a must especially for children and senior citizens in case of separation. A laminated list of emergency numbers (such as Red Cross 143 and NDRRMC 911-5061 to 65) should also be printed out and laminated for all. Other items to be included are:
ADVERTISEMENT - CONTINUE READING BELOW
Whistles (to help call attention to your location)
Basic mobile phones with long battery life
Flashlight (self-powered preferred, but if not, bring extra batteries)
Matches/Lighters
Light sources (rechargeable lamps and candles)
Ropes (per Red Cross PH, avoid nylon ropes)
Dust masks
Warm, water-resistant blankets
Plastic Sheeting (which can be used as a raincoat or to cover important items)
AM Transistor Radio
First Aid Gear
Should it come to a point that you or a companion gets injured or sick, make sure to include over-the-counter medication in your pack (paracetamol, loperamide, antihistamine, mefanamic acid, etc), as well as prescribed medication for specific health issues. The Philippine Red Cross also enumerates the following items that should be in your kit:
1 Adhesive Strip
1 Hypo - Allergenic medical tape 1.25cm x 9.1m
1 Conforming Bandage 5cm
1 Triangular Bandage 110cm x 110cm
1 Wound Dressing
2 Swabs Antiseptic
1 Tweezers metal 8cm
1 Scissors disposable
1 Safety pin pack - assorted
2 Plastic Bags - resealable (100 X 180 mm and 150 x 230 mm)
2 Pairs of Gloves - disposable
1 First Aid Quick Reference Guide
ADVERTISEMENT - CONTINUE READING BELOW
Items for Personal Hygiene
Disposable undergarments, hand sanitizers, sanitary napkins, toothbrushes, toothpaste tubes, and the like should also be in your kit. Pack in warm clothes as well should an emergency occur at the height of the rainy season or during cooler months.
Important Documents
All your important documents should be placed in one resealable and water-resistant plastic bag which can easily be carried with you during emergencies. This should include passports, birth certificates, marriage certificates, bank documents, land titles, and the like.
It's important to have these items in an easy-to-carry knapsack. To be sure, your home, your office, and your vehicle should each have an emergency knapsack so that you're always ready should an emergency arise. If you regularly commute and can't always have your full pack with you, you can always create smaller emergency kits, which you can bring around in your purse. For example, you can have a small bottle of water, a pack of crackers, a whistle, a flashlight, a pack of medication, and bandages to tide you through in case a natural disaster happens while you're on the street.
ADVERTISEMENT - CONTINUE READING BELOW
Remember that it's not about being praning. It's about being prepared. The more you are aware of what you can be capable of during emergencies, the higher the chances that you can successfully get through it unscathed.
For more information on creating your kits and on being trained to act accordingly during natural disasters, visit the Philippine Red Cross.
Sources: Philippine Red Cross, NDRRMC, DOST, Ready.gov, Business Insider
Load More Stories