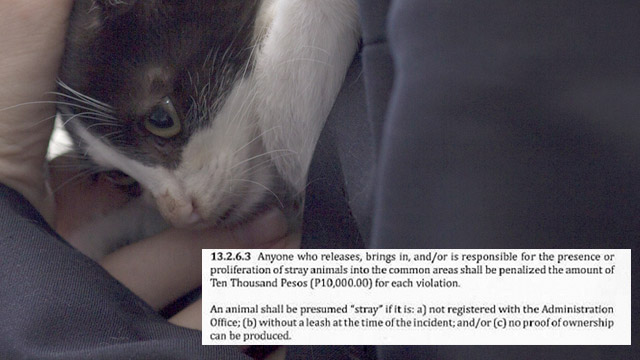 In February 2018, Shangri-La at the Fort came under fire after it was found that its administration hired a pest control company to remove the area's community cats, most of which have been already been spayed and neutered and were under the care of volunteers.
ADVERTISEMENT - CONTINUE READING BELOW
This month, in another part of BGC, complaints have been mounting against a policy of condominium Two Serendra, which fines unit owners up to P10,000 when seen feeding or interacting with community cats. A Facebook post on Carla Bianca Dado's account written by unit owner Jem Lim brought the issue to the public's attention. The writer explained that neutered and spayed felines in the building's green area are actually beneficial in the long run, as they provide natural rodent control and keep other feral cats from entering their territory. 
CONTINUE READING BELOW
Recommended Videos
The post also cited that a memo was recently issued to homeowners of Two Serendra, which said ''The Council shall have the right to surrender the animal to the Barangay Fort Bonifacio Taguig for impounding."
"The Taguig pound is neither trained nor prepared to handle CATS," continued the post. "The last time they impounded the Serendra cats, we were told they were going to be euthanized in three months' time. Imagine the stress it created for us. These were all SPAYED AND NEUTERED cats."
ADVERTISEMENT - CONTINUE READING BELOW
Female Network has managed to contact several concerned unit owners to give a clear time line of what has been going on with the community cats of Two Serendra. Here's what we found:
2011
CARA (Compassion and Responsibility for Animals) Welfare Philippines signed a Memorandum of Agreement (MOA) with the District One Council of Serendra Condominium Corporation.
ADVERTISEMENT - CONTINUE READING BELOW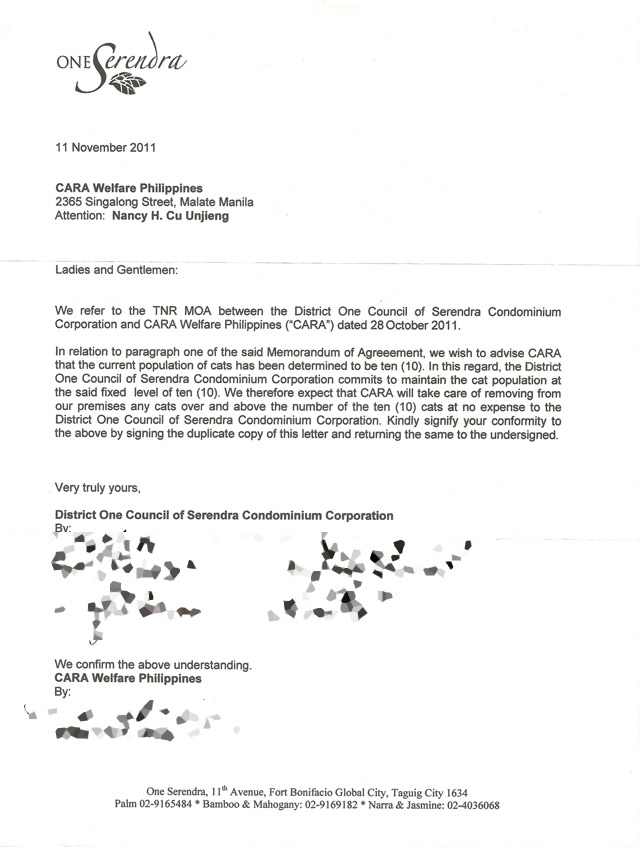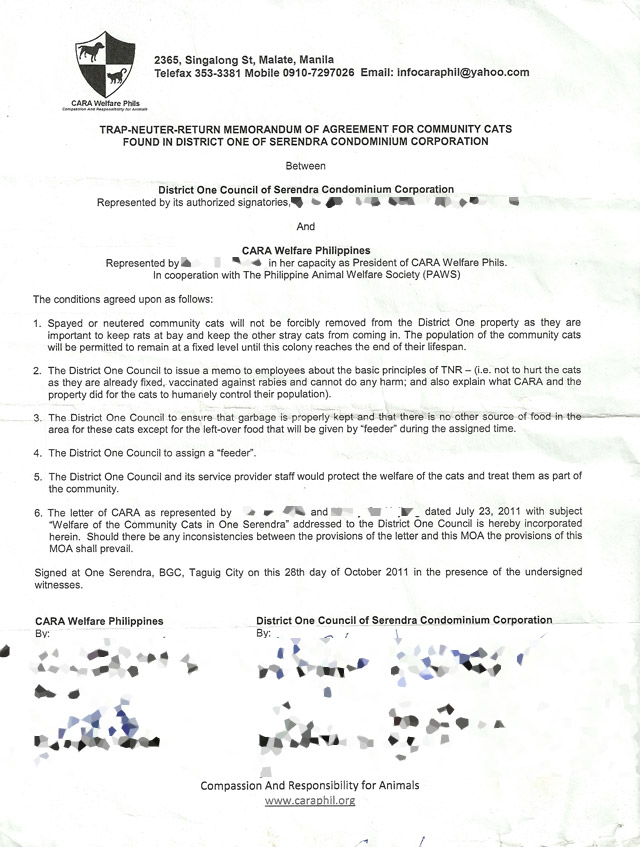 ADVERTISEMENT - CONTINUE READING BELOW
2013
CARA Welfare Philippines signed a Memorandum of Agreement with the District Two Council of Serendra Condominium Corporation, similar to that of District One's.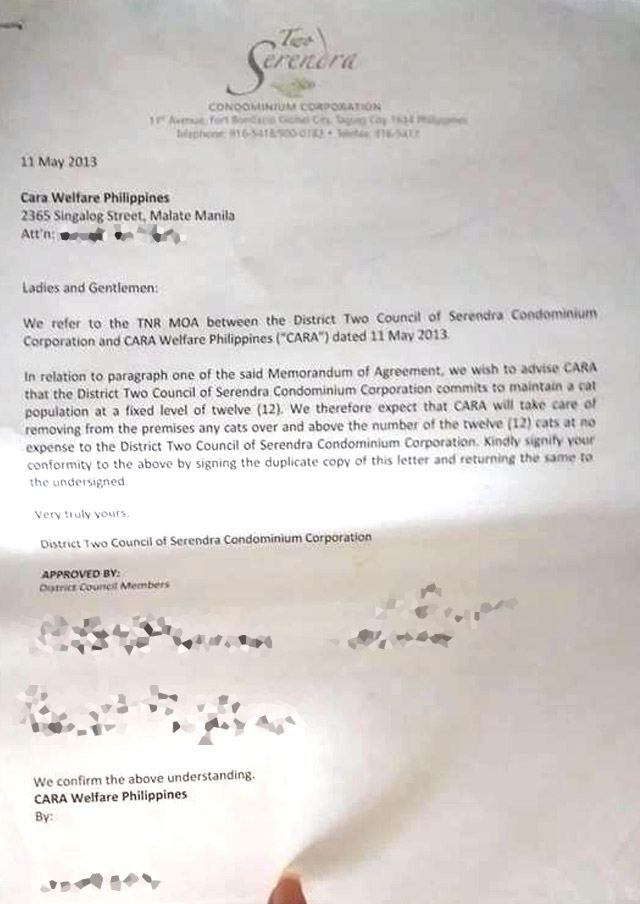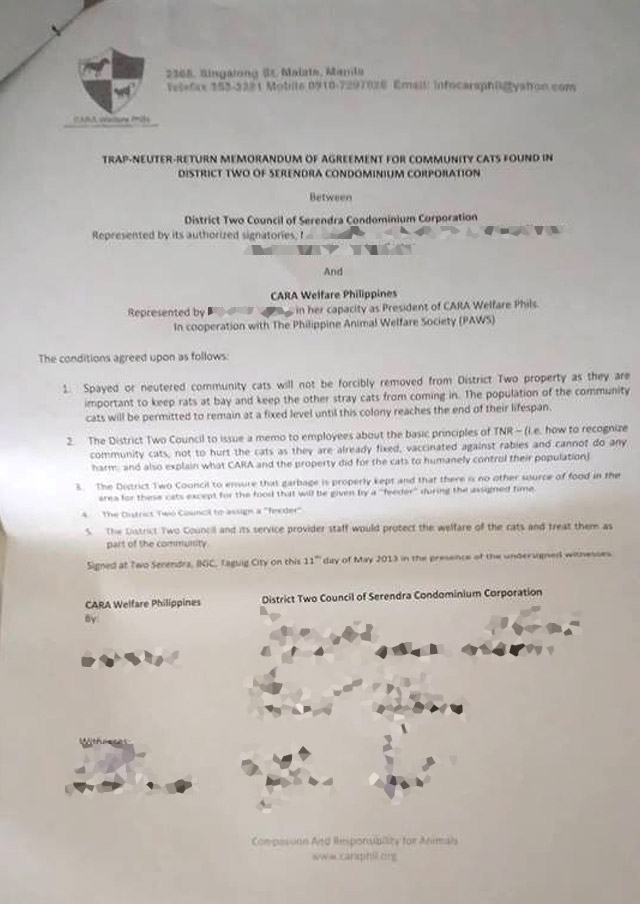 ADVERTISEMENT - CONTINUE READING BELOW
Part of the MOA of the District Two Council noted that: "Spayed or neutered cats will not be forcibly removed from District Two property as they are important to keep rats at bay and keep other stray cats from coming in." It also stipulated that District Two employees should be educated about "the basic principles of TNR (i.e. how to recognize community cats, not to hurt the cats as they are already fixed, vaccinated against rabies and cannot do any harm…)".
January 2017*
Without prior notice, Serendra's maintenance group started collecting community cats. Thirteen were brought to the Taguig City pound. When concerned homeowners found them after two-and-a-half months, some have already wasted away. The remaining were huddled in cages with dogs.
Seven cats survived the ordeal.
[*Female Network originally posted that the collection happened in January 2016. Our sources updated us and noted that it happened in January 2017.]
ADVERTISEMENT - CONTINUE READING BELOW
August 2018
Patrons of several feline-friendly Serendra restaurants started complaining about the community cats. These cats usually stay in the green area near the entrance of Two Serendra.
Serendra's management began putting up signs.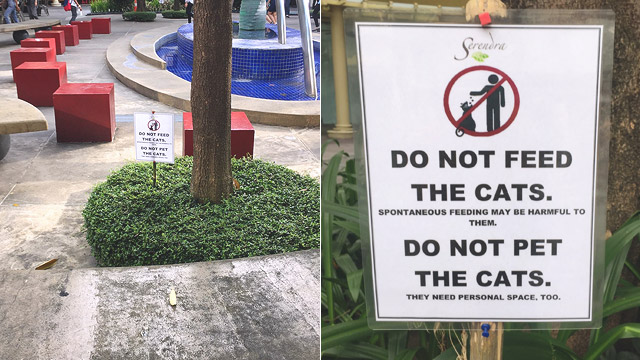 Our sources note however, that the phrase "spontaneous feeding" alludes to the idea that there already are volunteers feeding the cats, when there has been no communication between CARA or the Cats of BGC and Serendra.
ADVERTISEMENT - CONTINUE READING BELOW
On August 8, Two Serendra Condominium's administration released a memo forbidding its residents from feeding community cats.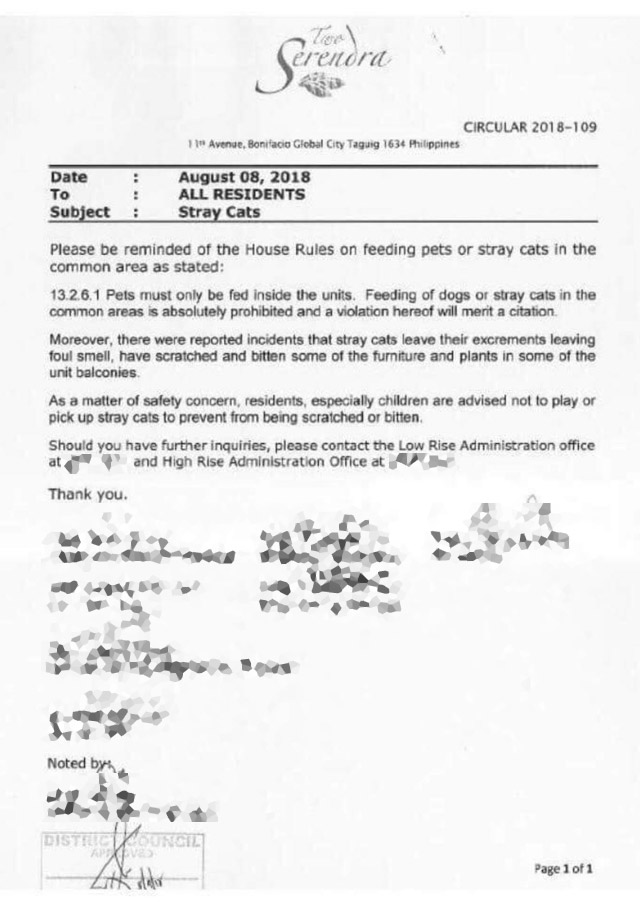 On August 28, Serendra's management also released a memo citing that "merchants whose employees/customers are seen feeding stray animal/s" will be fined P1,000 per animal. "Succeeding violation penalty thereafter shall be doubled."
ADVERTISEMENT - CONTINUE READING BELOW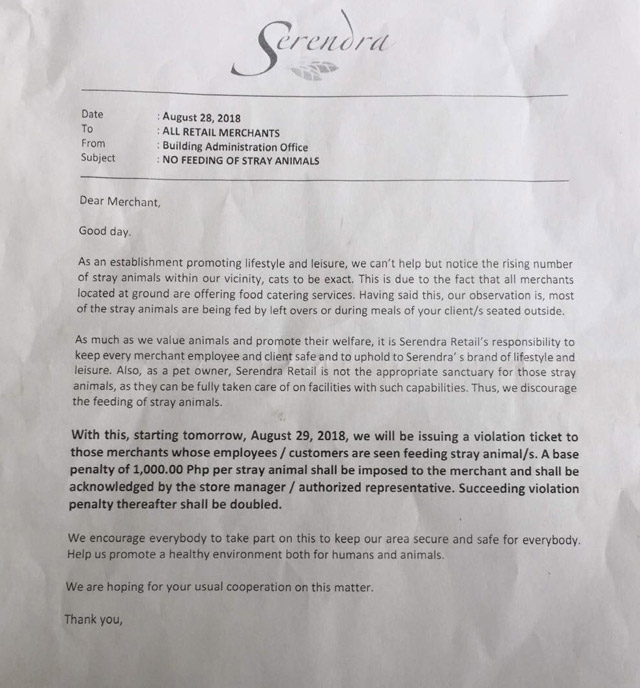 Two Serendra tenants and unit owners caring for the community cats were also fined: the first offense merited a written citation. The second offence, a fine of P1,000; the third, P5,000, and the fourth, P10,000.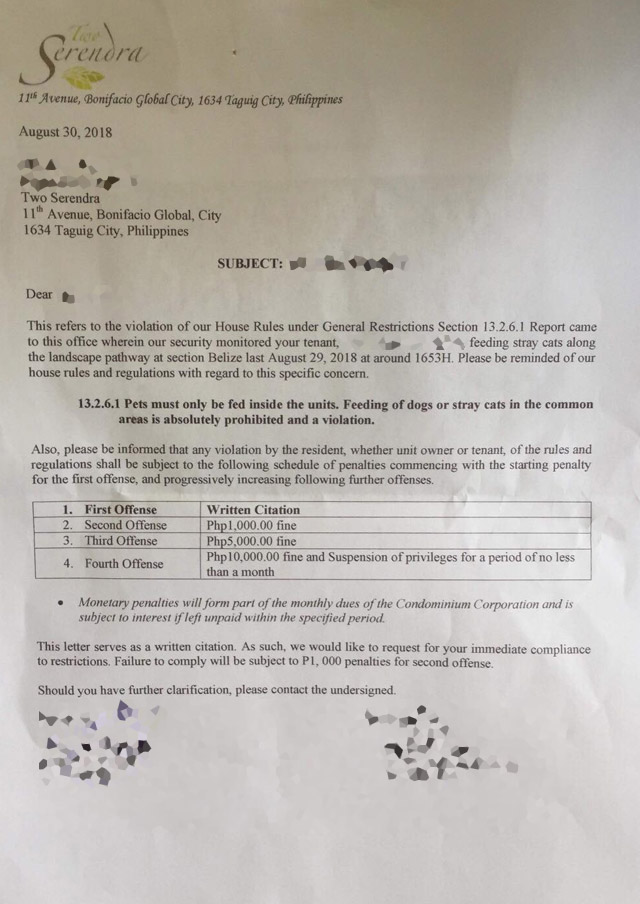 ADVERTISEMENT - CONTINUE READING BELOW
September 2018
Animal advocates who have been shelling out money to neuter and spay community cats have reportedly been having a hard time returning the felines to the area. On September 6, Two Serendra's administration released another memo amending the house rules: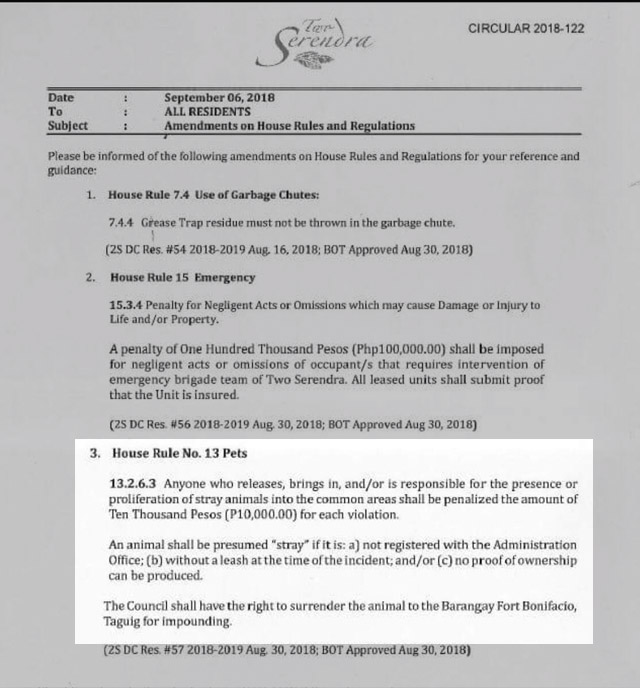 ADVERTISEMENT - CONTINUE READING BELOW
Two Serendra requires registering pets of unit owners for a fee of P1,000 per animal. One concerned unit owner noted, "'Pag hindi registered (you pay them 1k) eh considered 'stray'?"
Currently, animal advocates who live in Two Serendra have been trying to reach out to the condominium's administration with the help of CARA. The administration has recommended that the homeowners talk to their lawyer.
Female Network has also requested for a statement from the administration of Two Serendra prior to the publishing of this article; however, no feedback has been received.
Online reactions
Animal activists such as Erick Sioco Javier have begun posting about the issue. He wrote on Facebook that "Removal of the cats might have already started. One witness saw a cleaner picking up a kitten and putting it in a plastic bag."
ADVERTISEMENT - CONTINUE READING BELOW
Facebook page Cats of Manila also posted about Two Serendra:
Reactions from the public were varied, but most were appalled, and people have begun leaving negative ratings on Serendra's Facebook page:
ADVERTISEMENT - CONTINUE READING BELOW
ADVERTISEMENT - CONTINUE READING BELOW
What you can do
Whether or not you live in Two Serendra, you can still help by fostering and adopting community cats featured on the Cats of BGC Facebook page. They have felines that urgently need to be rehomed.
Comments
Load More Stories