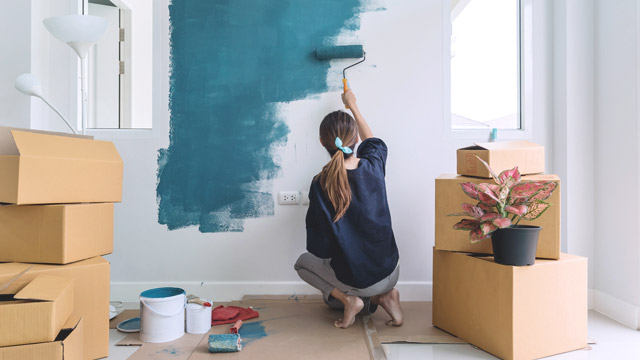 If you think that a room renovation will cost you an arm and a leg, be assured that this is not always the case. Sometimes, all your house needs is a little maintenance or a tiny tweak, and it will make all the difference. Here are some easy renovation jobs you can do over the weekend, all for under P1k!
ADVERTISEMENT - CONTINUE READING BELOW
1. Paint an accent wall
The cost: Colored Permacoat from Boysen Paint is P794 for 4 liters
Sometimes, you don't need to repaint an entire room. Just a single wall (choose the wall you see first upon entering) in a bold hue is enough to update a room. Color-shy? Try a deep neutral like dark gray or khaki, instead.
CONTINUE READING BELOW
Recommended Videos
2. Paint your front door
A vibrant hue (try red, peacock green, or yellow) will make your front door stand out on the street. And since you're working on your front door, why not…
ADVERTISEMENT - CONTINUE READING BELOW
3. Buy new house numbers
The cost: P140 and up per number (depends on material and size)
Are you stuck with run-of-the-mill, classic house numbers? Simple and bold stainless steel house numbers can pop out, modernize your gate, and your guests will never get lost again.
4. Switch your light bulbs to warm white
The cost: A 9-watt Warm White Bulb from Firefly costs P140
Do your interiors (and your skin) look dull 24/7? It could be the white light that you use. This weekend, change all your light bulbs to warm white, and make it LED too to save on energy.
5. Update your shower
The cost: P999 for a Cremona Telephone Shower Set
There's nothing like ho-hum showerhead that screams: "Rental!" Get a new telephone showerhead with water massage features, or a copper-finish one for a vintage vibe.
6. While you're at it, change your faucet, too
The cost: As low as P250 for a single-hole faucet
ADVERTISEMENT - CONTINUE READING BELOW
Give your bathroom's vanity countertop a quick update by replacing your old faucet with a modern one.
7. Add a shelf above your laundry area
The cost: A basic 56x36cm Besta Shelf costs P690 at Furniture Source
Installing a shelf above your washing machine will save you a lot of time in the long run—no more running back-and-forth to the utility closet just to get detergent!
8. Change your drawer handles
The cost: As low as P86 for country-style pulls
If your turned-over kitchen comes with run-of-the-mill drawer and cabinet pulls, then the quickest trick in the book is to change them. Try country-style pulls in a brushed-steel or antique-style finish.
9. Turf up your space
The cost: P90 per square foot patch (plastic)
If you have a black thumb and don't have the money to grow a vertical garden, or you don't have the outdoor space for a lawn, green up your home using artificial grass, plants, or turf. A big plus: some turf products can be hosed clean.
ADVERTISEMENT - CONTINUE READING BELOW
10. Replace your switch plates
The cost: As low as P79 per switch plate
Another clever renov move: replace your dated (and usually yellowed) light switch plates to more modern ones. Want to try a quirky look? Detach your switch plates and spray-paint them in funky colors, instead.
11. Make all your frames uniform
The cost: Varies per store and frame type, but small frames are below P100
If you want your gallery wall to have a neater, more professionally done look, then use identical picture frames for all your photos and prints (all-black, all-white, wood, etc.). The whole vignette will look more polished and cohesive.
ADVERTISEMENT - CONTINUE READING BELOW
12. Regrout the bathroom
The cost: Below P500, depending on the size of your bathroom
If you've tried to get the gunk and mold out of your bathroom grout and failed, it's high time to regrout it. The new grout will make a world of difference!
*NOTE: Prices quoted are based on the pricings at popular hardware stores in Metro Manila and may change without prior notice.
This story originally appeared on Realliving.com.ph.
* Minor edits have been made by the Femalenetwork.com editors.
Load More Stories