[UPDATED: JAN. 31, 9:56 AM] One of the biggest book sales in the world is back in the Philippines! And after successful events in Cebu and Davao, Big Bad Wolf retraces its steps back to Manila. Enjoy book-hunting for 24 hours, 11 straight days from February 22 (9 a.m.*) to March 4, 2019 at the World Trade Center in Pasay.
ADVERTISEMENT - CONTINUE READING BELOW
This year, there will be 2 million books (that's approximately 20,000 titles) for sale at 50 to 90 percent off, and best of all, entrance is free.
Since this is an all-out, no-holds-barred sale (if you attended last year's fair, this is even bigger), then you'll need to prep for battle. Here are a few things to expect and do once Big Bad Wolf's gates open.
CONTINUE READING BELOW
Recommended Videos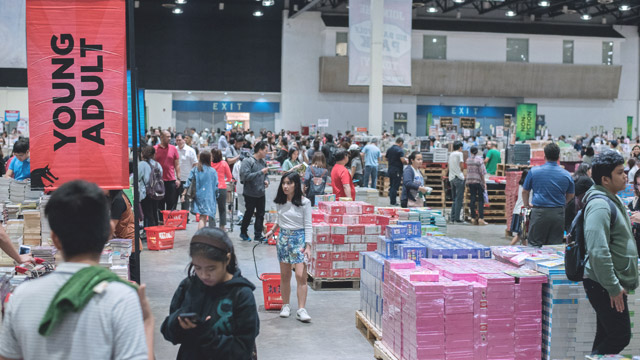 ADVERTISEMENT - CONTINUE READING BELOW
If you want to get more popular titles, drop by on the first day.
Have you been coveting the complete set of your favorite series? Or maybe are looking for a specific book you've wanted for ages? Then make sure to line up early on February 22 as popular titles tend to get sold out within the first 24 hours.
FN Tip: Big Bad Wolf is currently asking which titles you'd like to buy, so join the discussion on their Facebook page!*
ADVERTISEMENT - CONTINUE READING BELOW
Bring a trolley or a travel luggage with wheels.
It's not uncommon to run out of carts and baskets when you've got hundreds of people shopping for heavy, hard-bound books. Best to bring your own bag that you can roll--this makes it easier for you to move from one area to the next and commute home after. 
There's an area where you can stash your finds.
If you're not done shopping yet, the venue has a corner where you can put your carts and baskets for safekeeping while you do another round. (And in case you're asking, yes, people buy books by the cart.)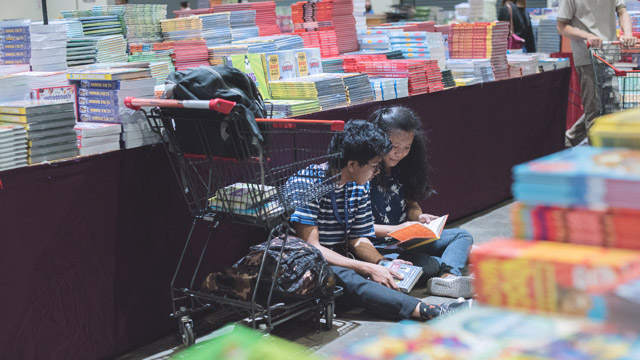 ADVERTISEMENT - CONTINUE READING BELOW
There will be other items for sale aside from books.
If you're a notebook/planner type of woman, then you'll be happy to know that they've got a huge stash of paper products you'd love to take home.
There will be food and drinks sold just outside the sale area.
The organizers added concessionaires for this year's Big Bad Wolf fair so you won't need to walk far from the premises to get a snack. Just note that you can't bring food in the sale area and that some stalls may close at certain times. 
If you don't want to line up for food, the best thing you can do is to eat prior to going, or leave snacks and drinks in your car if you're bringing one.
Set a budget.
Be warned: the urge to overspend will be great. Give yourself a spending cap. Don't get overly excited on the first day, too. Remember to take time to explore the place so you can properly plan your purchases.
ADVERTISEMENT - CONTINUE READING BELOW
For updates, visit Big Bad Wolf Philippines' Facebook page. 
*It was previously reported that the Big Bad Wolf book fair opens on February 22, midnight. The article has been updated to reflect the correct schedule as well as to add a link to the BBW discussion on book requests. 
Comments
Load More Stories