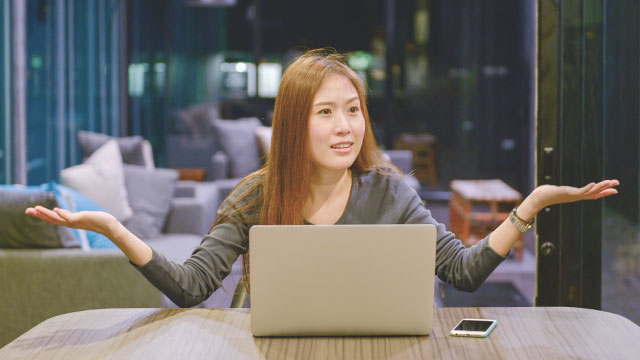 If you haven't heard of Mercury Retrograde by now, you've probably been living under a rock. The debate between its legitimacy is ongoing: science and logic explain that this period is when the planet Mercury looks like it is slowing down and going the opposite direction, but what's actually happening is that, from the Earth's perspective, Mercury is just catching up with our planet's orbit and causing this optical illusion.
ADVERTISEMENT - CONTINUE READING BELOW
Astrologers swear this cosmological occurrence can wreak havoc on your personal life, and many people will attest to it. However, just like reading your horoscopes, take this intuitive practice with some intelligent reasoning. These situations can happen no matter what happens in the stars, but when the thrice-a-year Mercury Retrograde period comes around, you can just be extra careful anyway!
CONTINUE READING BELOW
Recommended Videos
1. Following Waze while you drive and hearing her say you're in one place, when you're really somewhere two blocks away
In Roman mythology, Mercury is the messenger of the gods. He governs communication and travel, which, in this day and age, involves what most of our apps are supposed to do for us. It's not uncommon for Waze to get confused when you're on the road, especially when you're somewhere there are intersections of flyovers and parallel routes. But they say navigation can get especially troublesome during this astrological phenomenon, so expect to get a little lost and make a couple of detours.
ADVERTISEMENT - CONTINUE READING BELOW
Mercury Rx Message: "Three steps forward, two steps back" is a near-accurate description of Mercury Retrograde. It's a period to reflect on paths you've visited and might not have learned your lesson from yet. Whenever find yourself in a difficult situation, this is not the time to try something new. Try something you've done before but failed with, and you might just succeed.
2. Experiencing last minute delays and changes to your plans
Of course, if you're living in Manila, you're already used to EDSA and traffic making you late for everything. Even so, when Mercury is in retrograde, you might want to expect more than traffic to mess up your plans. It could be that one of the girls suddenly brings someone new to the group dinner, or you went to a different Wildflour branch from everyone else! Hassle talaga, but relax. Mercury Retrograde isn't all that bad; this period in the year is a reminder for you to slow down and consider certain aspects in your life that need revisiting.
ADVERTISEMENT - CONTINUE READING BELOW
Mercury Rx Message: Maybe this is the Universe's way of telling you to form new friendships or learn to communicate better with your current set of friends.
3. Being in awkward conversations from salisi messages
When it comes to miscommunication, it turns out Mercury Retrograde can put you in some pretty embarrassing situations. Be careful with your Whatsapp and Telegram messages getting delivered late in those fast back-and-forth chats so you don't end up in any dyahe conversations!
Mercury Rx Message: The speed of digital technology often overtakes our humanity. Why don't you use this time to slow down with social media and messaging use, and get up close and personal with your friends? Or, how about a good old-fashioned landline telebabad sesh?
4. Signing a contract and later finding out that you didn't read the fine print
Mercury Retrograde isn't evil, but during this time, the devil really will be in the details. It is usually advised not to sign anything in these 3 ½ weeks because it means your original agreements won't be met. That means job offers taken might turn out to not be what you expected or condo transactions might reveal hidden costs a couple months down the line. Yikes!
ADVERTISEMENT - CONTINUE READING BELOW
Mercury Rx Message: Hold off on that big purchase or career-changing move! If you can wait to give your decision about certain things, take the time to re-assess.
5. Having trouble with your smartphone or computer
Crashing devices, unsaved files, bad signal. These might be the most common disruptions during Mercury Retrograde. They say anything with moving parts, especially electronics, can be affected during this time. Unfortunately for us, we are so dependent on our gadgets that these mishaps can prove to be disastrous! This is also not a good time to buy new tech gear or equipment as there might be something wrong with it.
Mercury Rx Message: We live in a digital world, so as much as this is the stars' way of making us disconnect from technology, just back up your back up in case. Take this as a sign to detox, even just a little bit.
ADVERTISEMENT - CONTINUE READING BELOW
Comments
Load More Stories