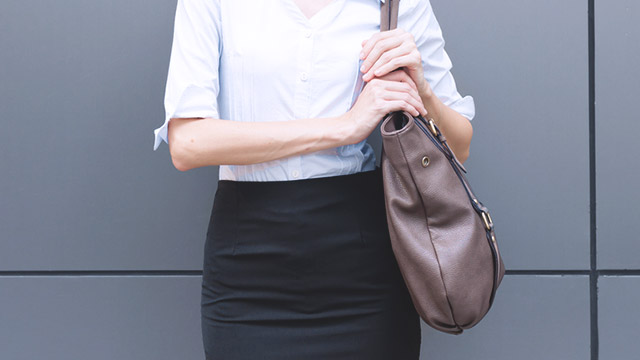 While it's nice to be prepared for whatever life will throw at you, carrying a big, heavy shoulder bag everyday to work isn't doing your body any favors; the daily heavy lifting is reportedly a major culprit behind back pains, aching shoulders, and even headaches as it strains the body. To save yourself from the discomfort, here are doable ways to start downsizing your forever bulky tote: 
ADVERTISEMENT - CONTINUE READING BELOW
1. Start by switching to a smaller bag.
The less space your bag has, the less items you'll end up tossing in your purse! You don't have to drastically go from using a large tote to a crossbody bag; anything that's significantly smaller than your current large handbag should help you start letting go of a few "necessities." P.S. While you're in the process of transferring your items, you'll even realize how much unnecessary things (and junk) you've actually been keeping inside your tote. 
2. Pare down your kikay kit! 
For most women, this is one of the main culprits of every heavy handbag. Makeup artist and author Bobbi Brown once shared in a feature on Real Simple that "Your on-the-go kit should contain just the key items you need for touch-ups." This could be your face powder, everyday lipstick, concealer, and blush. As for your mascaras, eyeliners, and other lipstick shades? Consider leaving them in the office and stashing them in a separate kikay kit. This way, you can still be prepared for sudden meetings, nights out, and other important occasions without having to carry everything on a daily basis. This leads us to step number three...
3. Leave some of your daily essentials in your office drawer. 
If there are certain heavy items that you just can't leave your house without, why not just store them in your "second home" like your car or your office cubicle so they're still within reach? This could be your extra pair of flats, perfume, dry shampoo, or wet wipes—basically, anything you'll need in case of emergencies. 
4. Clean your wallet. 
Your wallet is one of the heaviest items you lug around on a daily basis (especially if you're a hoarder of receipts!). Make it a habit to check if you can pay for something using your coins and to regularly unload your bulky receipts of ATM withdrawals, phone bills, and shopping purchases. 
5. Opt for bags with wider straps. 
"The wider the strap, the better [it is for your body]," says Dr. Robert A. Hayden, a chiropractor and founder of The Iris City Chiropractic Center in Atlanta, in a health report on the Huffington Post. Wider straps properly distribute the weight of your purse to your shoulder, making the bag feel comfy to carry around overall. 
ADVERTISEMENT - CONTINUE READING BELOW
6. Switch things up.
To prevent and lessen body aches, don't forget to carry your purse on your non-dominant shoulder from time to time! 
7. Carry two bags. 
Split the load! If you really have to bring a lot of stuff, Dr. Sabrina Strickland, an orthopedic surgeon at the Hospital for Special Surgery in New York, suggests to evenly distribute your necessities into two separate bags—carrying one on each shoulder—instead of loading all of them on one side, which tend to cause back, neck, shoulder and muscle pains.
Load More Stories