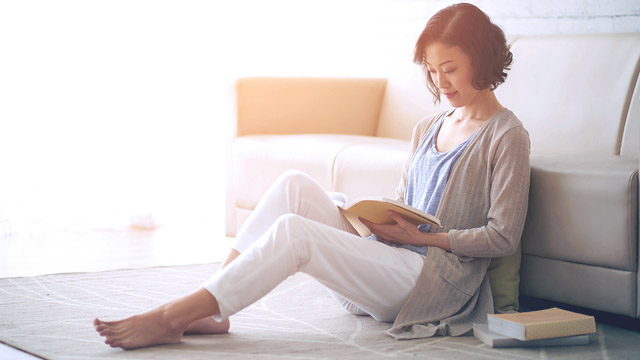 I'm a firm believer of self-care. I remember a time when I was on the verge of breaking down—I was tired, demotivated, and unconfident. I was burnt-out, and I really needed to chill! I realized that I've been working too hard that I forgot to put myself first.
ADVERTISEMENT - CONTINUE READING BELOW
You see, self-care is important. And no, it's about spending a day in an expensive spa or salon to feel like a queen. These are simple habits that help you reset physically, mentally, and emotionally. So if you're you're feeling blah about life or your mind seems to be cluttered with bothering thoughts, you probably need me-time more than ever. Here are some self-care activities you can try that almost don't cost anything:
1. Change your beddings and take a solid nap!
Never underestimate the power of freshly laundered sheets—sleeping on them feels amazing.
2. Wash your hair with cold water.
I swear the cold jolt of water will revive you.
3. Take a hot shower while playing relaxing piano music in the background.
Alternatively, warm water can soothe tired muscles. The classical playlist, on the other hand, helps your mind calm down.
ADVERTISEMENT - CONTINUE READING BELOW
4. Binge-watch your fave series or YouTube channel with a face mask on.
That's what you call multitasking!
5. Declutter your closet.
Let go of the clothes (or makeup!) that don't make you feel great. Re-evaluate if you are indeed using 90 percent of the items in your current wardrobe. As a rule of thumb, if you haven't worn something for more than a year, it's time to ditch it!
6. Organize your beauty stash.
It's nice to see all the things that make you extra pretty in order. Plus, getting ready will be faster because you wouldn't have to rummage through every container.
7. Write a gratitude journal.
It's easy to be overwhelmed with deadlines and problems, so jotting down a list of little things to be thankful for will remind you that life is still beautiful.
ADVERTISEMENT - CONTINUE READING BELOW
8. Choose your battles!
In case you didn't know, going kebs in certain situations will keep you pretty sane! Choose the things that are worth worrying about. Example: You already know that the horrendous EDSA traffic happens regularly so there's no need to be furious while on the road. Try to watch your fave K-drama on your phone to forget about it!
9. Meditate.
There are various free apps available that will guide you into entering a state of Zen. Decluttering your thoughts for just five minutes can make a huge difference.
10. Do a quick workout.
You don't need to be a gym beast! There are short workouts available online that will release the stress and toxins in your body. You can also jog on a Saturday morning if you love the outdoors.
ADVERTISEMENT - CONTINUE READING BELOW
11. Eat your favorite food.
Okay, if you really aren't into fitness, just treat yourself to your fave food once in a while.
12. Window shop on your phone.
Instead of braving the traffic and crowds in the mall, why not window-shop online? Add the items you covet to your wishlist and review it on another day (when you're not impulsive or emotional) to see if anything is really worth the purchase.
13. Create an online mood board with all the things you love.
Log on to Pinterest and collate all pictures that can serve as inspo! From fave hairstyle pegs to your dream wedding ideas (secret boards exist for a reason), pin them ALL! Instagram has a similar function wherein you can save IG pics into "collections" that only you can see.
14. Try a different look.
Watch your fave YouTube makeup or hairstyle tutorial and try it! Repeat until you perfect it.
ADVERTISEMENT - CONTINUE READING BELOW
15. Talk to yourself in the mirror.
This may sound cheesy, but it sure does work: Give yourself a pep talk in the mirror. Remind yourself that you're amazing, beautiful, and enough. Smile while you're at it!
This story originally appeared on Cosmo.ph.
* Minor edits have been made by the Femalenetwork.com editors.
Comments
Load More Stories