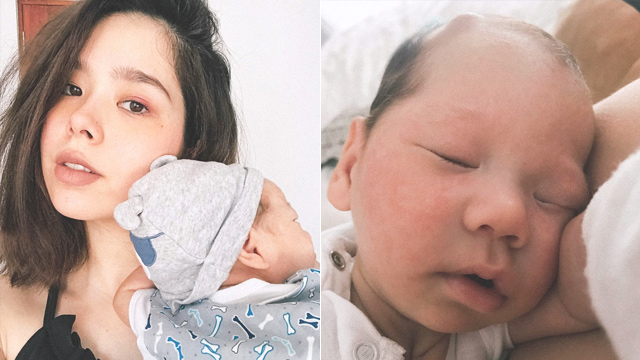 Saab Magalona reports that son Pancho Gerardo, who turned three months on May 8, hit a milestone in his journey as a preemie baby.

In an Instagram post, Saab revealed doctors placed a "small silicone catheter under Pancho's scalp" called an Ommaya Reservoir when he was just a few days old. The photo of Pancho that Saab shared showed a tiny bump on his head. According to the new mom, it was periodically tapped to relieve pressure on his brain, which was caused by the buildup of excess fluid. 
ADVERTISEMENT - CONTINUE READING BELOW
CONTINUE READING BELOW
Recommended Videos
The good news is Pancho no longer needs it, but removing the catheter still means the little one needs to undergo surgery. "Pancho will be undergoing surgery to remove it this Friday, May 11, so we ask for more prayers please for Pancho and his amazing doctors," Saab added.
An Ommaya Reservoir, according to Neurology Secrets, has two parts: a dome that is placed just under the scalp and is attached to a catheter inserted into the ventricles of the brain. These ventricles are spaces in the brain that collects cerebrospinal fluid (CSF), a colorless liquid in the brain and spinal cord. It helps doctors take samples of CSF, and deliver medicines, such as antibiotics or chemotherapy, directly into the brain.
ADVERTISEMENT - CONTINUE READING BELOW
For very premature or low birth weight infants, however, an Ommaya Reservoir, is used to treat posthemorrhagic hydrocephalus (PHH) or posthemorrhagic ventricular dilatation (PHVD) to relieve pressure in the brain caused by a build-up of CSF. The condition is one of the most severe complications that may arise after an intraventricular hemorrhage, or bleeding in the brain, after preterm birth.
If the device is being removed from Pancho's scalp, it could mean he may no longer be at risk for developing the neural conditions.

Pacho's Instagram account, which his parents set up, posted a heartfelt thank-you to two nurses who helped Saab and Jim Bacarro care for Pancho after getting discharged from the NICU.
ADVERTISEMENT - CONTINUE READING BELOW
"Today I am 3 months old, and I miss them, but I know I am a big boy who does not need a nurse anymore. Thank you for your prayers, I hope I will continue becoming big and strong," the caption on Pancho's Instagram post read.

The preemie baby has also gained a lot of weight since his stint in the NICU.
It is truly a milestone to celebrate, so things are looking up for the Bacarro family.
ADVERTISEMENT - CONTINUE READING BELOW
"Today marks the 7th year since Jim and I shared our first kiss. Throughout the many trials thrown our way, we are always grateful that we still get to hold and kiss each other," Saab wrote as a caption for a photo that shows the couple kissing. "How lucky I am to have this man in my life. Lagi niya ako pinapaiyak but in a good way."

At the end of her caption, Saab asked her followers to check out Jim's latest Instagram post, his first social media post after their traumatic birth experience. While it took Saab a month to talk about it on her blog, it has taken Jim three months to open up about his unique fatherhood journey. 
ADVERTISEMENT - CONTINUE READING BELOW
"I learned what it meant to be a father the moment I held my daughter and had to let her go. It's not your typical story of parenthood, but Saab and I are beyond convention, and that's our story," Jim wrote. 
"After losing our daughter Luna Isabel (Pancho's twin), I didn't even have time to grieve. I would go between two (intensive care units) ICUs to see Saab and Pancho," the new dad wrote, remarking that his loved ones had to undergo a series of tests and even doctors needed to crack their heads to solve issues that came up. 
Saab shared her husband's sentiment before: what they have experienced went beyond what humans should be able to endure. Jim started to question his faith, but he found it in the most unusual places — "in tragedy, evil and suffering." 

But what gave Jim him hope was his family. "Somehow Saab and I could manage to kiss each other, smile at each other and comfort one another amidst this," he shared.
ADVERTISEMENT - CONTINUE READING BELOW
This story originally appeared on Smartparenting.com.ph.
* Minor edits have been made by the Femalenetwork.com editors.
Load More Stories