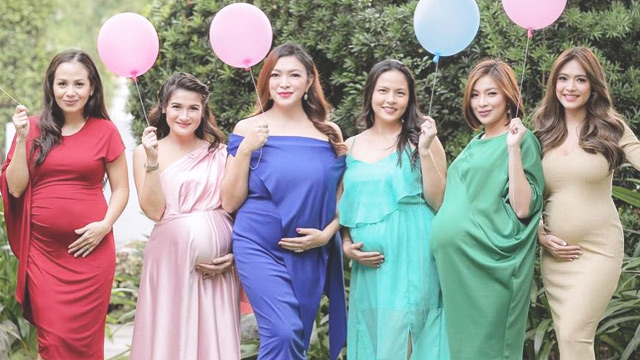 Finally getting pregnant and starting a family is a momentous occasion, but to have babies at the same time as your closest friends? 
It's what happened to friends and "Baby Barangay" bloggers Kelly Misa, Patty Laurel-Filart and Bianca Santiago-Reinoso. The three women got pregnant at around the same time in 2015; Kelly and Patty's pregnancies were just days apart. "When I gave birth, she [Patty] gave birth three days after," Kelly shares in an interview with beauty website Calyxta. And their babies were all boys!
ADVERTISEMENT - CONTINUE READING BELOW
CONTINUE READING BELOW
Recommended Videos

It also happened with former MYX VJ Nikki Gil and... most of her squad. Look at all those babies!
Getting pregnant at the same time as your closest friends sure sounds surprising, but it may be more common than you think. According to a 2014 study led by Nicoletta Balbo and Nicola Barban, which was published in the journal American Sociological Association, a friend's pregnancy "positively influences an individual's risk of becoming a parent."

Researchers analyzed data on 1,720 women who participated in a national study of adolescent health in the United States from mid-1990s to mid-2000s. They tracked female participants who were at least 15 years old in 1995, and through home interviews done for the study, researchers found out that more than half of the women bore a child by the time the final interviews were finished in 2008 or 2009.

Some of these women were friends with at least 10 other participants, and researchers used this information to find patterns among group of friends as they grew older. They found that those who were close in high school and remained friends through later years had a "strong contagion element for planned pregnancy."

"We found this effect to be short-term and inverse U-shaped: an individual's risk of childbearing starts increasing after a friend's childbearing, reaches a peak around two years later, then decreases," says Balbo and Barban.

ADVERTISEMENT - CONTINUE READING BELOW



These findings complement a previous 2011 German study where researchers concluded that friends had significantly stronger effects on fertility than siblings. In that study, researchers said that the likelihood of a woman getting pregnant increases with every peer who has given birth within the past three years.

Apart from getting pregnant at the same time, another report published in the Demographic Research says that there have been "extensive historical evidence on the correlation between friendships and birth rates." Here, researchers said that social mechanisms may affect friends' decisions to have a small or large number of children.

Calling it the "fertility influence," researchers from Balbo's study suggest three possible reasons why simultaneous pregnancies occur among friends:

1. Social learning. Women may be more inspired to become mothers when they see a close friend being successful at it.

2. Social influence. Women may feel that they're being "left behind" when all their friends are starting their motherhood journey. (In millennial speak, we call this FOMO or "fear of missing out. But, of course, we take this info with a grain of salt.)

3. Cost-sharing. If close friends get pregnant at the same time, they can save on money by coordinating activities and childcare.

Whatever the reason may be for this phenomenon, having a friend to share your journey with should feel incredible, especially since you'll be enjoying the perks of being pregnant together!

Have you ever experienced being preggy at the same time as a friend? Share your story with us—we'd love to hear from you!

ADVERTISEMENT - CONTINUE READING BELOW

[h/t: Motherly]
Comments
Load More Stories