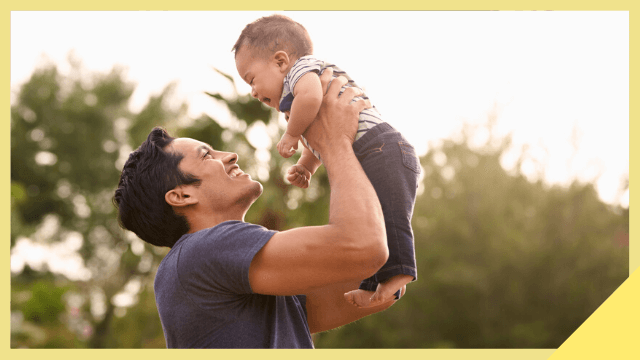 It has often been said that when couples become parents, they appear to become less likely to embrace healthy behaviors: They lose sleep, gain weight, eat more, and exercise less. This can manifest not only in new mothers but also in new fathers, especially those who are very involved in caring for their kids.
ADVERTISEMENT - CONTINUE READING BELOW
According to a new study, however, despite what their dad bods might suggest, men actually get healthier and feel a greater sense of purpose when they become fathers!
The study, which was published this month in the journal Psychology of Men & Masculinities, involved 211 men. Half of them are dads of children between 0 and five years old, while the others are not. They were asked about how often they engaged in healthy behaviors such as eating a low-fat diet and exercising at least 30 minutes per day three times a week.
The participants were also asked about social support or the number of their close friends and relatives, group memberships, and other social involvements. Research indicates that the social norms around health behaviors can influence an individual's health behaviors.
Finally, they were asked about their sense of purpose, with questions like, "How clearly do you understand what makes your life worthwhile?"
In an article on Fatherly, Dr. James Mahalik, a counseling psychologist and professor and the lead author of the study, explains that he and his team evaluated the survey results according to two models. The first looked at whether fatherhood in itself leads to healthier behaviors and social support in a way that is partially affected by purpose.
Meanwhile, the second model looked at whether fatherhood had no direct result in healthier behaviors and social support and whether those tendencies are entirely affected by purpose instead.
According to the results, when men become dads, they tend to have a greater sense of purpose, leading them to make healthier life choices and seek out greater social support.
"In other words, we found that it wasn't being a father per se that was associated with healthier living," Dr. Mahalik explains. "But fathers were more likely to report experiencing a greater sense of purpose in their lives, which was closely associated with healthier living. So, fathers felt greater purpose, which led to healthier behaviors."
ADVERTISEMENT - CONTINUE READING BELOW
Dr. Mahalik adds that dads who are involved in taking care of their children see themselves as role models for their kids. This encourages them to make less risky choices that will have a positive impact on their families.
This story originally appeared on Smartparenting.com.ph.
Load More Stories