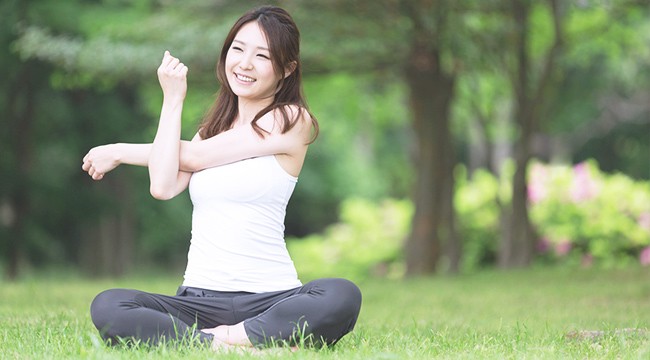 Your 30s can be bittersweet. Just as you are coming more into your own and feeling stronger in your identity, your body begins to show the subtle signs of aging due to the shifts in your hormones. We can't deny it: time passes and our bodies change. And just as your hormones change over the course of your monthly cycle, they also change over your lifetime. According to Dr. Sara Gottfried, author of The Hormone Reset Diet, "somewhere in your mid-30s, levels of key hormones shift as the body progresses through perimenopause." These shifts are a normal part of growing older and it helps to know what's happening to your hormones and how it affects your skin and your overall health.
CONTINUE READING BELOW
Recommended Videos
ADVERTISEMENT - CONTINUE READING BELOW
Progesterone
Sometimes called the Valium of the female mind, progesterone helps reduce anxiety and is known as the peaceful hormone. Unfortunately, this is the hormone that dips first as you age. Low levels of progesterone can lead to anxiety, insomnia, PMS, bloating, fibrocystic breasts, and infertility. To help your body produce more progesterone, studies show that a daily dose of Vitamin C can help. Another supplement like Selenium can also give significant relief; 200-400mcg a day was shown to boost production of progesterone and as a bonus, it helps the thyroid as well!
Estrogen
You start to produce estrogen in puberty. Estrogen comes from the ovaries where it serves to ripen your eggs during your menstrual cycle. In the skin, estrogen decreases pore size, helps produce collagen and elastin, and helps the skin heal and retain moisture. Estrogen peaks in your 20s and begins to decrease in your 30s. As it decreases, the skin does not spring back the way that it used to. Collagen and elastin production decrease, which causes the skin to get drier and lose its elasticity. This is where a retinoid can help. Adding a retinoid to your daily skin routine can hamper collagen breakdown and prompt new cell growth under the surface of the skin. And as you probably already know, sunscreen is absolutely essential. While this won't impact the hormonal changes, sun damage can exacerbate some of the changes in the skin, including wrinkles. Slab on the sunscreen daily whether or not it's a sunny day to slow down the onset of skin sagging and the development of those undesirable fine lines.
ADVERTISEMENT - CONTINUE READING BELOW
Testosterone
Testosterone is known to play a key role in your sex drive, but a healthy level of testosterone also gives you the ability to make muscle and creates the ideal muscle-to-fat ratio. Androgens, including testosterone, decline with age. That means that in your 30s, you start to experience gradual bone and muscle loss. This can slow down your metabolism and lead to weight gain, especially if you don't increase your exercise or if you continue to eat like you did in your 20s. "Dwindling testosterone affects your muscle to fat ratio – tilting more toward fat," says Dr. Tami Meraglia, author of The Hormone Secret. "And with less muscle tissue, your metabolism slows down." Strength training such as weight bearing exercises can balance your bone loss and increase your muscle mass, reducing your risk for osteoporosis and unwanted weight gain.
Cortisol
Cortisol is a hormone that is preferentially made in times of stress. Your 30s can be a demanding period in life, juggling family, a busy household and your booming career. An overproduction of cortisol makes sebaceous glands produce more oil and make the skin more oily leading to an increase in pimples and blackheads. However, cortisol can not only affect acne flare ups, but also worsens overall health. Cortisol raises your blood pressure and blood sugar. These changes may help you under short periods of stress but can be detrimental to your health in the long run. Learn to manage your stress by treating yourself to a pampering session once in a while, starting a meditation practice or scheduling a regular hangout with your girls.
ADVERTISEMENT - CONTINUE READING BELOW
Optimizing hormone levels is an effective strategy for slowing down the ageing process. Make sure to create lasting lifestyle changes by building healthy habits that will keep you feeling and looking great even in the years to come.
Camille Romero is a Holistic Health Coach and Yoga Instructor. For classes and consultations, contact her at cmf.romero@gmail.com.
Comments
Load More Stories