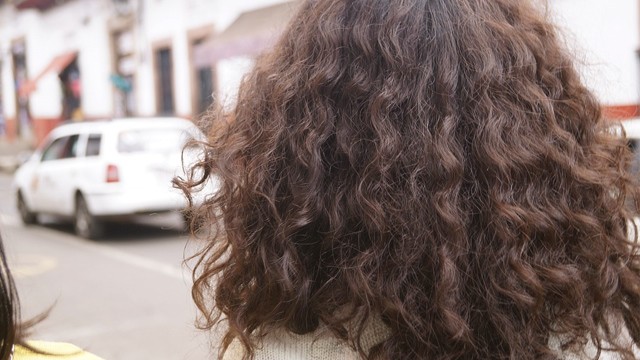 They say it's important to let your hair down, but for a curly-haired girl, it's really a challenging feat—literally.

Aside from my morena skin, my curly hair is probably the most distinctive physical attribute I have. For example, if people were to talk about me, it would probably go like this: "Kilala mo si Christine?" "Ah, 'yung maitim na kulot?" Personally, I never really found that offensive, since that's also how I describe myself. But while I have grown to love my thick, unruly locks, this hasn't always been the case.

I remember way back in grade school, I was trying to untangle my strands when one of my classmates got some of my hair and jokingly asked me why I stole their telephone wire. I knew it was meant to be a joke, but since then, I guess I gradually became more and more conscious of my hair. Comparing myself to my classmates, I often thought to myself how unfair it was that they were born with straight or smooth wavy hair, whereas I had to deal with my thick curly mane. Looking back, I think that's why embracing my curly hair was truly something I learned the hard way.
ADVERTISEMENT - CONTINUE READING BELOW


READ: FN Hair Awards 2016: The Best Shampoo, Conditioner, and Treatments for All Hair Types


Growing up, I can't count the times I've been called "kulot salot," and of course, it was always followed with the staple question: "Wala ka bang balak magpa-straight?" And while my answer has always been a solid "no," there were multiple times I seriously wanted to take that step: whenever I'd be in the salon and want to get an edgy cut, or try on some full bangs. Or whenever it's super humid or windy, and my hair goes out of control. Or whenever I try to tame it with a brush. Or whenever I try to make a hair tie last at least a week without it breaking. Or whenever I'm trying to untangle my strands, and it feels like a hardcore arm muscle workout.

To be completely honest, there were definitely times I felt like giving up on my unruly locks, but then I realized that it's all just a part of having to deal with curly hair. My curly hair. People often tell me that they wish they had my natural curls, and I always wondered why they'd want to have a beast living on top of their heads. But come to think of it, why wouldn't they want this kind of hair? I don't need a curling iron to produce the locks I already have. Nor do I need to worry about texture or volume. Many say that having curly hair is both a blessing and a curse, but I think it's the same for everyone, whether we're born with straight, wavy, curly, or kinky hair. Even though we all have had our bad hair days, we can't deny the days we rocked out our awesome hair.

As for me, I've recently discovered that it's actually fun exploring my curls. If I previously had difficulty in getting risky haircuts in shorter lengths, I'm definitely going for more options now. Even as far as having my hair colored, which trust me, was definitely out of my comfort zone.
READ: How to Care for Curly Hair, According to a Naturally Curly-Haired Girl


Truly, our mane is for us to embrace, and a platform for us to express our personal style. I believe everyone has their own set of insecurities, and for me, my thick unruly locks had been one of them, and sometimes, it still is. But hard to tame as it may be, I learned that my hair is my own crown that I will never get tired of loving.
Load More Stories