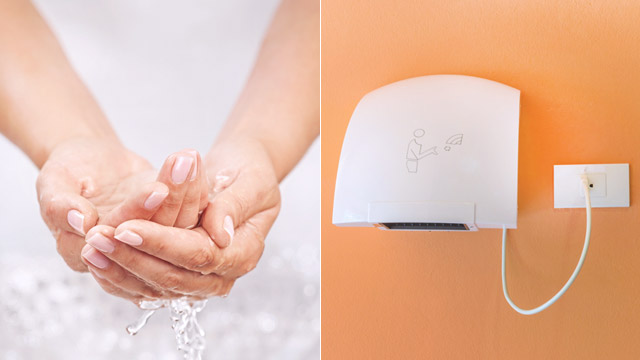 You may want to skip the hand dryers at public bathrooms and wipe your hands dry with that pack of tissue in your handbag. New research shows that hand dryers can suck the bacteria-ridden air in the restroom—and dump it on your wet hands. Not a nice thought, right?
ADVERTISEMENT - CONTINUE READING BELOW
Researchers from the University of Connecticut and Quinnipiac University took Petri dishes and exposed it to bathroom air. With the hand dryers off, the Petri dishes "only grew one colony of bacteria or none at all," writes John Ross, M.D., for Harvard Health Publishing where he is a contributing editor.
CONTINUE READING BELOW
Recommended Videos
"However, Petri dishes exposed to hot air from a bathroom hand dryer for 30 seconds grew up to 254 colonies of bacteria (though most had from 18 to 60 colonies of bacteria)," adds Dr. Ross, who is also an assistant professor of medicine at Harvard Medical School and board certified for internal medicine and infectious diseases.
The scientists also tested the nozzles of the hand dryers to see if the bacteria was coming from the machine itself. They only found minimal amounts, which suggested the bacteria must be coming from the bathroom air. Where did all that bathroom bacteria come from? Dr. Ross explained that every time a toilet is flushed with the lid up, it sends a mist of fecal microbes into the air—yes, like an icky room spray.
ADVERTISEMENT - CONTINUE READING BELOW
There's good news though. Most of the bacteria seen in the Petri dishes were harmless and do not cause disease in healthy people (the exception is for those with compromised or weak immune systems). Harmful bacteria detected include Staphylococcus aureus and Acinetobacter.
The study, published in the journal Applied and Environmental Microbiology, says, "These results indicate that many kinds of bacteria, including potential pathogens and spores, can be deposited on hands exposed to bathroom hand dryers."
The thought of bathroom mist getting on your just-washed hands doesn't mean you should leave them dripping and damp. "Wet hands increase the risk of transmitting bacteria, so drying is an equally important step in prevention," said urgent care specialist Dr. Theresa Lash-Ritter to Cleveland Clinic.
After washing with soap and water, dry your hands with a paper towel or tissue. "Paper towels are the most hygienic way to dry your hands. For this reason, use of paper towels is already routine in health care settings," said Dr. Ross.
ADVERTISEMENT - CONTINUE READING BELOW
Aside from your pack of tissues, take a small bottle of liquid soap along with you, too. Soap is the key ingredient in hand washing as it breaks down germ-carrying dirt by facilitating rubbing and friction. It doesn't matter what soap you use (the job gets done as long as you know how to wash your hands properly). Antibacterial soaps are no more effective than regular soap, according to the US Food and Drug Administration.
As Mayo Clinic puts it, hand washing during key points in the day (like before meals), and before and after certain activities "is one of the best ways to avoid getting sick and spreading illness."
This story originally appeared on Smartparenting.com.ph.
* Minor edits have been made by the Femalenetwork.com editors.
Comments
Load More Stories