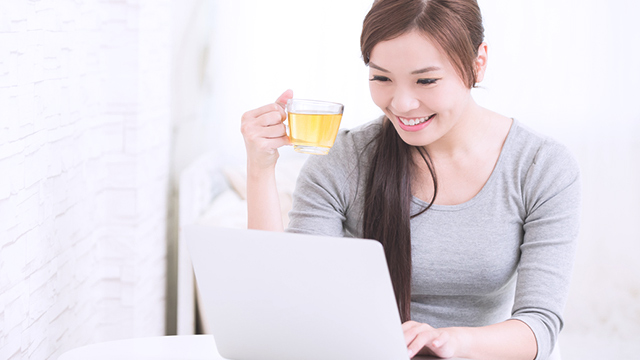 There's no one way to lose weight that'll address every need and lifestyle. More often than not, it's a combination of different methods done consistently over time that gets us the best (and quickest) results. Luckily, not all steps to reaching your goal weight require too much time and energy--there are simple healthy habits you can develop while sitting, working, even resting, like sipping on green tea.
ADVERTISEMENT - CONTINUE READING BELOW
What really makes green tea effective? Green tea contains several active ingredients and substances beneficial to your fitness. A study has shown that caffeine helps in burning fat and improving exercise performance, and a cup of green tea contains 24-40 mg of caffeine, less than a cup of coffee but, effective enough to see a boost. It's also rich in antioxidants called catechin and Epigallocatechin gallate (EGCG) that help in increasing your metabolic rate, improving fat oxidation, and thermogenesis (your body's production of energy).
CONTINUE READING BELOW
Recommended Videos
In fact, after performing a study about men and green tea extract in relation to exercise, it was found that those who drank green tea burned 17 percent more fat compared to those who did not after some exercises.
Now, there are seveal ways to consume green tea, so here are notes on the best ways to do it for quicker weight loss, according to Keri Glassman, dietitian and Women's Health nutrition expert:
ADVERTISEMENT - CONTINUE READING BELOW
1. Consume more by adding flavor.
Flavored green teas like pomegranate green tea, cranberry green tea, pack on the same benefits and are easier to consume. Just remember to stick to natural, low sugar flavors.
2. Remember that the brand of green tea matters.
Not all tea variants are created equal. The number of additional and unnecessary ingredients varies among different brands. Glassman advised that in choosing brands, make sure to pick the one that has the most natural ingredients and no artificial preservatives.
3. You can also have it cold.
Perfect for summer! Just note that iced green tea can be diluted in water and the weight loss benefits are still more likely maximized if the green tea is served hot. However, boiling water is also found to be bad for catechins. Let boiled water sit for about ten minutes and brew for one minute after pouring into tea.
ADVERTISEMENT - CONTINUE READING BELOW
4. Drink green tea while it's fresh.
Green tea doesn't really expire but it's better if it's consumed within six months.
5. Green tea extract has similar benefits to green tea.
If you're not the 'tea' type of person, you can just add 1 ml of green tea extract (depending on the formula) to your water and it will have the same effects as if you drank 8-10 cups of green tea.
Source: Women's Health
Comments
Load More Stories