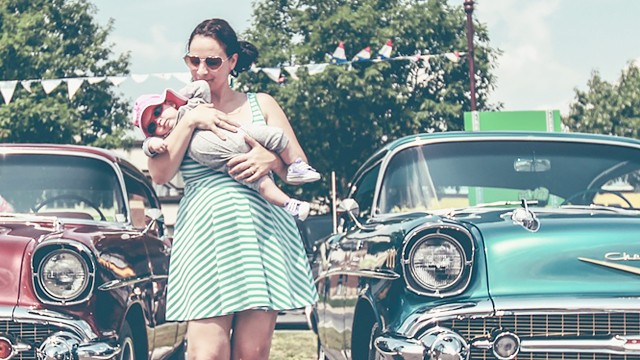 It was the ire of every Bible-abiding mother, and the heartbreak of every occupied father who spoiled his daughter to compensate for his constant unavailability: their daughter's unexpected pregnancy. And even worse so, it was one that was unsupported by a fumbling, lustful partner who left me to deal with the burdens of raising a child on my own.

In the Philippines, there is a growing number of single mothers who wish to break free from the stigma and prove the conservative mindset of the majority wrong, and I'm one of them. But like any rite of passage, the miracle of birth really did throw me into the world of womanhood; and as a single mother, it was a crash course on female adulting.

I've always found an indomitable strength in mothers, even more so those having to raise their children alone. It never occurred to me though why motherhood automatically placed you inside a box, while single motherhood placed you in the same box but drenched in shame.

Is it really my loss that I missed an opportunity for my child to have had a father? For myself to succumb to being wife-material to someone so unsupportive? I don't think so. And so in the midst of reality's big fat slap in the face, with the sudden independence mired with responsibilities, I needed to fast forward from my girlish dreams to a warrior woman. It was just me and my daughter now, and I had to get with the program if we wanted to survive.

Growing up in a mestizo family deluged with patriarchal ideologies, I had always steered clear from the restrictions of marriage. I saw it happen to my own mother, once a carefree spirit who lost her soul to housework and cooking. It was her choice, really, to have taken the yoke all by herself and leave out the men in the family to bring home the bacon and relax once they set foot at home. And then, there was me. The only daughter. Tasked to follow in the footsteps of my naïve yet hardworking mother, I was forced to learn domestic skills while my brothers lay idle in front of their widescreen monitors. Taking on that task – to become the responsible adult in a situation where there are none - is womanhood. However, I would never limit myself to a domestic setting. It may be what others want, but it never was for me.moving

As a single mother, my resources were limited. I had come from a dark place and it was only after giving birth that I realized I needed to sober up. Living with my parents, under the rule of my mother, I was limited financially and was indebted to my parents who put food on our plates, clothes on my child and most of all, a roof over our heads. But single motherhood should never make you feel like you owe someone something because they've helped support your child when there was none. I never understood the Filipino concept of utang na loob. I found in my experience that it only breeds a crab mentality that stagnates. Instead, I took the support at face value and used it as a jumpstart to gain momentum. And I truly think that's what womanhood is about. And once I've gotten a hold of that momentum, I didn't stop; I kept moving, I kept improving, I kept trying to be a better version of myself. As a single mother, I realized I needed to fight harder, because the Philippines has less leeway for single parents and puts a prime on nuclear families.

Womanhood came to me when I had to accept this uncomfortable situation as a female but rose above it also as a female. I've had to fight my way through the four years of my child's growing life to get her into a decent school and raise her sans a yaya in the midst of constant scrutiny. It isn't easy, believe me. I've had countless moments wherein I needed to swallow my pride. I had to get my priorities right by focusing on my own goals. Despite any circumstance I'm in, I realized that being a single mother requires myself to hold on to any form of hope; any sliver of optimism at the end of a dark tunnel. Yes, as a single mother, I was bashed, judged, berated while I cried, lashed out and suffered numerous bouts of anxiety and depression, but I had to suck that up and move on. For the sake of my child. And that's what turned me from just another entitled kid to a woman who had to give it her all just to survive and make this reality bearable for her and her child. We all have our breaking point – the one that thrusts us head first into the freezing waters of reality and forces us to grow up. Mine was in the form of a little girl, and I never looked back since.



ADVERTISEMENT - CONTINUE READING BELOW
CONTINUE READING BELOW
Recommended Videos
Load More Stories