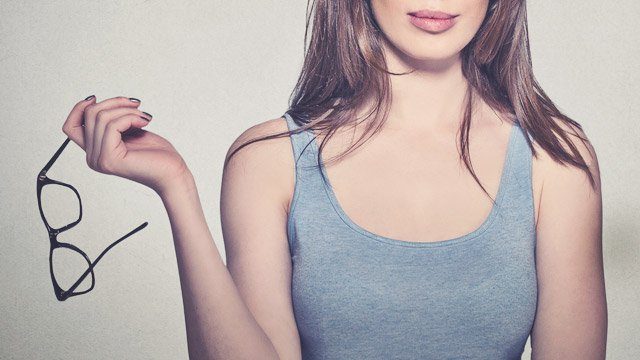 Have you ever just wanted to fall asleep right after a night out with the girls—only to realize you haven't taken out your contacts? Or placed your glasses down for JUST ONE SECOND and panicked when you couldn't find them? Welcome to the world of people who lack 20/20 "perfect" vision. 

ADVERTISEMENT - CONTINUE READING BELOW
You've probably asked around for ways to permanently improve your eyesight, and we're pretty sure you've come across someone who's had LASIK done. I recently went through the procedure myself, and I'm sharing my experience here, for all those who want to ditch their glasses forever.  
What is LASIK?
LASIK is an acronym for Laser-Assisted in Situ Keratomileusis, and it's a type of laser eye surgery. The laser treatment is applied on the bed of the cornea (the clear front surface of the eye) to reshape it and correct your vision. The process takes five to seven minutes per eye, but the actual laser exposure lasts less than a minute.
Does getting LASIK hurt?
I'm not going to lie, it was pretty uncomfortable. Your opthalmologist (aka eye doctor) will apply anesthetic drops to each eye, which works in seconds. Feel free to ask for more drops if you think you'll need them!
The scariest part of the procedure is when they use the lid retractors and suction ring. The lid retractors prevent you from blinking (so the procedure is finished quickly), while the suction ring keeps the eyeball steady for the patient interface (it's a contraption that looks like this) to flatten your cornea. This is required for the laser to cut your cornea with precision.
Watch the patient interface in action at the 00:20 mark:
Before the procedure
1. Schedule a "pre-screening" to test your eligibility.
Not just anyone can undergo LASIK. Your eye doctor will have to check if your eyes are healthy and in good shape—things like cornea thickness and dryness can greatly affect your chances of being an ideal patient, so it's great to know before you spend all that money! The actual LASIK surgery will most likely cost anywhere between P60,000 and P100,000 for both eyes; some clinics offer packages inclusive of checkups, so make sure you inquire about those.
ADVERTISEMENT - CONTINUE READING BELOW
For the screening, there will be a 30-minute regular eye checkup to determine whether your eyes are healthy enough, then they use drops to dilate your eyes for the retinal screening to test if your corneas and the insides of your eyes are viable candidates for LASIK. The screening should be done on a separate day from your LASIK surgery day, and could cost between P1,500 and P3,000.
2. Stop wearing contacts!
This is probably the most important step. Contacts reduce the amount of oxygen that reaches your cornea. This affects the measurement accuracy during your optical exams. If you want 20/20 vision, you need the most accurate results possible! Stop wearing soft contact lenses at least one week before your LASIK procedure. Hard contact lenses should not be worn at least six weeks before.
3. Talk to your doctor.
Discuss the different types of surgery available, and your payment methods. Don't be afraid to ask if there are promos for paying in installments!
ADVERTISEMENT - CONTINUE READING BELOW
During the procedure
Don't freak out when you feel heavy pressure on your eyeball—it's only your eye doctor using the suction ring! Just take a deep breath and try to relax—the left eye tends to be more sensitive (although there is no medical explanation for this). Because of the suction ring, the surface of your eyes will appear bruised and bloodshot, but this will fade away within one to three weeks.
Once the cornea has been cut, your eye doctor will move it aside to begin the laser treatment:
After the laser has done its job, the cornea is gently put back in place:
Your eye doctor will also use sterilized water to flush out any stray lashes and to clean your cornea after the procedure:
Remember:
1. Do not wear eye makeup, or use lotion/moisturizer, perfume, or any alcohol-based product on your surgery day.
The laser is sensitive to scents, so do not smoke cigarettes or tobacco either.
ADVERTISEMENT - CONTINUE READING BELOW
2. Dress warmly.
The LASIK surgery room can get very cold, so wear pants and bring a jacket or sweater. Wear flat shoes–you definitely don't want to trip right after getting your eyes fixed!
3. Do not drive!
Arrange to be picked up by a relative or a friend. Your eyesight will be blurry immediately after surgery so driving (especially in Manila traffic) is a bad idea.
After the procedure:
1. Take a nap.
Your eyes will be slightly uncomfortable after the anesthesia wears off. You'll either feel like your eyelids weigh a ton, or that sand or a stray eyelash is stuck in your eyes. Best advice? Sleep it off. Painkillers are allowed, but if you're experiencing extreme pain then contact your doctor immediately.
2. Wear that eye shield!
Immediately after surgery, you will be given two items: an eye shield, and a small bag containing three sets of eye drops (anti-inflammatory, anti-bacterial, and lubricating drops). You have to wear the eye shield overnight while you sleep to prevent you from accidentally rubbing your eyes.
ADVERTISEMENT - CONTINUE READING BELOW
3. You can shower and wash your face, but avoid getting water in your eyes.
Eyes closed, at least for the first week! 
4. Limit your use television and computer/phone usage during the first 48 hours post-surgery.
That also means limited reading of books and magazines. Download a bunch of podcasts or listen to some new songs on Spotify instead. Milk your recovery for all its worth—get your siblings to do things for you, like bring you snacks!
5. No eye makeup for a week.
If you're not as confident as Alicia Keys, postpone all your events or host a night in with the girls! Order some junk food and catch up—to make it even more fun, hide your phones so everyone will be tech-free. 
6. No swimming for a month.
So if you want to be glasses-free for the summer, time your surgery correctly!
7. Don't forget your checkups!
Depending on your doctor, post-operation visits can be expected the day after, the week after, on the 1st/3rd/6th month, and the year after surgery. 
ADVERTISEMENT - CONTINUE READING BELOW
Just remember: when you come out of surgery, you aren't Superwoman. You don't get laser vision or any cool superpowers. You DO get to wear sunglasses whenever you want though. 
This story originally appeared on Cosmo.ph.
*Minor edits have been made by FemaleNetwork.com editors.
Load More Stories