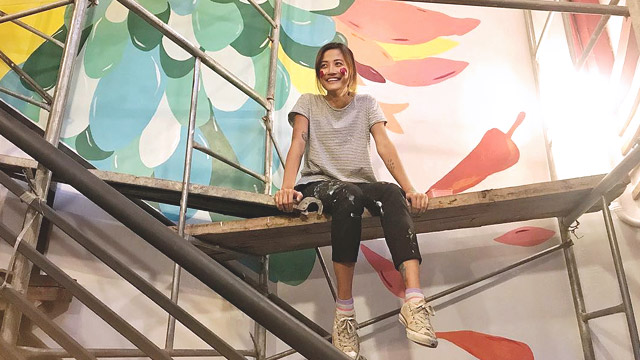 For some, Anina Rubio is living the dream: she's a muralist who travels for her art. She has already made quite a name for herself, partnering with several brands who wish to work with her, but indie film buffs would probably know her best as the artist behind the postcards of Sakaling 'Di Makarating, a melancholic movie about waiting and wandering headlined by Alessandra de Rossi and directed by Ice Idanan. She also has a strong following on Instagram, with 49,000 people waiting to see her next painting, taking a peek at places she's already been, and sometimes, even living vicariously through her.
ADVERTISEMENT - CONTINUE READING BELOW
CONTINUE READING BELOW
Recommended Videos
Anina admits that she has wanderlust, and she values her time away from the hustle of Metro Manila. "I always make sure to take a break. So, digital detox and 'cause I'm very nature driven and inspired mostly by nature," she shares during the launch of Seattle's Best's Perkspective, a quarterly event that features interactive talks with people from various industries and walks of life. "I mean, I live in the city. So, it's always nice to refresh your environment once in a while and I have a promise [to] myself that I will always make sure that there is balance."
Sometimes, it's her art that brings her places. You'll find her painting the highway walls of Metro Manila, and then all of a sudden she's off to a municipality in Samar. Anina intermittently posts about the projects close to her heart, such as beautiful floral murals that she paints for public schools as part of her service to different communities.
ADVERTISEMENT - CONTINUE READING BELOW
"When I shade walls, it takes me—depends on how big the wall is but if it's a big wall—sometimes it takes up 15 to 20 days of my month na and then, it's long hours each day. 'Cause once I start painting naman, I don't take breaks that much because for me once there is a flow or rhythm and like all the strokes, parang I cannot be disrupted," she pauses for a bit. "I think most artists are like that eh. So, I travel mostly for those things, and also I got to explore all of the islands in the Philippines first before I go out."
The sea always calls strongly to her. She revels in disconnecting and going back to the basics, as it teaches her to be present.
One place that taught her to slow down was Pandan Island in Palawan. Coming from a generation that trained to document experiences instead of actually immersing in them, Anina stresses the importance of relearning how to be in the moment.
ADVERTISEMENT - CONTINUE READING BELOW
"We're always used to having our phone na parang 'Oh my gosh, malo-lowbatt na 'yong phone ko,' parang 'Where will I charge?' Like, "if my power bank runs out, what am I gonna do?' But then, that place taught me to like okay, put down your phone, talk to your friends, talk to the people who are with you. Meet other people in that area, enjoy the sand, the sun, the water, parang forget that you have a gadget and just enjoy. So, parang for me, 'Ay, okay rin pala sya.' So, I think that's the point wherein I started doing digital detox more than anything."
In love with the water, Anina has also made it her advocacy to protect it.
"I'm a free diver kasi… and one time I was trying to do a quick dive just to check the reef and ang sumalubong sakin, diaper, plastic," she recalls. "That's what really like, changed my perception on things na parang uhhh okay, we are not so mindful on the things that we use and how big of an impact it does eventually like long term. I may not change the world in one snap but at least in my own little way parang you start building a habit of reducing waste."
ADVERTISEMENT - CONTINUE READING BELOW
While she admits that she can't yet go completely zero-waste, she tries to produce less of it.  "Now I make sure to bring my utensils, my straws. I have two containers, one for coffee, one for water. So, I always have an eco bag…I think in my own way I want to parang push people or like inspire people na okay, in your own little way, you don't have to like be a conservationist to start or to make a change."
Her art also reflects her environmental purpose.
"Since I have embraced nature more than anything, I want to always incorporate it into my art in such way na I'm using my art not just for aesthetics but as a tool to promote conservation and sustainability. Kasi yung art, it will last long eh, even if for example parang even if the wall gets covered after three years or it's repainted but people took photos of it already. So, for me, it's immortalized in that way and with people seeing nature, I want them to see nature beyond the concrete walls that we have."
ADVERTISEMENT - CONTINUE READING BELOW
In the next months, Anina will be working towards educating others about doing their part in keeping oceans safe.
"I want to mount a mural festival and I will call it 'Earth Walls'. It's still in the works but I'm in the process of, you know, collaborating with different organizations, different artists. So that we all can be collective in terms of promoting conservation." For now, you'll probably see Anina's art in places you'd least expect it to be (like the one she did along the Katipunan flyover), but in the end, this artist with a heart of a traveler will continue find and create value in her own experiences while enriching the lives of others through her passion.
"In my own way, I want art to be purposeful more than just beautiful," she says.
Comments
Load More Stories