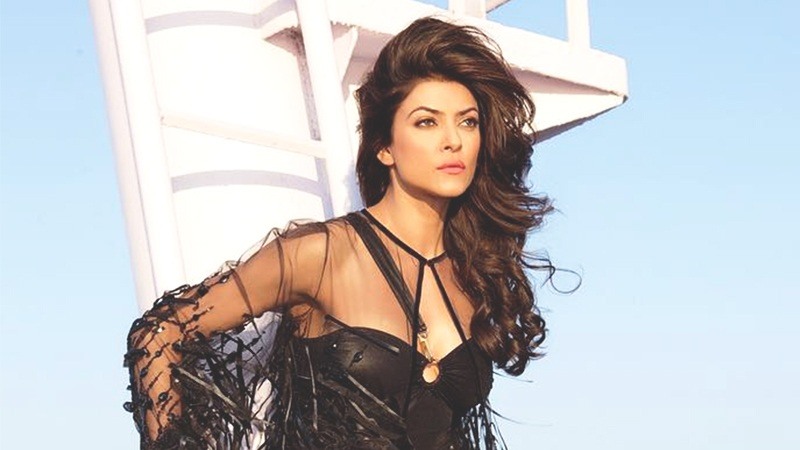 Twenty-three years ago, Sushmita Sen of India became the first woman from her country to be crowned Miss Universe. It was an unforgettable Miss Universe pageant for Pinoys as well because the Philippines was host country when she won. (One of her rivals was Miss Philippines, Charlene Gonzalez, who famously answered "High tide or low tide?" when she was asked how many islands the Philippines has.) 
ADVERTISEMENT - CONTINUE READING BELOW
Sushmita has not been back to the country until recently when she sat as a judge at the 65th edition of the international beauty pageant. And we don't think she realizes just how much this country loves Miss Universe, and how she is very much a part of the Filipino family!

During her interview on Kapuso Mo: Jessica Soho, Sushmita, whose name means "a beautiful smile," discovered that many baby girls born in 1994, the year she won Miss Universe, were named after her. The beauty queen's reaction said it all when Jessica introduced her to four young ladies who shared her name.
Little has been written about Sushmita in the local press after she won the crown. At the time, Miss Universe 1993, Dayanara Torres, had the Filipinos enthralled, so much that she pursued a career here after passing the crown to Sushmita. Dayanara also had a romantic relationship with matinee idol Aga Muhlach, who is now happily married to Charlene! Another contestant, Michelle van Eimeren, also ended up staying in the Philippines and married singer-songwriter Ogie Alcasid.
ADVERTISEMENT - CONTINUE READING BELOW
In India, Sushmita is a single mom and an actress. "Magical, tough, complicated, very human, like everyone else" was how she described what her life has been like in her home country since she won Miss Universe. 
Sushmita said she almost backed out of the competition in India. She feared she didn't stand a chance when she found out that another Indian beauty, Aishwarya Rai, was also competing that year. But her mom told the then-18-year-old that she would not talk to her if she backed out. 
"I came home to 'You are not my daughter. I cannot believe that you are that afraid to try and you want someone who's not a competition to be there to compete with you. Shame on you! Don't talk to me.' She was very mad at me," Sushmita shared. 

"If you don't try, you will never know," was her mother's words that pushed her to continue. Of course, moms are always right. "This is an important lesson. You have to give life a shot. I'm living proof of that," she added.
ADVERTISEMENT - CONTINUE READING BELOW
There was no doubt that the Miss Universe 1994 crown was hers after she answered the final question, "What is the essence of a being woman?" Her winning answer: "Just being a woman is God's gift that all of us must appreciate. The origin of a child is a mother and is a woman. She shows a man what sharing, caring and loving is all about. That is the essence of a woman."
Sushmita tells Jessica she doesn't know how she came up with the answer, but she admits she has always loved to analyze things deeper. She explained, "It asked the essence of a woman, which goes far deeper than having a great career or doing anything. It's less about what a woman can do but more about what a woman is... I think I was 'knowledgeable' at 18, but it has taken me 23 years to understand that answer really," Sushmita said.
ADVERTISEMENT - CONTINUE READING BELOW
Sushmita now knows first-hand the essence of being a woman -- she's a single mom to two lovely daughters. "Being a single mother is not easy. It's very romantic, but it's not easy," Sushmita said. 

"I am a hands-on mother. I don't have nannies running around my children looking after them," she told DNA India.
She is a mother through adoption. Sushmita already wanted to adopt when she was 22 years old, but the Indian court didn't allow it. It took almost two years for her to get custody of her first daughter, Renee. Adopting her second daughter was even a bigger court case. "Because in India the rules said, you could not adopt a daughter after you've already adopted a girl. You had to adopt a son. I wanted a daughter so for 10 years, we fought [for second daughter Alisah]. It was a long wait," she explained.

A Google search will tell you that Sushmita had been "very much attached" as she said in the interview. She has had many relationships over the years, but she remains unmarried. She's been close to saying "I do" twice but says "better sense prevailed." "I will get married, and I think in due course of time, that too, will happen," Sushmita says.

"We are somehow always told by everyone else this is the right age to get married. This is the right to have children. This is the right time to retire. I just wanted to take life at my clock because I believe everybody's unique," she explained. 

It seems that Sushmita indeed took her mother's advice and applied it to every aspect of her life. She's living her life, not worrying about the conventions, but at her pace and speaking up and fighting for what she believes in. It's no wonder she has become a face of women empowerment in India. 
ADVERTISEMENT - CONTINUE READING BELOW
Watch her full interview on Kapuso Mo, Jessica Soho here. 
This story originally appeared on Smartparenting.com.ph.
* Minor edits have been made by the Femalenetwork.com editors.
Comments
Load More Stories