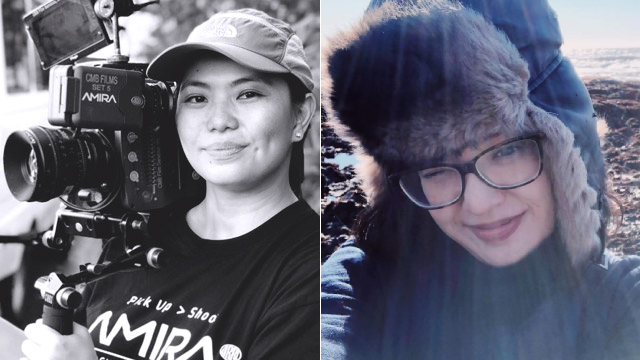 There's a reality that not a lot of people don't want to admit: it's hard to empower others, especially other women. Sure, we've come to recently question the patriarchy and, yes, we've rallied behind the bravest girls. We lean in now in the workplace, we bark back at cat-callers, we speak up and speak together. But there's still an inner saboteur that centuries of negative societal behavior has ingrained into human nature, tearing down ambition and competition with the most subtle remarks and seemingly indirect attitudes. That's why it's important to recognize your truth—it's the fire that burns even during a storm. These five women can attest to that: achieving success in a world that is still learning to celebrate them, they're building bonfires around which people can gather so that they can tell their stories.
ADVERTISEMENT - CONTINUE READING BELOW
Anne Monzon, Cinematographer
Her Truth: "I don't know what my purpose is in this profession. That's such a difficult question. I do know that I'm doing this job because I love it. I love how it's never the same thing twice, and that it's always a challenge and nothing less than the best is expected every time one steps on a set."
The film industry is one of the most male-dominated industries in the world today. Even as the Philippines celebrates 100 years of cinema, gender diversity among its filmmakers remains in its infancy. Cinematographer Anne Monzon, however, has put in the work. "There have been women who have come up to me and said that I'm the first woman they've seen operating a camera and lighting a set," she shares. "Some of these women are now cinematographers in their own right. It's nice to be part of that kind of legacy that women cinematographers before me started—the same women who inspired me and trained me to be part of this profession."
A quick IMDB search of cinematographer Anne's filmography will show a representative range of the Filipino movie spectrum. Her 2018 reel as director of photographer alone would include the Cinemalaya entry, ML, along with Star Cinema's Fantastica. What the Internet won't readily offer, though, would be other such facts as Anne's career beginning with a 3-year apprenticeship under Shayne Sarte, one of the country's first female cinematographers. "It was a conscious decision to try and train under a female DOP because there were so few at the time," says Anne, whose tutelage began straight after graduating from the UP Film Institute. "I knew her insights and experiences as a woman in this field was something I could learn from profoundly."
ADVERTISEMENT - CONTINUE READING BELOW
Anne is currently part of Lupon ng Pilipinong Sinematograpo (LPS), a new and highly prestigious society of active Filipino cinematographers with the common goal of elevating the quality and professionalism of the industry. She is not alone in lamenting how the state of working hours and fees is disproportionate to the craftsmanship that local talents have produced. "I cannot emphasize the importance of continued learning to help overcome these problems and challenges," she urges.
ADVERTISEMENT - CONTINUE READING BELOW
Michiko Soriano, Founder of The Morena Movement
Her Truth: "We've always loved having women who are not coming from a 'victim' or angry angle, but those who have overcome and elevated from their situation. Not to say that we or they will never again feel insecure or have moments of weakness and doubt, but it's an important aspect as well to have owned their strength or beauty."
ADVERTISEMENT - CONTINUE READING BELOW
The Morena Movement's founder, Michiko Soriano, sheds light, so to speak, on the stories of darker skinned Filipinas that have triumphed over the rampant physical discrimination in the Philippines. Michiko herself admits that, growing up, she stopped her early competitive streak in swimming because of the comments it elicited about her skin color. This subconscious reaction persisted even as she excelled in tennis and football, putting off such sports that placed the concept of her beauty and worth at risk.
"It's not to say that I was only surrounded by negative comments," she adds, "I remember being 8 years old or younger, and once got complimented for being a 'Black Beauty.' At the time, my only reference for that name was the novel and movie, and I thought, 'Okay, because am I like a horse?!'"
ADVERTISEMENT - CONTINUE READING BELOW
As The Morena Movement manifesto states, "The morena is more of a mindset," pertaining to behaviors that can affect beyond the face value, it is precisely Michiko's attitude that affirms she is the natural born leader of this cause. Michiko embodies a transformative grace that has allowed her to recast negative experiences into not just one advocacy, but two; as a part of the non-profit organization, Girls Got Game, she is also empowering the youth through the technical and life skills that sports can teach them. "I wouldn't want any of them to stop playing sports just because of their fear of being dark," she shares.
Sarrah Constan, Insurance Agent and Full Merit Scholarship Graduate of UA&P 
Her Truth: "At a young age, my eyes were already opened to the rules of poverty, but I did not look at my life with pity. I did not believe in, 'Kapag ipinanganak kang mahirap, mamamatay ka ring mahirap.' That's only true for those who accept it, and I refuse to. Others may have had a head start in life, and I might have been a bit behind, but it was still up to me whether to run the race with all my strength and mind or to remain stagnant and just accept the fact that I can't win in life."
ADVERTISEMENT - CONTINUE READING BELOW
Sarrah Costan was as a full merit scholar at the University of Asia and the Pacific, which meant that 100 percent of her tuition fee was covered for as long as she maintained exemplary academic performance throughout her college education—while being a member of the women's varsity basketball team. If that wasn't hard enough to balance, this was also the first time Sarrah was attending a private school.
ADVERTISEMENT - CONTINUE READING BELOW
As a child, Sarrah shares that her entire family lived in a 24-sqm house in a slum area. She would go to public elementary school with P2 and a small lunch. In high school, she budgeted P20 for between food and transportation. "Back then, we had a half-day schedule, so I studied in the morning while in the afternoon until evening, I did my co-curricular and extra-curricular activities," shares Sarrah, "I was selected to compete in a lot of inter-school contests back then, so my normal day involved after-class review sessions and rehearsals. Living with P20 every day meant I should either risk hunger or walking home at night."
ADVERTISEMENT - CONTINUE READING BELOW
Going to UA&P, Sarrah recounts the long days she would spend in school, "We didn't have internet at home, so staying until the university's closing time was the best I could do." Even as she faced these challenges, she stood fast in her faith. "I knew I was born poor for a reason," she shares, "And that's because the Lord was preparing me for a life of love, of service, and of empowering others."
Joanne Endaya, Founder of Happy Helpers
Her Truth: "I think how we define 'advancing our career' has changed over the years. For me, having that flexibility to prioritize my family and to work are both important… It may not be the 'traditional' description but I learned that if I stick to my 'why,' then everything else will follow effortlessly."
ADVERTISEMENT - CONTINUE READING BELOW
Joanne Endaya is a mother, yoga teacher, homemaker, and the business owner of Happy Helpers, a sustainable enterprise that provides reliable home services from babysitting to plumbing. Among her long list of roles to play, Joanne is an empowered woman that is sharing this energy to benefit others. "To be honest, I never thought of myself as someone who exudes positivity," she says, "But I'd like to think that the mindset I've chosen for myself is [for] someone who looks at the positive side of things." This perspective has come to Joanne's aid since beginning her business four years ago.
Not unlike many women, whether they are mothers or not, Joanne's life requires a balancing act. What helps her when she has family, clients, obligations, and friends to attend to is having a routine. "I always hear people say that we don't have enough time," she says, "The thing is we do. We just have to find a way to prioritize and schedule and also consider what matters to you." Happy Helpers came from the need to not only help these independent women in their pursuit of success and fulfillment, but also help women in underprivileged communities to augment their family income while having the flexibility and time to take care of their families.
ADVERTISEMENT - CONTINUE READING BELOW
While the Philippines is considered to be at the forefront of gender equality, we still have a long way to go with regard to gender roles. According to the LinkedIn Opportunity Index, "Filipinas still face challenges due to societal expectations. More women than men cite family commitments and lack of support as a barrier to opportunity (10.6% vs 6.9%). In the region, this is one of the most pronounced differences and suggests that there is still room for improvement in shifting gender roles in households."
ADVERTISEMENT - CONTINUE READING BELOW
Joanne shares that the cultural stigma that a woman who is earning emasculates her spouse sadly still exists, but she is trying to change this. "Empowering mothers is not an individual task," she says, "It does take the support of your family and loved ones and even the support of your community to make sure that this mother—this woman—is able to succeed and become a better version of herself."
Victoria Herrera, Director of She Talks Asia
Her Truth: "I listen to wise women around me who give me such golden gems of advice. Sometimes to the outside world you may appear to be this strong, independent woman who has it all together, and then behind closed doors you start sobbing because of overwhelm and fatigue. (True story!) I had to learn to listen to the wisdom of my mom, sisters, and closest girlfriends to start taking healthier action steps for myself."
ADVERTISEMENT - CONTINUE READING BELOW
Victoria Herrera—aside from being one of five power women behind the empowerment brand that is She Talks Asia—is a TV and fashion personality, writer and content strategist, and entrepreneur. She is also a Connector, which Malcolm Gladwell defines in "Tipping Point," as "People with the special gift of bringing the world together." Naturally, She Talks Asia has gone from a simple platform to a force of its own.
ADVERTISEMENT - CONTINUE READING BELOW
"We originally wanted She Talks Asia to be an avenue of healing, where women can come together to support each other through sharing their stories and having real conversations," explains Victoria, "It's then grown to become this massive brand that now encompasses not only conferences but digital content, merchandise, an online story bank, and grassroots programs for communities." While she is thrusted into a position of influence and empowerment, however, it has became clearer to Victoria to be looking inward and focusing on her self-care.
ADVERTISEMENT - CONTINUE READING BELOW
"I struggle with work/life balance," she admits, but says she is taking steps. "I am leaning into really investing more time into knowing how to recharge my energy. Also boundaries with work: I think knowing when to turn off my phone and not be so addicted to my e-mails or check social media. Personal time is important for one to recharge. It's the quiet moments where you can actually sit still and welcome new ideas."
Load More Stories