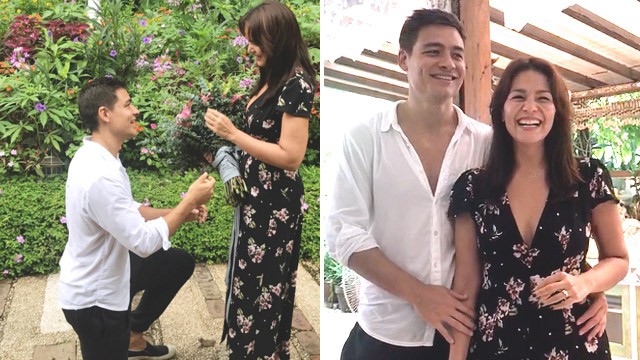 The engagement of Iza Calzado took the internet by storm when it happened, and at the center of all the well-wishes and congratulations is a woman who has professed at finally being ready for this milestone.
Conversing with her during the Project Ripple launch on October 4, just four days prior to her engagement, Iza admitted that, like many women in their 30s who have a lot going for them, she was once unsure about the idea of "getting tied down."
ADVERTISEMENT - CONTINUE READING BELOW
CONTINUE READING BELOW
Recommended Videos
"Kasi some of us have said na, 'I don't want, I don't want.' But there comes a point that it can also be you who will decide that 'I'm ready.' Kasi ako gan'on ako eh. For the longest time, 'Ayoko, ayoko, ayoko.' In a relationship ha, with a wonderful man. 'I'm not ready, I'm not ready.'
"But then, I said to myself, 'Now is the time. I'm ready. I have to shift. It's time.' I made a decision. Now, I'm ready."
Over the years, the artist and career woman in Iza has pushed her to put herself out there through different channels. The 35-year-old actress recently starred in the controversial film Bliss, which tackles abuse in many forms. She's also a staunch advocate of causes like positivity and body-love, regularly participating in campaigns by various charities and organizations.
But while the heights she has reached have become an inspiration to single women who have chosen to put marriage and family on hold for the time being, there were still a handful of people who, prior to her engagement, would ask about her plans to settle down. Iza shared that she while she has always wanted children of her own, she would have them only when she's ready.
ADVERTISEMENT - CONTINUE READING BELOW
"I mean everything is possible nowadays. There are so many options. But 'yon nga eh. Siyempre people really want to start a family. And me, ako rin eh, people tell me 'Mag-baby ka na!' Sabi ko 'I'm not yet married!' 'Eh ano naman ngayon 'no, no one will judge you na!' I'm like, 'It's not about them judging me…'"
As someone who has always had strong beliefs about women's freedom to choose and who has always chosen to follow her heart, it wasn't what others said about her that mattered. To Iza, it was doing things in her own time.
"There's still a part of me that wants to walk down the aisle first before having a baby, and I think a lot of people are like that. And to think I'm already an unconventional kind of woman. But there's still that part of me that wants to walk down that carpet in my white dress—maybe off-white—na dress. You know, to be married first before having a child."
ADVERTISEMENT - CONTINUE READING BELOW
She, however, acknowledged that situations vary, and that women should be aware of their options in terms of being a wife and mother, and never be ashamed of them. Not everyone is like her, but she stressed that no one should allow social norms to pressure them into making rash decisions.
"You have to understand where each and every individual is coming from," she said, noting that while natural birth is great, there are other ways to have children. "If you want to be a mother and can't have [kids], why not adopt? ...If you have the funds, have your eggs harvested, have a surrogate... Everything is possible nowadays."
Surrogacy, which according to CircleSurrogacy.com "is a process in which intended parents work with a gestational surrogate or a woman who carries a child to term," is something that Iza has always been open about.
"I understand that we are a very conservative society. But I feel that we should not judge women for the options that they have and the choices that they make for themselves."

ADVERTISEMENT - CONTINUE READING BELOW
"I wasn't naman bashed, but you know that there was a bit of judgment from the Titas of Society... especially those who really cannot comprehend and understand. Plus, I have all these things—I worry about so many things, so I'm just being open, kasi I feel like I'm a very open-minded person, and this is one of the things that I love about myself. And having said that, 'yong surrogacy, bakit hindi, 'di ba?"
With her life undeniably changed now that she's soon to become a wife, Iza is now looking forward to the exciting possibilities in her near future.
"If God will allow me one birth from my own, I would love to experience it for so many reasons—because I feel like there is no greater bond nga raw between the mother and child… And for me I guess as an actress, 'cause I'm an experiential person, so one the reasons why I want to give birth is because of that."
ADVERTISEMENT - CONTINUE READING BELOW
Comments
Load More Stories