A cup of coffee or a glass of iced tea from a premium café doesn't come cheap. In fact, for some there is often a slight sense of guilt when buying expensive beverages especially when payday seems so far away. However, with the newest drink of Bo's Coffee, you won't feel as if you're overspending because the money that goes into the cash register reaches people that need it the most.
ADVERTISEMENT - CONTINUE READING BELOW
Together with two of their homegrown partners Bayani Brew and Tsaa Laya, Bo's Coffee launched Lemongrass Mango Poppers, a refreshing drink resulting from a collaboration that aims to create and continue the positive social movement of loving one's own and improving lives.
CONTINUE READING BELOW
Recommended Videos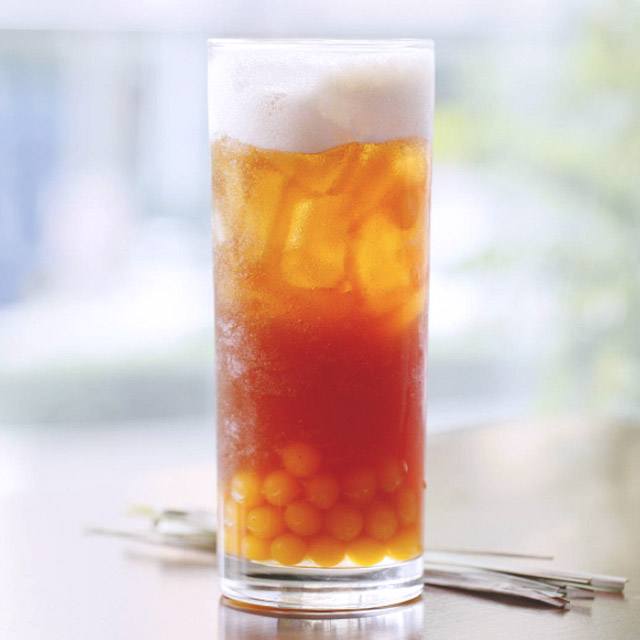 "We designed this drink with the idea of being local in mind, and concluded that the best way to do that was to tap Tsaa Laya for mint leaves and Bayani Brew for lemongrass," explained Bo's Head of Coffee Development Ralph Tan.
ADVERTISEMENT - CONTINUE READING BELOW
Bo's Coffee has been known to champion local produce and labor. Every branch is a testament to its advocacy—lamps were designed by the famous Kenneth Cobonpue using indigenous materials, while lounge chairs have been upholstered using Filipino-woven fabrics from Anthill Fabric Gallery. Their drinks, however, are the stars of the show—they only serve coffee using beans harvested from the country's highlands, and their teas and juices all support local social enterprises.
Bayani Brew is one of them. Started by lawyer-turned-grassroots entrepreneur Xilca Alvares-Protacio, it continuously works hand-in-hand with Gawad Kalinga's Enchanted Farm in Bulacan, empowering nanays and utilizing crops that are usually taken for granted such as tanglad.
"Our core mission is to make subsistence farmers' hand-to-mouth existence a thing of the past," said Xilca in another interview with FemaleNetwork.com. "This just doesn't include augmenting farmers' income, but [also] preparing the next generation of farmers..."
ADVERTISEMENT - CONTINUE READING BELOW
Tsaa Laya, on the other hand, aims to create sustainable livelihood for community partners through herbal gardening and tea production, with the ultimate goal of returning the land they till to them. "I was lucky enough to be part of the few that visited the Tsaa Laya farm in Laguna, where Ondoy victims have been relocated," said Bo's Brand and Marketing Manager Toni Santos. "Some of the tea makers only worked two to three times a week, so they were not able to provide enough for their family. But Bo's came in to provide support and resources, resulting in income increase—a feeling of overall satisfaction in their lives.
This entrepreneurial ecosystem where homegrown workers and ingredients are put in the spotlight helps push sustainability while uplifting the lives and consciousness of farmers who have long been used to poverty—and you get to play a huge part. What you think of as the simple action of purchasing Bo's Lemongrass Mango Poppers contributes greatly to the picture by providing continuous demand for it.
ADVERTISEMENT - CONTINUE READING BELOW
So the next time you visit Bo's Coffee, try enjoying this new drink. Your contribution makes a difference bigger than you can imagine.
Comments
Load More Stories