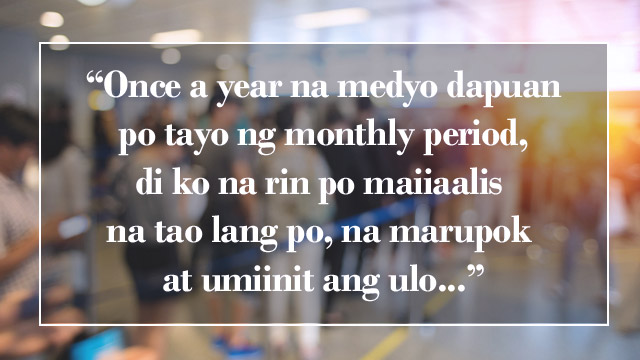 You've probably already seen that viral video of ACTS-OFW Representative John Bertiz allegedly refusing to follow security protocols and confronting an airport officer, even going so far as confiscating the latter's ID. In case you didn't, here's a video of it:
ADVERTISEMENT - CONTINUE READING BELOW
CONTINUE READING BELOW
Recommended Videos
He initially claimed that he was only berating the security screener for letting "Chinese-looking passengers" go through security with their shoes on, but the Manila International Airport Authority Chief Ed Moreal even said in a press conference that there were no Chinese-looking individuals found in the CCTV footage prior to the incident.
ADVERTISEMENT - CONTINUE READING BELOW
Chinese nationals aside, Rep. Bertiz later on apologized for his actions, saying: "Once a year na medyo dapuan po tayo ng monthly period, di ko na rin po maiiaalis na tao lang po, na marupok at umiinit ang ulo—naiistress din sa trabaho." [via ABS-CBN News]
And that's probably one of the oddest, most sexist apologies ever given to date.
For one thing, men (obviously) don't get monthly periods. They do not deal with five to seven days of bloody napkins and tampons, and therefore they don't get to use the "I'm on my period" card simply because they have no experience to back the statement up with.
And here's the thing: women do not even use that card to excuse bad behavior because rudeness is just rudeness. While it's true that wild hormonal fluctuations make some women feel weird during that time of the month, these don't dictate our actions and most know not to lash out at someone because being respectful to others is just the right and basic thing to do.
ADVERTISEMENT - CONTINUE READING BELOW
Aside from being totally backwards, comparing irrational behavior to naturally occurring hormonal spikes just means that you're not being accountable for your actions. Because that's what Rep. Bertiz seemed to imply—It's not me. It's the hormones. Good grief!
It's absurd and unbecoming of a government official, and both women and men know it:
ADVERTISEMENT - CONTINUE READING BELOW
ADVERTISEMENT - CONTINUE READING BELOW
ADVERTISEMENT - CONTINUE READING BELOW
Gabriela Representative Emmi de Jesus summarized it well: "Kaming mga babae ay walang problema sa regla. Ang isyu ay ang arogansya nya. Huwag nyang idamay ang kababaihan kasi siya ang may problema." [via Inquirer.net]
The moral of the story is be kind, and if you can't be kind, be accountable for your actions. Don't blame something else for your bad attitude. And most of all, don't be sexist.
The views, thoughts and opinions expressed in articles, comments and other posts on this page belong solely to the author thereof, and do not necessarily represent the views of Female Network.
Comments
Load More Stories