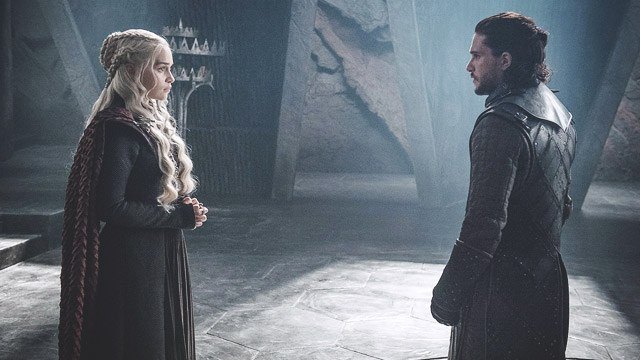 If you've noticed that Game of Thrones has been hard on the gas pedal with its story arcs this season, you're not alone. With a grand total of seven episodes left (including the next and final season), shocking reveals are being unveiled at breakneck speed.
ADVERTISEMENT - CONTINUE READING BELOW
Given the current season's pace and the stories that come with the show's plethora of major and minor characters, viewers are being introduced to conflicts quicker than ever.
Excluding the highly anticipated major bummer cliffhanger on next week's season finale, here's a breakdown of the current key conflicts/story arcs that still need to be resolved:
Sansa and Aria Rivalry
Most of the Stark children have had an awkward case of sibling rivalry since the beginning of the show. But nothing comes close to (or is as bad as) Sansa's and Arya's relationship. The tension stems from the fact that the two sisters have taken entirely different paths that led to the characters they are today. Sansa is more calculating, thanks to her unofficial mentors Littlefinger and Cersei, while Arya is more likely to hide in the shadows and cut out the faces of her enemies due to her training as a Faceless Man. As much as they still love each other in spite of their differences, we're still wondering what their end goals are. Blood may be thicker than water, but let's remember that this is also Game of Thrones.
Littlefinger's Endgame
Adding fuel to the fire of Sansa and Arya's rivalry is Littlefinger. The ruthless manipulator-slash-creepy-uncle has been controlling the Game since the beginning of the series, but suffered a bit of a setback when the Stark children reunited at Winterfell. As to how he was able to outsmart Arya, an equally competent (or maybe even better) master manipulator and spy, with Sansa's letter is anyone's guess. If the sisters aren't plotting to kill each other, the other realistic alternative is that they're plotting against Littlefinger. His endgame has remained the same throughout the entire series: to sit on the Iron Throne. But we still have to see if he can achieve it with the White Walkers now in the equation.
What's Next For Bran
Bran can literally fix everything that has gone wrong in Westeros with his omnipresence and time-traveling abilities. Given his powers, it's quite obvious that the showrunners have something big in store for the youngest member of the Stark family. But as to what role he'll play, other than knowing everyone's secrets and warping into animals, it isn't entirely clear yet.
ADVERTISEMENT - CONTINUE READING BELOW
Jon Snow's Targaryen Bloodline
After Gilly's revelation that Jon Snow is most likely a legitimate son of Rhaegar Targaryen and Lyanna Stark, we wonder how this will affect everything in Game of Thrones. Since the beginning of the series, Daenerys' motivation to conquer Westeros has been based on the idea that she's the only remaining, legitimate Targaryen in existence. Meanwhile, the Northern Lords' loyalties are based on the premise that Jon is still Ned Stark's son despite his being a bastard. Imagine the consequences when the Northern Lords realize he's the son of a Targaryen, an enemy of the Starks. Or when Daenerys learns that Jon is her nephew and has a better claim to the Iron Throne. Which brings us to...  
Jon and Dany Romance 
If it's not quite obvious yet, the producers are priming these two leading characters for a major and crucial romance plot. If you're like many people who find the romance progression too fast or forced (or both), it's because it is. The chemistry is already there, but the potential to maximize that chemistry remains to be seen, if not this season, maybe in the next and final one. It's still unclear how the romance plot will play out. But we're guessing it has something to do with what Tyrion said in episode 6 regarding Dany's successor.
ADVERTISEMENT - CONTINUE READING BELOW
Cersei's Pregnancy
In the opening scene of Season 5, viewers were treated to a flashback of Cersei's childhood when she met a fortune teller in the forest. Her encounter with Maggy the Frog went on to influence every choice she's made. All of the prophecies concerning the young Lannister have come true so far: marrying the king (Robert Baratheon) instead of the prince, and bearing and losing all three of her children. But there was no mention of a fourth child. So when Cersei revealed in the fifth episode that she is pregnant, viewers were quick to conclude that this is a major sign that the queen's demise is not far off, which was also prophesied by Maggy. 
Minor Characters
We can all agree that Game of Thrones is good at is making its minor characters lovable and substantial. Brienne, Tormund, Podrick, Gendry, Jorah, Beric, Ser Davos, Greyworm, Missandei, even Bronn: they all have their own stories to tell. But with only a few episodes left to move the show's multitude of plot lines forward, their story arcs have been mostly set aside. One of the most pervasive theories that's circulating the internet is that the showrunners are intentionally saving all of the important minor characters for the final season. Expect the worst and hope for the best for these likable characters.
ADVERTISEMENT - CONTINUE READING BELOW
This story originally appeared on Townandcountry.ph.
* Minor edits have been made by the Femalenetwork.com editors.
Load More Stories