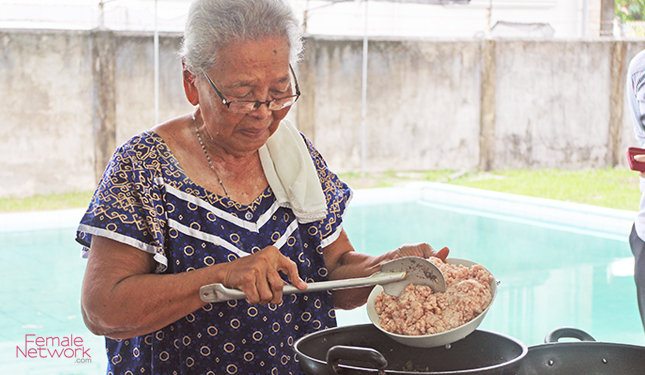 Tucked in the heart of Guagua, Pampanga is Maquiapo's Bale Maragul (Big House), the ancestral home of the Mirandas. Once overseen by family matriarch Romana Fernandez y Vda Miranda, its polished wooden walls have become a safe haven for soldiers during the war, a printing press for the Church during peace time, and a historic casa where fiestas with many decadent Kapampangan meals have been served to both kin and townsfolk.

Ating Ising was born in this old mansion of giant rebulto and capiz windows. Growing up, she learned different recipes from Doña Romana, whom she would fondly call Apung Manang. When asked why she cooked things a certain way, she answered, "Ito kasi ang gusto ni Apung Manang.", before proceeding to laugh off a question about her age.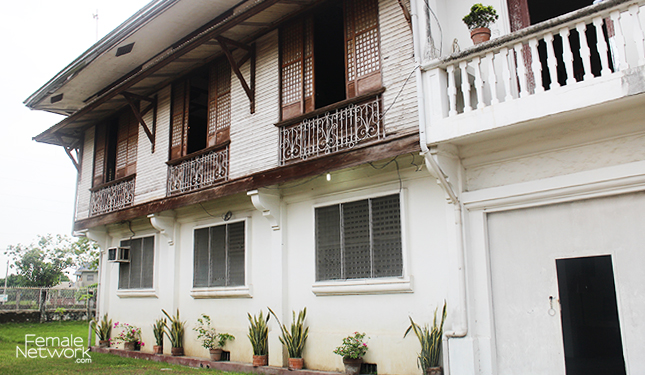 ADVERTISEMENT - CONTINUE READING BELOW

Now a proud majordoma and second mother to the descendants of Apung Manang, she cooks with a certainty based on tradition and experience. There was no one sure way of creating a dish; there were no measurements, no strict ingredients. Whatever was available was used, and tradition was found in the labor-intensive process of perpetually mixing the halaya and in painstakingly cleaning crickets for kamaro.

"Kapag ako'y nagluto, hanggang sa oras na [ihahanda na] itinatama ko pa sa gusto [na lasa]," Ating Ising shared as she added salt to the kilayin she was preparing.

Hers was the epitope of heritage cooking—tastes that are both traditional and transformative. Despite the truth behind it, Ating Ising would awkwardly voice out her disapproval every time she was called one of the most prominent cooks in the area for holding so many secret kitchen techniques that the Miranda family had enjoyed for many decades.

"Ang makakain niyo po, ang nagluto po sila," explains Victor Paulina, one of Apung Manang's descendants and a chef at San Miguel Pure Foods Culinary Center. "Nagtawag po kami ng mga kusinera [at] sabay-sabay po silang nagluto. Ganoon po ang kanilang istorya, para lamang nag-ku-kuwentuhan sila—'masarap ba ito?'—kung ano ang pinakamasarap, iyon ang gagayahin ng iba."

Passed on from one generation to the next was Ating Ising's kilayin, a medley of ground pork meat and pork lungs that have seen several changes through the years. Although the recipe would often change depending on for whom the dish would be served, Chef Victor tried his best to approximate the ingredients:

Ating Ising's Kilayin

ADVERTISEMENT - CONTINUE READING BELOW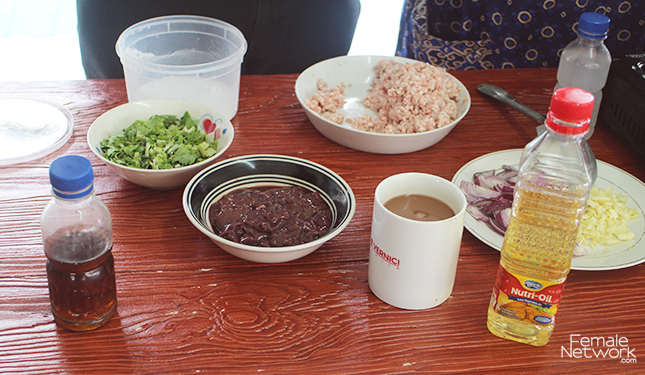 Ingredients
1 kg Monterey ground pork

2 cups vinegar

2 tbsp rock salt

3 pcs garlic, crushed

2 cups Magnolia Nutri-Oil Palm Vegetable Oil

3 pcs red onion, sliced

1 kg Monterey pork lungs, ground

6 pc dried local thyme stalks

2 tbsp ground black pepper

3 pcs siling labuyo, chopped

1 kg Monterey pork liver, sliced one-inch thick

Procedure
Marinate ground pork with vinegar, salt, and half of the garlic.

Heat oil and sauté the rest of the garlic until golden brown.

Add onion and pork lungs. Cook for 15 minutes.

Add marinated pork, thyme, pepper, and siling labuyo. Cook for 10 minutes.

Add pork liver and cook for 10 minutes.

Aside from kilayin, Ating Ising prepared a full feast consisting of kamaro, lengua, burong hipon, binurong mangga, pancit palabok na may kamias, kohol sa gata, and many more. All dishes tasted of the rich history of Bale Maragul that stood the test of time.

When asked why she kept on stirring while cooking, Ating Ising explained, "Ako, nasanay ng halo nang halo at baka masunog." While someone with her expertise is unlikely to make any novice mistakes, her humility appears to be the secret behind her technique. We hope that she will continue to stir delicious memories for the Mirandas and the residents of Maquiapo for years to come.


Comments
Load More Stories