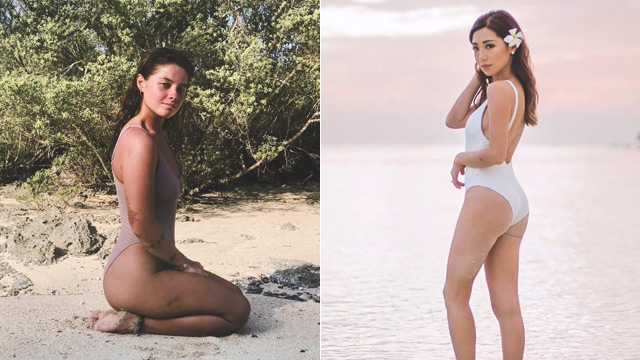 A bikini shot doesn't always have to be hot and steamy, especially if you're not too comfortable posing in a swimsuit. If you like to keep things low-key and classy, here are the many subtle poses you can try for your next summer beach photo: 
ADVERTISEMENT - CONTINUE READING BELOW
CONTINUE READING BELOW
Recommended Videos
1. Try the classic "looking back" pose for a subtle way to highlight your cheeky bum or to show off your backless swimsuit.
2. For something easy and effortless, look down and pretend like you're casually putting on your cover-up. 
3. A bangka parked by the shore makes the perfect OOTD prop. Stand tall, lean back on one hand, and look away or take a seat and put your hands on your chin.
When you feel awkward posing at the beach, finding something to lean on will make you feel extra-comfortable in front of the camera.
4. Ask your friend to take the shot from afar to capture both the tropical view and your classy swimsuit. Bonus: Pretend like you're strolling or tying your hair to nail that "kunwari stolen" shot. 
5. For a demure pose, kneel on the sand and look straight into the camera
—

or keep your eyes closed if you want to emote.
6. Let the shadow of nearby trees subtly add drama to your next beach profile photo. 
ADVERTISEMENT - CONTINUE READING BELOW
7. If you don't know where to place your hands, shade yourself from the sun for that "nasisilaw" pose... 
8. ...Or you can also pretend like you're fixing your hair. 
9. You don't always have to look at the camera. Show off your stellar view and your sexy back instead! 
10. Before heading down to the shore, settle on a few steps and casually rest your hands on your face for some lazy beach vibes. 
11. Get comfy and lean back.
12. When in doubt, just let the camera capture your genuine laugh.  
Comments
Load More Stories