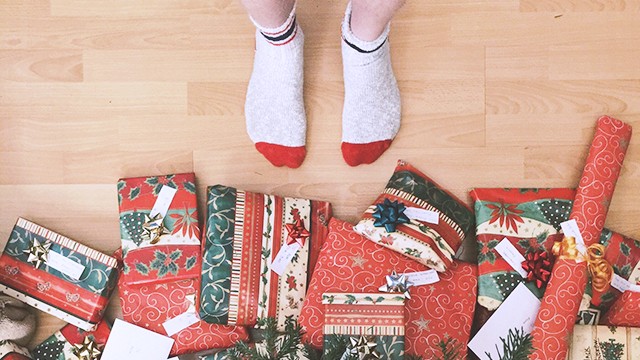 Possibly every woman in the history of the world who has experienced being a girlfriend around Christmas (moreso for those in new relationships around the season) has gone through the dilemma of picking a Christmas gift for her beau, so we're here to help! Check out these possible items – both currently available and soon to be released – that you can prepare and save up for to place under your tree:

1. A classy drink
There is something alluring about a man who can hold his liquor. Get your favorite squeeze a bottle of scotch and enjoy a quiet nightcap together.
ADVERTISEMENT - CONTINUE READING BELOW
Take your time when you work on something you're passionate about. There's joy in the process. #WalkWithJoy pic.twitter.com/HsFyl591Pk

— Johnnie Walker PH (@JohnnieWalkerPH) November 16, 2015
Get him the Johnnie Walker Black Label Limited Edition Ice Ball Pack, and prep a mean Johnnie with Cola Rock: Freeze cola using the ice ball mold, and serve it with 30ml of Johnnie Walker Black Label
2. A good suit jacket
A suit jacket can level-up almost any outfit in an instant. Your beau will appreciate one that he can wear both at work and at play.
The Essential Suit

1 suit, 5 ways to wear it. Whether you go modern with a sweater or classic with a tie and pocket square, a sharply cut suit is a gentleman's wardrobe essential. #VeryPerry #Menswear #MensStyle

Posted by Perry Ellis on Wednesday, September 28, 2016

Perry Ellis suit jackets are available at SM Malls.
 
3. A pair of shoes for the track…
If you're into wearing matching apparel, workout shoes are a great, not-so-cheesy idea. 


How about a pair of shoes that can sense if you need your laces tighter or looser? Watch out for the new Nike Hyperadapt 1.0, coming out by the end of November.
4. Or for casual dates!
The best way to convince your guy to throw out his ratty pair of sneakers is to get him a new pair. Pick kicks that he can wear for those chill movie weekend dates.
ADVERTISEMENT - CONTINUE READING BELOW
Get him a pair of the Pony Top Star '77, available at Complex Lifestyle Store branches, and SM Department Stores.
5. A reliable phone
If your boyfriend has been thinking of replacing his phone, beat him to the punch! There are a lot of great devices currently available in the market, and there are still new releases to look forward to as the year closes.


Check out Google Pixel, Google's first-ever smartphone. Pre-ordering in Asia to be announced soon.

6. The game console he always wanted
He'll definitely love you for this one. Pitch in a couple of new games with it to get him totally excited!

Get him the Sony PS4 or the PS4 Pro and prepare for the release of Final Fantasy XV on November 29.
7. An out-of-town adventure
Experience can make the best Christmas gifts, so why not give him one that he'll never forget? Plan a surprise trip that are both parts relaxing and exciting.
ADVERTISEMENT - CONTINUE READING BELOW
Visit Mapawa Nature Park in Cagayan de Oro. Rates are available upon inquiry.
Comments
Load More Stories