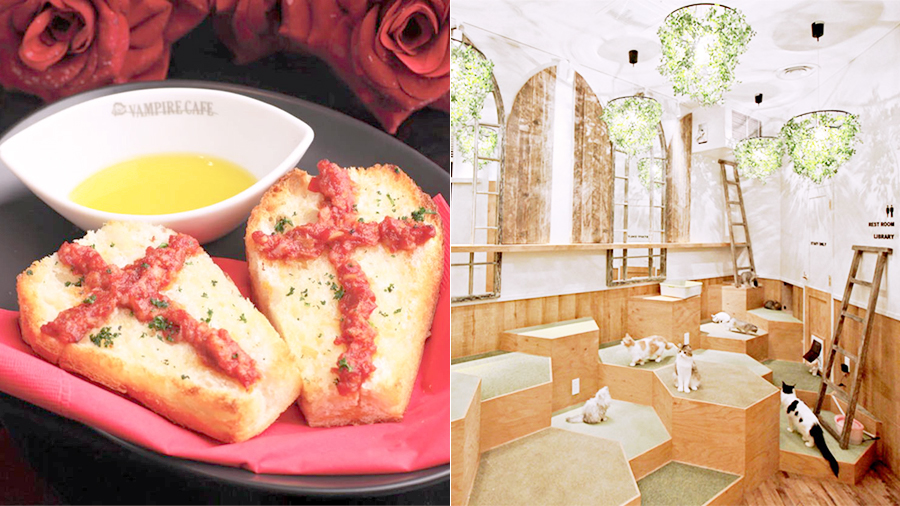 Japan is a country of interesting paradoxes. On one end you have quiet beauty, clean lines, and centuries-old traditions that continue to be respected in this day and age, while on the opposite end, you have the vibrancy of its modern pop-culture: Harajuku street fashion, anime, and of course, curious restaurants.
ADVERTISEMENT - CONTINUE READING BELOW
Whether you're headed to Japan for the first time or for your tenth visit this year (naks), here are interesting foodie nooks to add to your bucket list (we're actually adding them to ours, too). It's both about the meals and the ambience, so just dive into the experience!
1. Swallowtail Butlers Café
Location: 170-0013 Tokyo, Toshima-ku Higashiikebukuro, 3-12-12 Masakazu Building
For more details, visit: https://www.butlers-cafe.jp/
If you want to feel like a princess for a day, head to the Swallowtail at Ikebukuro, where you will be waited on by a footman (yes, you read that right), a server, and a butler. The menu includes high-quality tea as well as intricately made pastries – all offered by well-suited waiters for your total comfort.
???????????????????
6???????????????????????????????????????#????Swallowtail #???? pic.twitter.com/l7WGfkvk4V

— ????Swallowtail (@swallowtail_bc) November 11, 2016
?????????????????
?????????????????????????????#????Swallowtail #???? pic.twitter.com/dRt2SSxCBd

— ????Swallowtail (@swallowtail_bc) November 10, 2016
2. Ninja Akasaka
Location: Tokyu Plaza Akasaka , 2-14-3, Nagatacho, Chiyoda-ku, Tokyo,
For more details, visit: www.ninjaakasaka.com
If you have a child who's into anime like Naruto, then this is the place to visit. It's as ninja as it could get with a discreet entrance (which is an almost nondescript door), through which you will still have to pass through a few secret doors before arriving at the main restaurant. It's about the adventure as it is about the weapon-shaped food, plus they also serve kids' platters and vegetarian dishes which makes it a great go-to place for the family.
ADVERTISEMENT - CONTINUE READING BELOW
3. Cat Café MoCHA Harajuku
Location: 4F Cross Avenue Harajuku, 1-14-25 Jingu-mae, Shibuya, Tokyo
For more details, visit: http://catmocha.jp/harajuku/
Cat cafes started in Japan, and probably one of the nicest and cutest is Cat Café MoCHA in Harajuku. While the MoCHA has several branches, the Harajuku branch is right in the middle of Tokyo's most fashionable district, so it's the best place to get your dose of kawaii.
4. Vampire Café
Location: La Paix Buliding 7F 6-7-6 Ginza Chuou-ku Tokyo
For more details, visit: www.diamond-dining.jp/shop_info/vampire/
If you're into over-the-top, gothic-inspired horror, then the Vampire Café is for you. It's one of the most prominent themed cafes in Japan, plus it has a resident "vampire" named Vampire Rose, who also is also a part of a local metal band.
Bonus: Macho 29
Macho 29 is not really a restaurant, but a group of really, really buff men who have been taking over yakiniku restos, cafes, shaving ice stands, and beer bars. Their selling point is that they serve their (mostly female) customers while shirtless flexing. There's still no word where they'll head to next, but we'll definitely keep our eyes peeled.
ADVERTISEMENT - CONTINUE READING BELOW
Comments
Load More Stories