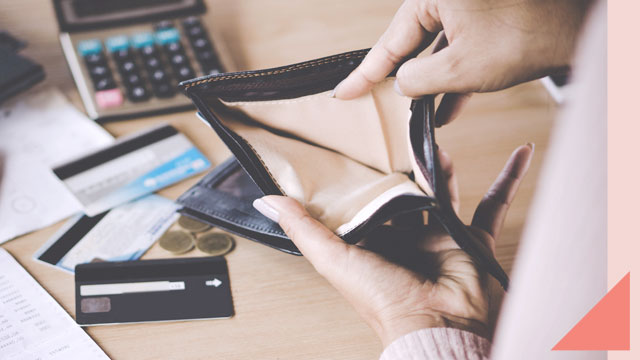 'Tis the season of bonuses, and it feels great to be able to buy gifts for others! But come next month, will you be left lamenting where all that money went? 
Welcome to adulthood and the dance around the petsa de peligro! It's common to feel this way because it has been embedded into Filipino culture, but that doesn't mean we can't be reprogrammed to be financially smarter.  
ADVERTISEMENT - CONTINUE READING BELOW
With a little bit of mindfulness, a few minutes of careful planning every week, and awareness of what you have been doing wrong—you don't have to wait for the end of the holidays to start making better decisions when it comes to financial stability. How many of these nine typical money mistakes can you say you've made? 
You don't know how much you earn versus how much you spend. 
Remedy: Find out your financial status and create a budget. 
Do you review your pay slips? Sometimes accounting departments deduct a little bit more from the first half of the month to cover your benefits. This could affect your budget if you don't know the difference between what you're receiving from one payday to another. Or, if you are self-employed, do you have an agreement on payment terms? How often can you really collect from a client?  
Create a budget plan based on the answers to these questions. Determine how much you earn and how much you can spend on necessities like food, lodging fees, phone bills, and transportation. Don't forget to include savings, an emergency health fund, and even your allowance for leisure activities.
You mindlessly withdraw cash multiple times a week.  
Remedy: Withdraw only once a week and make it last. 
Based on your budget plan, make ATM withdrawals a weekly habit, instead of an as-needed behavior. This allows you to make smarter decisions based on the cash you have at hand. 
You borrow money, or let debts pile up. 
Remedy: Pay in cash. 
If you don't have the cash on you when you need to pay for something, then you probably can't afford it. Just because you can afford a payment also doesn't mean you can afford the product or service—which means credit card installment plans can put you in a problematic situation. 
ADVERTISEMENT - CONTINUE READING BELOW
You go to the supermarket without a grocery list.
Remedy: Make that grocery list and check it twice. 
Having a list at the supermarket is one of the simplest things you can do for yourself. Going to the grocery store when you're hungry, increases your chances of ending up buying a bunch of things that satisfy your cravings but won't all fit into your budget. If you know what you have in your refrigerator and know your inventory bathroom or kitchen essentials, you can focus your expenses on items that you actually need at home. 
You would rather buy a meal than cook one.  
Remedy: Plan and prep your meals for the week.  
Part of the problem with cooking meals includes the lack of ingredients at home, not having a go-to recipe, and the prep work involved in it. But if you start with making that grocery list, you can tick off one less thing to think about. Cooking at home is definitely cheaper than eating out, but this doesn't mean you can't treat yourself. You can just plan around it better, and know when you do have the money to be able to spend for it. 
ADVERTISEMENT - CONTINUE READING BELOW
You consider it a good move to buy something cheaper regardless of the quality of the product or service. 
Remedy: Go for quality over quantity. Consider it an investment.  
This applies to things as simple as a phone charger. Sure, it costs only P200, but if it only lasts you six weeks, you'll have to buy another one next month. Instead, why not get an original charger from your phone's brand itself or a known reliable one at least, which definitely costs more, but will actually save you the trouble of multiple purchases and accumulating expenses? 
You touch your savings. 
Remedy: Make it inaccessible. Whether through a different account, a different wallet or a box—find a way to physically make it harder for you to touch your savings. 
Yes, it's tempting, especially when you think you really, really need it. But exercise some mental discipline and really let this grow. It's an investment for yourself in a financial sense, but also on a personal level. Building resilience to breaking your old habits also has a compounding effect, and you can start by letting your savings be and just don't touch it. And as they say, tomorrow you're going to wish you had started yesterday—so make these changes today!  
ADVERTISEMENT - CONTINUE READING BELOW
Load More Stories