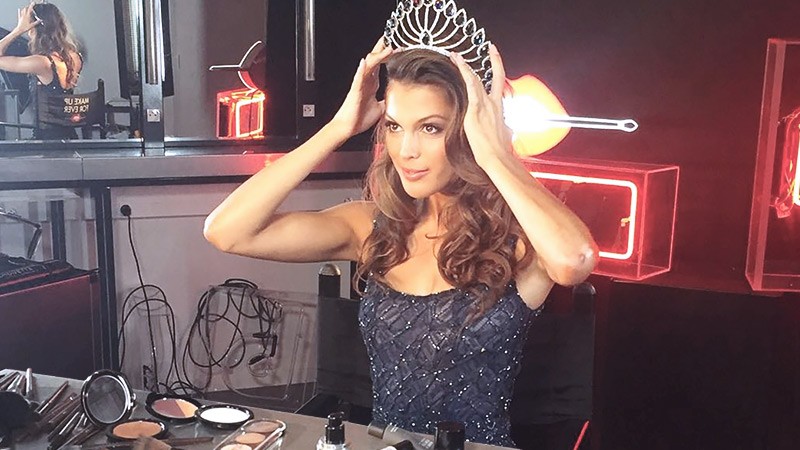 After Miss France Iris Mittenaere was crowned Miss Universe 2016, all eyes are now on the French beauty, and we, of course, got curious about what could be inside her makeup bag.
In an interview with Closer Magazine, the newly-crowned Miss U revealed her beauty must-haves:
1. Cleanser
In true French girl practice, Iris cleanses her face with Micellar Corine de Farme, this French brand is known for its ability to care for sensitive skin.
2. Moisturizer
She hydrates her skin with moisturizers from La Roche-Posay and Hydréane Légère.
3. Eye care
She also mentioned that she loves using the Eye Care Light Corine de Farme.
4. Sunscreen
For sun protection, her favorite is SPF 30 Corine de Farme.
5. Powder
Make Up For Ever Loose Powder is her perfect choice for touch-ups.
6. Lip product
She entrusts her pout with a lip palette from Make Up For Ever, too. Iris also divulged that she uses a lip pencil as a finishing touch for her lip makeup.
7. Fragrance
She did admit that she changes her scent every now and then, but she shortlisted these scents as her faves: Chanel Coco Mademoiselle, Lancôme La Nuit Trésor, and Nuxe Prodigeux Le Parfum.
8. Hair care
To maintain the health of her frequently styled hair, Iris soaks her locks in a mask from Nutri Active Vitality regularly. She also disclosed that her hair gets tangeld easily, so to prevent damage, she applies Nutri Active Vitality detangling balm on her locks.
Latest Stories
Load More Stories