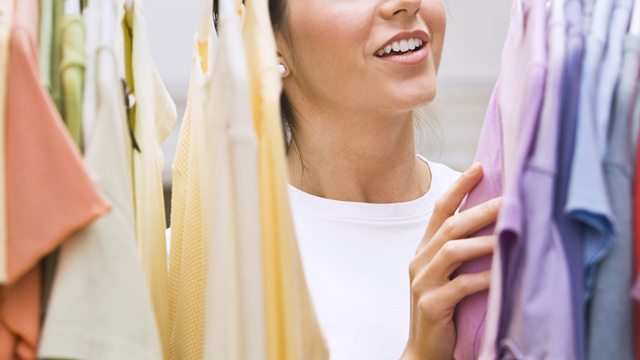 Clearing up closet space isn't hard to do, especially if you have a lot of clothes and you're pretty sentimental about them. While it's normal to feel bad about letting go of pieces that mean something to you, it's also not efficient to stock up on things that you know you won't be able to use anymore, like underwear with "baconed" garter or hole-filled socks that have lost their pairs. If you're looking to clean up your cabinets to let new energies in, here are a few tips that can help you dispose of what you don't need:
ADVERTISEMENT - CONTINUE READING BELOW
CONTINUE READING BELOW
Recommended Videos
Socks
There's nothing more annoying than getting holes in your sock and then losing the other pair after doing laundry. If you haven't found your lost sock after several laundry sessions, then you may want to repurpose the one that's left.
Clean socks can actually make for great bottle holders, especially for those that contain sticky or pungent sauces as it can help absorb any leaks after pouring. You can wash them when they get dirty, or finally dispose of them after several uses.
You can even use your sock to style your hair into a neat sock bun! There are hundreds of tutorials on YouTube for your specific hair length you can check out.
Panties
Repurposing undies may initially seem gross, but as long as they're well-washed and you cut out the crotch, they're basically good as rags or pillow stuffing. If the garters still hold, you can even turn them into bandeaus and bralettes. At least those old but nice lacey panties will be given a second lease in life.
ADVERTISEMENT - CONTINUE READING BELOW
Bras
If your chest size has grown through the years, then you probably have a stack of old bras in your closet that you don't know what to do with. A quick way to recycle them is to cut out the cups and sew them on your backless dresses which don't have front support. You can also use the straps for so many things, such as belts and headbands.
Blouses, pants, and dresses
Unlike the previous items, blouses, pants, and dresses are much easier to let go of, especially if they're still very much wearable. You can hand them down to your siblings, donate them to any good cause, or sell them online.
You can list your items in one of the many buy-and-sell Facebook groups, forums or you can sign up for apps such as Carousell to avoid getting bad deals. The nice thing about it is that it promotes hobby groups and fandoms (yes, there's a K-drama group as well), which will help you ensure that you're getting what you want from people who like the same things as you.
ADVERTISEMENT - CONTINUE READING BELOW
Sources: Business Insider, Bustle
Comments
Load More Stories