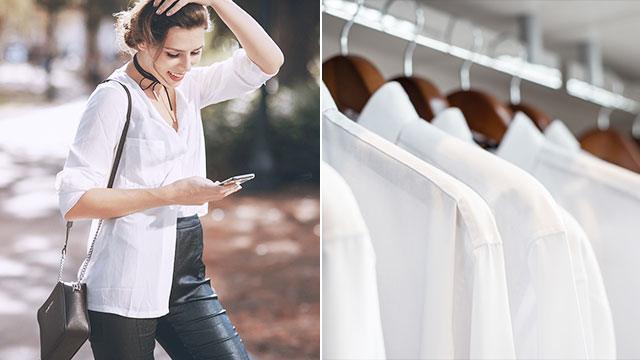 Minimalist dressing can sometimes be perceived as boring because it deals with trends and flashy prints the least. Hold the prejudice, though! You can actually hit the chic territory by incorporating smart style tricks to your outfit. Plus, this realm of dressing is timeless, so you'll never have to worry of owning a 'disposable' fashion item. Ready to make your life easier? Read on:
ADVERTISEMENT - CONTINUE READING BELOW
Start by filling your closets with basics
Just like any other way of fashion, being well-stocked with wardrobe essentials in your closet will make mix and matching a breeze.
Experiment with volumes and proportions
This is the fun part. When working with basics, fabric (denim, poplin, leather, khaki) and color are mostly the same, so you have lots of room to experiment in terms of cut and shape. Plus, make sure whatever you're wearing fits you well and is properly pressed—shabbiness and wrinkles are not welcome here.
Play favorites
ADVERTISEMENT - CONTINUE READING BELOW
Living the minimalist life means that you're de-cluttering and curating your closet to pieces you love and would surely wear. Every item in your wardrobe should flatter your body and speaks your personal style. That said, it's highly recommended that you evaluate thy closet by purging and editing out clothes, shoes, and accessories that don't work for you anymore.
Stick to accessories with purpose
ADVERTISEMENT - CONTINUE READING BELOW
It's not a huge no-no to wear accessories. You can elevate your look with fine jewelry (with little or no gemstones). Also, a gold or silver dress watch is a great standout yet functional piece.
Relax in flats!
There's no pressure to be super glam in minimalist dressing, so relax and let loose with flats. Add more polish by wearing luxe textures like matte leather and satin.
ADVERTISEMENT - CONTINUE READING BELOW
Wear neutrals
To get you out the door fast (another school of thought of minimalist fashion), sticking to neutrals will save the day. If you want to add color, shades like, industrial pink, army green, burgundy, and navy would be cool choces.
Be conscious
ADVERTISEMENT - CONTINUE READING BELOW
Because of the intent of cutting down the wardrobe count, supporting brands that promote environmental sustainabilty to lessen the carbon footprint (data says that the apparel industry contributes 10% of the earth's carbon gas emissions, placing second to oil) should be a priority. 
Fast fashion, unfortunately, is a major culprit of this, so if you're really going hardcore on the minimalist movement, choose what you buy. Eco-conscious brands include Everlane, Alternative Apparel, Reformation, Dick Moby, Patagonia, Panda Sunglasses and H&M Conscious. The Good Trade, High Snobiety, Eco Cult, and Elle share their top list for sustainable fashion brands that you can refer to.
Load More Stories