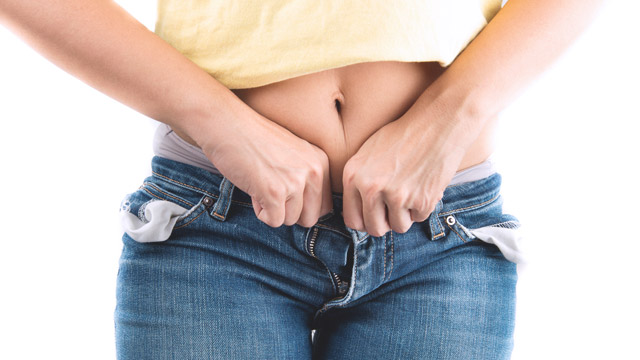 It's a fact of life that your favorite pair of jeans will be too tight for you to slide in at some point. While this is a great chance (or excuse) for you to go shopping, there are things you can do to make the most of out of your classic blues. Here are some of them:
ADVERTISEMENT - CONTINUE READING BELOW
See if you can still work around the waistline.
Before you let go of them, give your jeans one final chance! If you feel like you can still wear them if the waistband were only a few centimeters longer, then here's a trick from Preview writer Steph Sison: "If you really want a perfect fit, wear your jeans and sit for about 15 minutes in a tub full of warm (not hot!) water. Sit on a towel to dry the excess water. Move around the house in your damp jeans so the pair can 'memorize' your shape. Hang dry."
CONTINUE READING BELOW
Recommended Videos
Swap them for a discount.
If your jeans are already too tight for any quick home hack, then yes, it's time to let them go and get a new pair. One of the most convenient things you can do is to head to any H&M branch and to swap them for a discount. While you're at it, you can clean out your closet and give them other clothes that you don't use as well since you'll need at least one paper bag of clothes to qualify. One bag of clothes is equivalent to a 15 percent discount voucher. You can get a maximum of two vouchers per day. The H&M Foundation gives your old garments to many of the charities and social entities they work with.
ADVERTISEMENT - CONTINUE READING BELOW
Sell them.
As the saying goes, one man's trash is another's treasure. Put your jeans up for sale on a legit e-commerce site like Carousell, where pre-loved items are highly acceptable as long as they're still usable. You'll need to clear a lot of room in your closet if you're planning a fashion update this year.
Donate them.
Helping others out is one of the easiest and nicest ways of letting go of your old jeans. You don't need a natural disaster to give them out. Simply head to charitable institutions such as Operation Blessing, and your donation will go to those who need it the most.
Repurpose them.
Feeling pretty creative? Then you may want to turn your old jeans into something else. The list is endless—you can turn them into throw pillow cases, a journal cover, or even a trendy tank top as shown in the video below:
ADVERTISEMENT - CONTINUE READING BELOW
Comments
Load More Stories