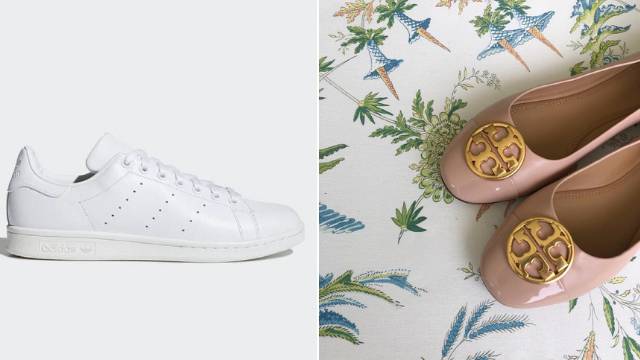 A good pair of shoes can take its wearer a long way, as any fashionista knows, but she also knows that there are a handful of exceptional pairs that she will go through in her lifetime. These iconic shoes are guaranteed to match endless occasions, ensembles, and venues. Below, we round up the pairs that are worth owning in your lifetime.
ADVERTISEMENT - CONTINUE READING BELOW
1. Timeless White Sneakers: Adidas Stan Smith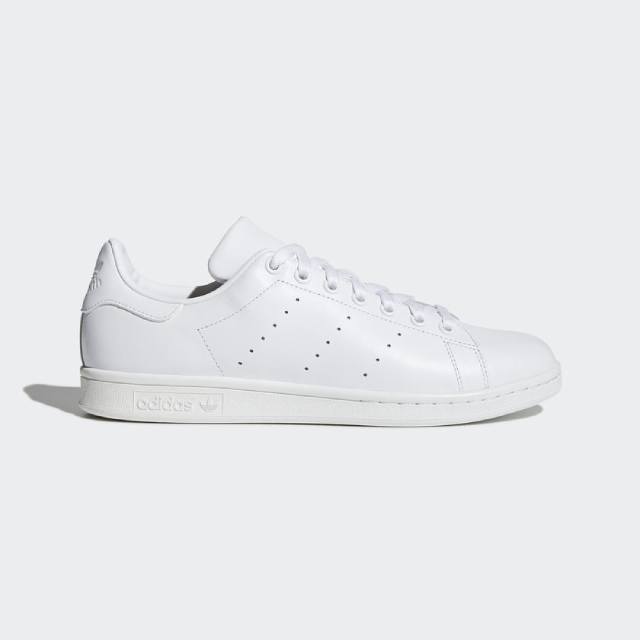 Adidas has an endless roster of practical sneakers to choose from, but what would arguably be its most coveted style is the Stan Smith, which was re-released in the '70s and renamed after a Grand Slam tennis champ. Its look has barely changed, since its second debut. Apart from its rich history, the Stan Smith is one of the most versatile shoes on the market, and can take its wearer from day to night.    
CONTINUE READING BELOW
Recommended Videos
2. Comfortable Yet Stylish Flats: Tory Burch Ballet Flats              
View this post on Instagram
Take style cues from Audrey Hepburn and embrace the undying ballet flats, which show off its wearer's feminine side but doesn't compromise on comfort. Tory Burch might be known for its bags or its fashion, but one of its signature offerings is its ballerina flats, which are made from premium materials such as leather and suede, and sometimes comes sporting the designer label's logo on its cap-toe. Tory Burch ballerina flats are also the perfect vacation companion as they can easily be packed in your carry-on and matched with your travel wardrobe.
3. Classic Everyday Loafers: Gucci Leather Horsebit Loafer
View this post on Instagram
Scroll through your most trusted fashion websites and the personal social media accounts of today's top fashion icons and you'll notice a pair of Gucci loafers. Sure there are variants in tweed and fur, but nothing beats the classic style in leather. One of the biggest features it has going for it is the fold-down heel, which lets the wearer easily convert it between a loafer and a mule, which makes it more worth its $700 price tag.
ADVERTISEMENT - CONTINUE READING BELOW
4. Laidback Espadrilles: Chanel Espadrilles
View this post on Instagram
In between loafers and sandals, we have the espadrilles, and no other brand makes a better pair than Chanel. Last year, the search volume for Chanel espadrilles reached between 10,000 and 100,000 in a month as the shoes have become the go-to summer pair. While many clamor for Chanel's espadrilles now, it wasn't until 2013 that the style became a Chanel staple after Karl Lagerfeld launched it on the runway.
5. Statement Heels: Manolo Blahnik Pumps
View this post on Instagram
It was Sarah Jessica Parker's Carrie Bradshaw who launched shoe designer Manolo Blahnik into popularity after she donned a blue pair of pumps in an episode of Sex and the City. As we've learned from the fictional character, every woman needs a statement piece to spruce up her outfit and Blahniks present an easy way to get started. Also worth taking a look at is the new Facuzuella, which makes use of an innovative heel design inspired by the work of sculptor Constantin Brancusi.
ADVERTISEMENT - CONTINUE READING BELOW
6. Straightforward Evening Heels: Christian Louboutin Heels
View this post on Instagram
A classic pair of red-soled heels by Christian Louboutin is part of any shoe lover's must-have list-that is, if they don't already own dozens of pairs. In the fashion bible, Christian Louboutin's shiny lacquered pumps are responsible for making the stiletto heel relevant again. The So Kate design might be a popular favorite, but among Louboutin's icons are other sensible styles-the open-toed New Very Prive is for a much casual workday, while the Pigalle Plato is easier to walk in. The Iriza is a sexier, sleeker option that can still be taken seriously.
7. The Industrial Pair: Camper Pelotas
View this post on Instagram
One of the original "ugly" shoes, the Camper Pelotas have sold over 11 million pairs worldwide since its debut in 1995. Why the sell-out? The brand should be credited for the genius use of multiple orbs on its outsole, making each step well-cushioned and balanced. The look has evolved through the decades but it maintains its breathable, waterproof, and lightweight features that cemented it as a classic. 
ADVERTISEMENT - CONTINUE READING BELOW
8. Heels You Can Walk In: Everlane Block Heel Sandals
View this post on Instagram
Contemporary American brand Everlane is quickly becoming the brand to know as of late, with leading products in outerwear, footwear, and basic apparel. Its block heel sandals, however, are quickly flying off the racks for its trendy square toe and its soft Italian leather. This design comes with a thin ankle strap and a forgiving two-inch heel which makes walking miles manageable.
9. Sensible Work Shoes: Ferragamo Vara
View this post on Instagram
An essential pair that will match any occasion, the Vara slingbacks in patent calfskin is for the woman who means business but also knows how to have fun. The style is a step up from its grown-up sister, the Varina, and gives its wearers a few more styling options. For a trendier take, wear it with a pair of socks or partner with a summer dress.
Load More Stories