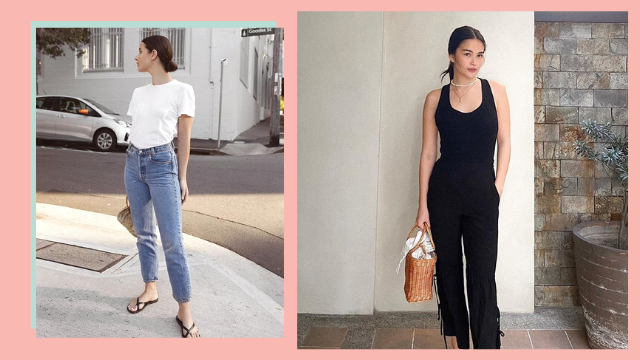 Whether or not you've been living in sweats during this pandemic like many of us, we're sure you've had your fair share of lazy days when you can't help but throw on comfy clothes and not bother styling them at all. Well, newsflash: You can get away with being lazy while still looking chic. Filipina YouTuber Nava Rose, shows us a couple of foolproof tips to making chill outfits appear elevated. Turns out, it's a matter of selecting the right "lazy" pieces and layering them strategically!
ADVERTISEMENT - CONTINUE READING BELOW
Check out these 7 ways to make your lazy outfits look stylish:
1. Go for monochromes.
The uniformity of monochromes makes any outfit look more put-together, so if you're tempted to head out in sweats, Nava suggests going for a monochromatic set. 
2. Match colors.
If you have only little energy to put some thought into your outfit, the easiest way is to match colors. "I feel like when people match colors in their outfits, it makes it look like they tried that much harder," Nava says. It's as simple as sticking to one color for your bottoms, shoes, and bag. When in doubt, black and white is the way to go.
ADVERTISEMENT - CONTINUE READING BELOW
3. Invest in quality basic pieces.
Ever wondered how people get away with the most basic outfits yet still look chic? Their secret is investing in quality pieces. Nava shares that she reaches for her slightly pricier basics more often than the ones she purchases from fast fashion stores, precisely because the quality makes all the difference. For example, you can be in just T-shirt and jeans, but if your tee is misshapen or not well-made, that can make or break your outfit.
ADVERTISEMENT - CONTINUE READING BELOW
4. Throw in another piece.
Nava Rose swears by the "vest" hack when making her outfits appear more thought out. However, the same rule can be applied even though you aren't into streetwear like her. For example, if your style is simple and classic, you can dress up a white tee and jeans with a sleeveless blazer, a suit jacket, or a longline cardigan. That third piece will make a huge difference!
ADVERTISEMENT - CONTINUE READING BELOW
5. Try something cropped.
Depending on the bottoms, sometimes opting for a cropped top, be it a T-shirt, a cardigan, or a hoodie, can instantly make your outfit look fresh and current. And it doesn't require much adornment, too. Just put on that cropped pullover sweater, slip into cycling shorts, and call it a day. You'll look like a model off duty!
ADVERTISEMENT - CONTINUE READING BELOW
6. You can never go wrong with jeans.
No matter what your go-to lazy shirt is, it will always look good with jeans. It's one of the tenets of fashion! Although a classic pair is good enough, you'll look even better when it has modern details, like a frayed hemline, stonewash areas, or distressed details.
ADVERTISEMENT - CONTINUE READING BELOW
7. Throw on jewelry.
It's no secret that accessories can transform an outfit, so it's definitely something you shouldn't overlook—no matter how lazy you are. You don't need to add a ton of necklaces or stack bracelets. Sometimes, even a simple medallion necklace can work wonders—and come on, putting it on will only take 20 seconds tops!
ADVERTISEMENT - CONTINUE READING BELOW
Watch Nava Rose's full video below:
Load More Stories