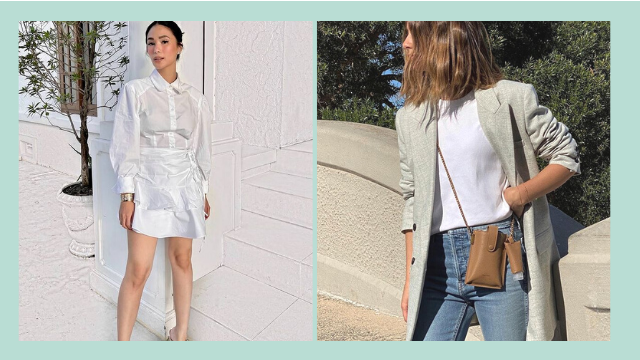 As soon as things start to become normal again—hanging out and traveling, what's good—cute outfits will see the light of day again. Your OOTDs will no longer just be documented on Instagram. Your friends can finally see you looking fancy in real life, and you can probably update your IG with photos that are taken in cafés and destinations just like the old times.
ADVERTISEMENT - CONTINUE READING BELOW
Given this opportunity, you can take advantage of the quarantine period to evaluate your closet and fashion choices: It's a good time to find your signature style. When the lockdown is over, you'll be out and about looking like the best version yourself. 
What does it mean to have a signature style?
Signature style doesn't mean that you'd look the same every day—it's not a uniform. It's about creating outfits that express your personality in a consistent manner. (READ: 10 Ways To Look Expensive And Polished Without Trying Too Hard)
How do I discover my signature style?
To help you discover your signature style, tackle it as what editors would do a photoshoot: You are the star, and every outfit you wear tells a story about yourself. Here's how you can apply what they do to uncover your failproof fashion formula.
The Simple Fashion Guide To Finding Your Signature Style
1. Create a mood board.
Editors, stylists, and creative directors always start with a mood board when they conceptualize shoots. You can do the same by putting together pictures that inspire you. Get photos of your style icons or pics of outfits you want to own in real life.
ADVERTISEMENT - CONTINUE READING BELOW
Recommended Videos
This is also the part when you pick a color palette that speaks to you the most. Sometimes, coming up with keywords to describe your personal style would work, too. I have a secret Pinterest board that has all my dream outfits, photographs, and movie screenshots that connect me at a spiritual level. (Okay, I exaggerated but you get the point!)
ADVERTISEMENT - CONTINUE READING BELOW
2. Look at your old pictures.
Okay, this can be difficult especially when you've had lots of fashion regrets. but, trust me, this is important. This will let you see what works for your body. Try to recall if you really enjoyed wearing that particular outfit. The bright side of this exercise: You'll also determine which outfits suit you best! This will help you narrow down your signature style, aka your fashion branding!
ADVERTISEMENT - CONTINUE READING BELOW
3. Work with the clothes you already own.
During shoots, stylists prepare clothes on a rack that the team will choose from. They edit winning looks with the choices they currently have. In your case, pick out pieces from your closet that will help you create your dream outfits based on your fashion history and mood board.
(Hot tip: It helps when you have a wardrobe filled with closet essentials or basic clothing. These items serve as the foundation of your outfits.)
ADVERTISEMENT - CONTINUE READING BELOW
4. Take pics of yourself.
Style a look from head-to-toe! Take outfit pics to find out if your fashion formula works or it resonates with your style goal. Have fun during this part. (LOOK: 10 Cool Home Photo Shoot Ideas, As Seen On Celebs)
5. Reevaluate and edit your closet.
Now that you have an idea of what really works for you, it's time to re-evaluate your closet. Get rid of those that don't spark joy. Decluttering and editing your closet can be a tedious task, but it's rewarding.  You can make room for the items that resonate with your signature style! (READ: This Simple Method Makes Organizing Your Closet Feel Less Overwhelming)
ADVERTISEMENT - CONTINUE READING BELOW
***
Cosmo is now on Quento! Click here to download the app for iOS, Android, and desktop and enjoy more articles and videos from Cosmo and your favorite websites!
Load More Stories