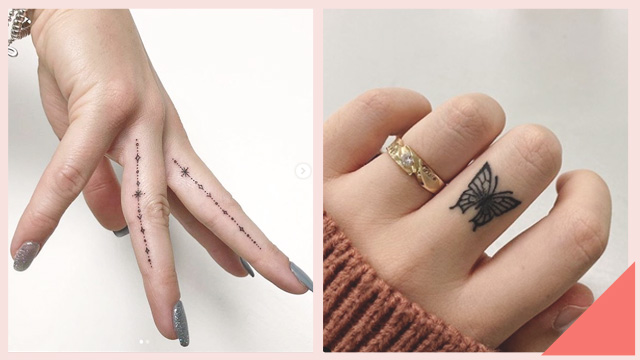 So... you decided to get a finger tattoo. Not only is it a trendy placement for your ink, but it's also super easy to hide when the need arises. But, like with other tattoo placements, there are some things you need to consider before booking an appointment. Ahead, some facts you should be aware of before considering this tattoo:
ADVERTISEMENT - CONTINUE READING BELOW
It's going to hurt. A lot.
READ MORE ON TATTOOS:
Pain is subjective and everyone's tolerance varies, but most tattoo artists agree that the fingers are high up there when it comes to the ouch factor. Your fingers are full of nerves and there is only a thin layer of skin before the bone, so there isn't much fat to cushion the sensation of the needle. The pro, however, is that finger tatts are always small, so your session may be over before you know it.
CONTINUE READING BELOW
Recommended Videos
The ink can fade easily.
Compared to ink placed on the other parts of your body, your finger tattoo is most likely to fade faster. Due to the number of things we do with our hands throughout the day, the ink on your fingers tends to lose its vibrant hue quicker. If you do decide that you really want to get it done in that area, be prepared to shell out money for regular touchups.
It's a high-maintenance tattoo.
If you want your finger tatt to continue being as vibrant as when you first got it, you must be committed to its upkeep. You'll know it's time to visit the tattoo parlor again when the design starts to look blurry and the color is not as bright.
ADVERTISEMENT - CONTINUE READING BELOW
You might not get the intricate design you have in mind.
When it comes to finger tattoos, simplicity is key. Since the area is so small, try to stay away from designs that might cause the ink to bleed or break apart. No-fail and fuss-free ideas include lines, letters, and numbers.
READ MORE ON TATTOOS:
Your "ring" tattoo might not really be a complete circle.
Ring tattoos are always popular, and they are a great alternative to wedding bands. If you choose this design, know that it might be best to keep it at the top or side of the finger. Ink bands that circle the finger are more prone to fading twice as fast, especially in the fleshy underside.Commit to the aftercare of your tattoo.
If you want your finger tattoo to look as good as it did the minute you stepped out of the shop, you must commit to its aftercare. Check out tips from a professional tattoo artist right here.
ADVERTISEMENT - CONTINUE READING BELOW
***
Cosmo.ph is officially on Viber! Be part of their growing community and subscribe to Cosmopolitan Philippines now!
Load More Stories