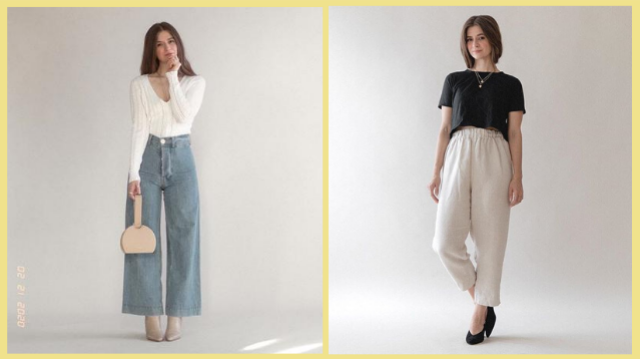 We believe that there are no rules when it comes to fashion, but there's something to be said about the way clothes can instantly transform your figure. Choosing the right pieces can do wonders for highlighting your assets whilst accentuating those you wish you were more blessed with.
ADVERTISEMENT - CONTINUE READING BELOW
If you're fun-sized like me, then for sure you wished you were at least a few inches taller, so you know, you could be eligible for America's Next Top Model one day. (We kid, we kid!) But know that you can appear taller with a few styling hacks courtesy of YouTuber Dearly Bethany. The petite vlogger shares her must-have wardrobe pieces that will elongate your figure and the exact ways to wear them to achieve that effect. 
1. High-rise or mid-rise cropped jeans 
The trick to looking taller than you actually are is to elongate your figure. The easiest way to do so is to choose the right pair of jeans. High-rise jeans are great for those with long torsos and short legs, while mid-rise ones are great for those with shorter torsos. Cropped jeans work well for those with petite frames (unless you already shop at the petite section).
2. Straight-cut jeans that fall to the ground
If you're into flared jeans or ones with a regular fit as opposed to skinny ones, go for slightly longer jeans that are either high-rise or mid-rise. This will create a long line from the waist to the ground and give the illusion that you're taller. Just make sure that the jeans don't buckle at the bottom! 
ADVERTISEMENT - CONTINUE READING BELOW
3. V-neck tops
If you aren't into cropped tees, you can stick to choosing necklines that will elongate your torso. Aside from scoop necks, V-necklines also do the trick because of the arrow shape that trains the eyes downward for a tall illusion.
ADVERTISEMENT - CONTINUE READING BELOW
4. Cropped tees
"This is gonna be your friend whether you have a long torso or short torso," Dearly Bethany says. When it comes to shortening the torso to lengthen the legs, cropped tops will be your ally because of the exposed midriff. Pro tip: Cropped shirts that are slightly loose on the sides will make you appear smaller underneath, thereby making you look leaner.
ADVERTISEMENT - CONTINUE READING BELOW
5. The right jumpsuit
In virtue of the "long line" strategy, jumpsuits are also a wardrobe essential and they're great for all body types. The best ones are those with seams that cut are joined at the waist for a leg-lengthening effect. "They work because they are one long line from the shoulders all the way down," Dearly Bethany explains.
ADVERTISEMENT - CONTINUE READING BELOW
Cool hacks, huh? Wish we learned these sooner! Check out the entire video below:
Load More Stories