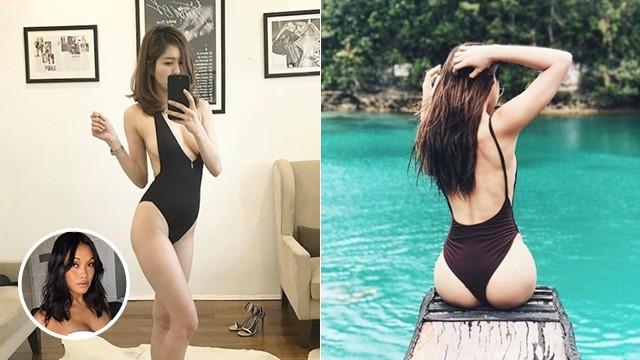 We've all been there—facing the mirror, looking at our body's reflection, clad in a bikini, and feeling a bit anxious. You suddenly spot certain areas, no matter how small or natural they are, that trigger insecurities as you immediately search for the perfect cover up that won't leave you feeling too...exposed. This is the major reason why celebrity favorite swimsuit designer, Boom Sason delved into custom-made swimsuits via Boom Sason Quick Custom RTW.
Boom Sason majored in swim and resortwear design in Italy because she always wanted to make women feel good whenever they're in summer clothing. "I have a lot of clients, especially women who just gave birth, who have a hard time looking for swimwear that fits them. It's really hard because we have little imperfections that we want covered up," she explains to FemaleNetwork.com.
Although we always see her label attached to hot celebrity bikini shots, she clarifies that she doesn't specialize in 'sexy women' only. "There's a misconception that I only make for sexy women. No, eh. I want them to understand [that] I make swimwear and clothes for all shapes and sizes because I want them to feel empowered. I want them to really love whatever body they're in.
"Actually, I want them to come and consult with me.
"No one can have a perfect body," Boom further adds.
"Whatever body you have, I'll tell you what looks good on you. And when you're wearing me (the Boom Sason label), it will empower you—feel sexy.
ADVERTISEMENT - CONTINUE READING BELOW
Boom divulged that she actually has a wide range of clients—even full-figured ones, so trust that plus-sized women will feel comfortable and empowered in Boom's designs. Boom even shared one curvy customer's feedback after a long search: "Boom, I'm so happy because now, I can come to you."
It's because Boom can recommend the swimsuit style that will look great on you.
"I'm a woman. I get it, you know? I get how we want to look good," Boom explains.
For instance, if you're concerned about your puson or small chest, Boom has a set of designs that can flatter your body. "Try the Olivia maillot, kasi we can pad that. And when we pad it, hindi pa siya mukhang obvious," she recommends.
If you're thinking of getting yourself some haute Boom Sason swimwear, here are fast facts you need to know:
1. You don't need to be physically in her studio.
Good news for girls who are busy or who are living far from the metro: You simply need to fill out an order form and key in the necessary details. As for the measurements, there's a guide on how you can get accurate measurements of your body. 
2. It's fast.
After sending out the order form, the sales team will reply via email to confirm your order. It normally takes two weeks for them to produce a custom, made-to-measure piece.
3. You've got a lot of choices.
Boom wanted her clients to have many color options and styles to choose from. If you're confused on which design to get, you can always ask what looks good on you first—she replies right when she can.
4. The pieces are timeless and figure-flattering.
Her swimsuit designs can transend trends, and are made to flatter a body part. Plus, the solid colors make the style a classic piece, and each style has been road-tested by Boom. "I won't put it out unless I know that it can make your stomach suck it in, [your] butt look nice, and really hold your your boobs together," she shares.
5. It's worth the investment.
A two-piece bikini can cost P4,500–6,500 for extra small to medium sizes. They adjust the price as the size succeeds. One-piece swimsuits are P7,500 and up. It may be pricier than what you're used to, but the satisfaction and the confidence you'll get when you wear the perfectly fitting swimsuit is certainly worth it. 
ADVERTISEMENT - CONTINUE READING BELOW
Plus, it's quality craftmanship and material makes each piece last a long time.
"You spend a bit more, but if you think about it, you're happy," Boom concludes.
Load More Stories