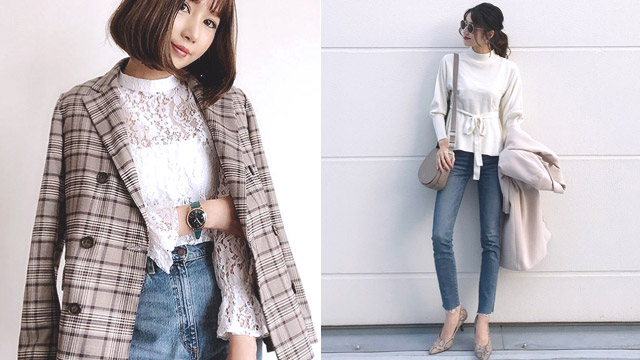 We get the love for pants: they're comfy, durable, and most importantly, have pockets. You can count on your blue jeans to be the ever-reliable staple that never goes out of style. 
While some offices strictly implement a slacks-or-skirts-only policy, some more relaxed institutions are okay with its employees wearing basic blues. You can maximize the versatility of your jeans by pairing it with polished pieces to make it more appropriate for business meetings. Here are some combinations to get you started, which happen to adhere to the strict workplace dress code while serving up some fierce looks.
With a blazer
Remember how Andy looked insta-profesh when she rocked the tweed blazer in The Devil Wears Prada? Even your semi-worn out jeans can look smart cash by throwing over a blazer and some sensible heels. If you're gonna wear more colorful outerwear adorned with patterns, you can balance it out with innerwear that's in a solid color.
ADVERTISEMENT - CONTINUE READING BELOW
TRY: Supima Cotton Ribbed Crew Neck Short Sleeve T, P590, available at Uniqlo; Power Stretch High Waist Jeans With Button-Fly, P999, available at Penshoppe; Women's Habit Pointed Pumps, P1,650, available at Christian Siriano For Payless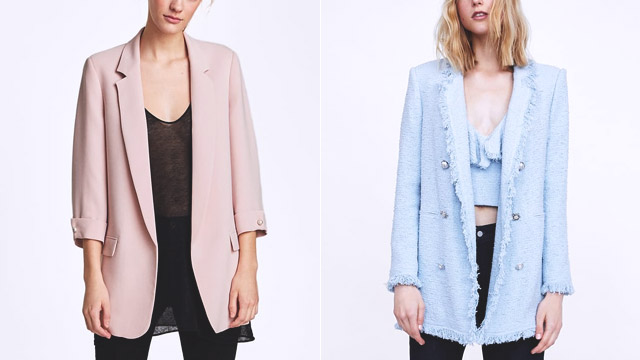 TRY: Long Blazer, P3,295; Tweed Blazer, P5,995; both available at Zara
ADVERTISEMENT - CONTINUE READING BELOW
With a button-down top
If you want to look perfectly polished without giving off the impression that you're trying too hard, nothing beats a classic collared button-down shirt. You could even layer it with a knit vest to add a preppy vibe to your #OOTD. Make sure to tuck it in and secure it with a belt in order to show your colleagues that you definitely mean business.
Since your top already takes on a flowy and breathable shape, you can pair it with skinny jeans that accentuate your gams.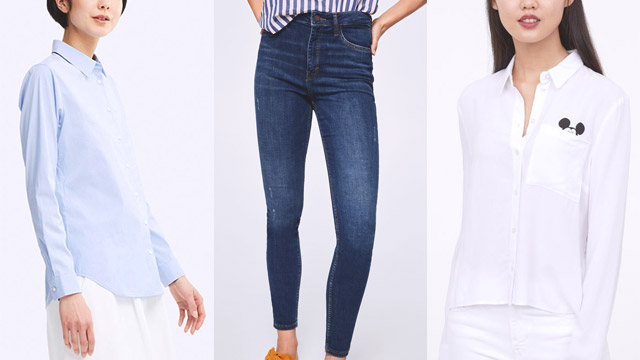 TRY: Supima Cotton Stretch Striped Long Sleeve Shirt, P1490, available at Uniqlo; Soho Skinny Jeans, P1,995, available at Mango; White Viscose Shirt, P1,190 available at H&M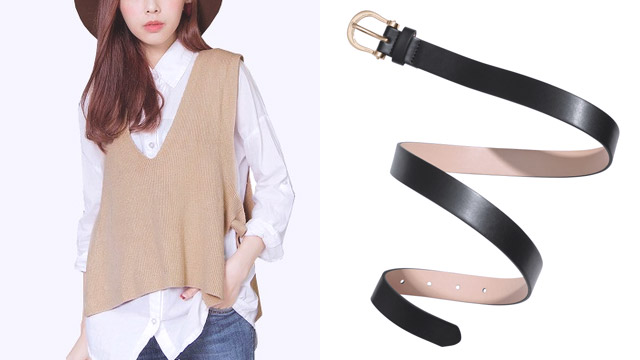 ADVERTISEMENT - CONTINUE READING BELOW
TRY: Tokichoi Tie Knit Vest, P1,159, available at Zalora; Narrow Belt, P299, available at H&M.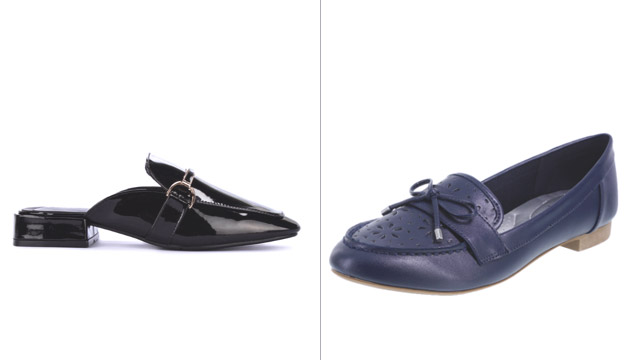 TRY: Chloe Edit Square Buckled Mules, P1519, available at Zalora; Dexflex Georgia Perf Loafer, P870, available at Payless
With a cardigan
You may be stuck in a stuffy office environment but wide-legged pants and knitwear will make you feel right at home. If your pants are going to be free-flowing then it's best to have a fitted top so you don't get lost in all the fabric. (Never let the clothes wear you!)
Don't forget to pair your denims with heels to literally and figuratively elevate your style. After all, you wouldn't want to sweep the floor with your pants.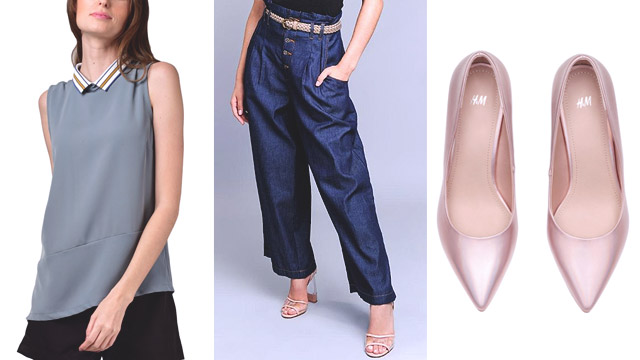 ADVERTISEMENT - CONTINUE READING BELOW
TRY: Cesca S/L, P1,198, available at Plains and Prints; High Waist Loose Denim Pants, P899.75, available at Bench; Powder Pink/Metallic Court Shoes, P1,190, available at H&M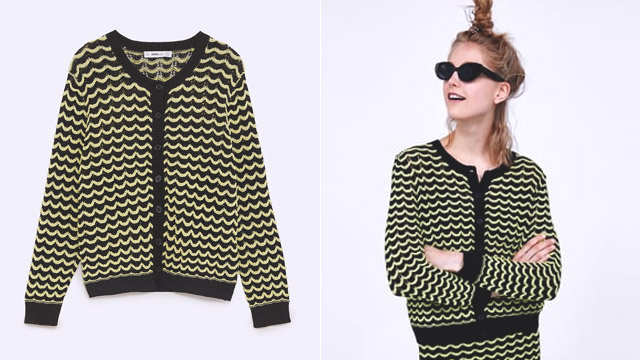 TRY: Waves Cardigan, P1,995, available at Zara 
With dressy tops and long sleeves
Inject some color into your wardrobe with fun prints or put on a top with a unique cut. You're taking power dressing one step further by showcasing some visually arresting combinations. You are a walking piece of art who will slay the monthly presentation.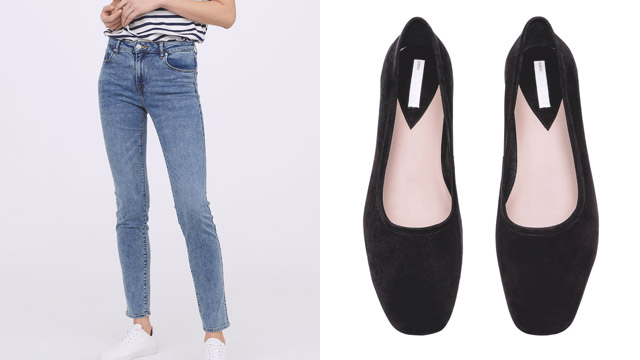 ADVERTISEMENT - CONTINUE READING BELOW
TRY: Trousers Skinny Fit, P1,190; Ballet Pumps With A Heel, P2,690, both available at H&M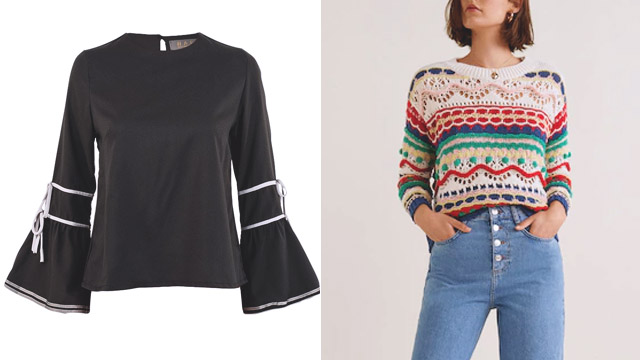 TRY: RAF Ashlar, P1,598, available at Plains and Prints; Textured Multicolor Sweater, P2,695, available at Mango 
With outwear or coat
Sure, it can be highly impractical to sashay through the sweltering Manila heat in outerwear but it certainly works wonders against the ridiculously chilly blast of the office air-conditioning. (It's either as hot as an oven or you're inside a freezer—there's no in between) Make sure to store it safely inside a separate tote bag when you're battling the elements outdoors.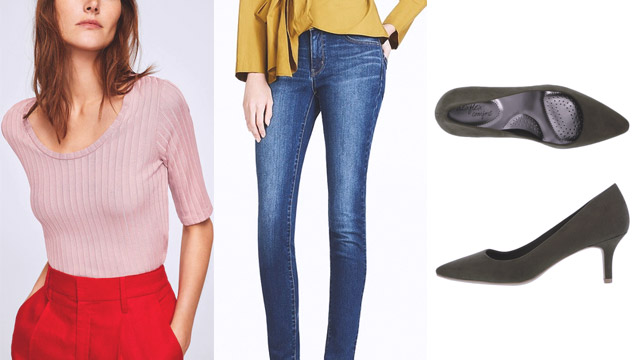 ADVERTISEMENT - CONTINUE READING BELOW
TRY: Open Knit Top, P1,495, available at Mango; Ultra Stretch Jeans, P1990, available at Uniqlo; Jenny Snip Toe Pump, P750, available at Payless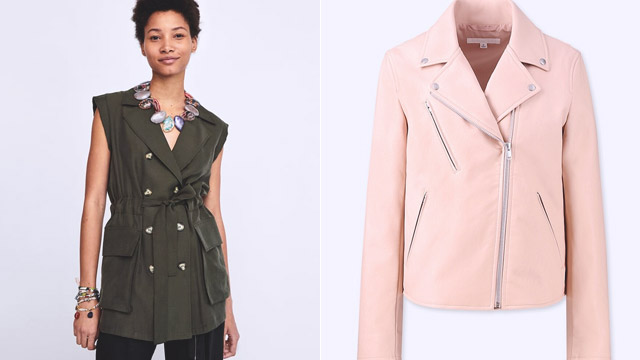 TRY: Belted Waistcoat With Pockets, P4,295, available at Zara; Pink Synthetic Leather Riders Jacket, P1,490, available at Uniqlo
Comments
Load More Stories