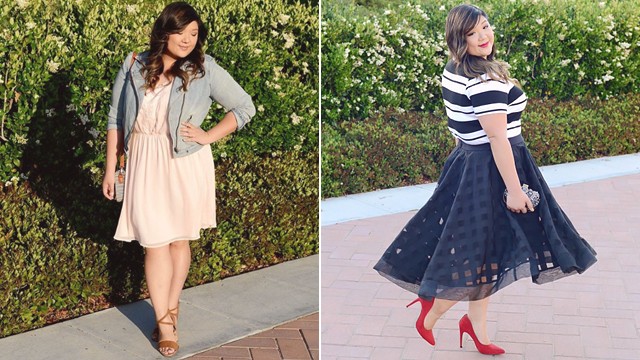 While having a great eye for fashion is important to keep your style game strong, being fashionable is only half the battle because knowing how to dress for your body type is just as important, maybe even more so. We love a woman with killer curves. But while being a curvy gal is awesome, it's no secret the dressing a curvy body can be tricky, and sometimes challenging, too. Because a regular girl doesn't usually have a personal stylist on call to help her dress her curves up, we're sharing with you the basic fashion dos and don'ts for the curvy gal the Beyoncé in you needs to know.

Stock up on V-neck pieces
A V-neck cut doesn't only flaunt your always flattering collarbones, and create an illusion of toner arms. It's plunging cut also creates the illusion of an elongated body, which makes you look taller and leaner in a snap! Throw in a few layered pendants into the mix for a chic LOTD.

Refrain from wearing pieces with embellished designs around the hip area
While we think that rocking an embellished top or bottoms is fun, pieces with embellished designs around the hip area can look bulky, and not flattering for the curvy girl. Opt for bottoms that are sleek and clean for an OOTD that's flattering, and can lengthen your legs, too!

Slip on crop tops
Whoever said that a curvy girl cannot rock a trendy crop top is wrong because guess what? You totally can! Tops that hit just above your hips are fashionable, and emphasizes your killer curves, too.

Avoid baggy bottoms
If you're not a hundred percent confident with your curves yet, don't make the huge mistake of hiding behind a pair of baggy bottoms. This will only give you an unnecessarily bulkier appearance, and one hundred percent not flattering either.

Fall in love with skinny jeans
Own a pair of skinnies, or make that two pairs. Skinny jeans may not be the first type of jeans that pops into a curvy girl's mind when she's jeans shopping, but bottoms that hugs the hips well will emphasize the curves perfectly. Plus, a pair of skinnies is versatile, and always fashionable.

Pack on the confidence
At the end of the day, it's important to always remember that you should be able to wear whatever you want. And when you do, confidence is way more important than any styling tips and tricks you know. So pack on the confidence, and paint the town red with your OOTD!

This story originally appeared on Candymag.com.
* Minor edits have been made by the Femalenetwork.com editors.
ADVERTISEMENT - CONTINUE READING BELOW
Comments
Load More Stories