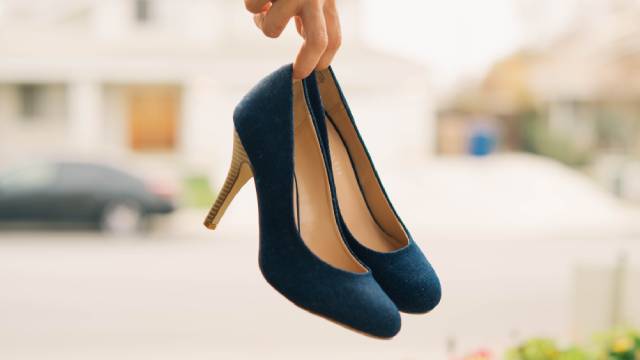 Blisters are literally a pain, that much is true. But being the stubborn individuals that we are, we let them develop anyway—gorgeous but ill-fitting shoes, we're looking at you.
We're signaling the end of blisters once and for all, however, with this piece of advice from an expert. Podiatrist Dr. Jackie Sutera tells MarieClaire.com that it's all about prevention. She explains:
ADVERTISEMENT - CONTINUE READING BELOW
"The best advice I can give is to wear new shoes at home for short periods of time before wearing them all day. This gives you a chance to notice any sensitive spots and also allows the shoe to 'give' a little bit. I do not encourage people to 'break in' shoes. They should fit well at the store, and if they don't, don't buy them! But new shoes are always a bit stiff/tight, so wearing them a little while at a time definitely helps. If you do have sensitive spots, pad them with moleskin, or bandaids."
That means your chances of showing up at a formal dinner in a pair of shoes you purchased the night before and surviving it with your feet unscathed is pretty much zero. But if you go ahead and do that anyway and have the blisters to show for it, leave them alone. As tempting as it may seem, cutting or pulling the skin will do more harm than good and can lead to nastier infections. In the meantime, you might want to stick to more comfortable shoes, or try these other tips on how you can lessen the pain when slipping in your next new pair:
Always keep your feet moisturized
Miami-based dermatologist Alicia Barba M.D. shares with Vogue that moisturizing your feet can actually make them tougher compared to just leaving them dry and makalyo. Besides, it's much more painful to have cracked heels, right?
Spritz on anti-perspirant
"Any foot sweat increases how much your feet rub and catch against your shoes," says dermatologist Rebecca Kazin, M.D. on Women's Health. Plus if you do get torn blisters, sweat can make it more mahapdi, and the dampness can even trigger infections, or worse, fungi. Just be careful to avoid any wounds when applying anti-perspirant; dry them up first before covering them with an adhesive bandage.
Wear foot socks
Invest in well-made foot socks with gel adhesive so that they won't go slipping up to your toes (because that can be annoying and uncomfortable). Trust us--the extra padding will help.
With additional reporting by Charlene J. Owen
ADVERTISEMENT - CONTINUE READING BELOW
This story originally appeared on Cosmo.ph.
*Minor edits have been made by FemaleNetwork.com editors.
Load More Stories