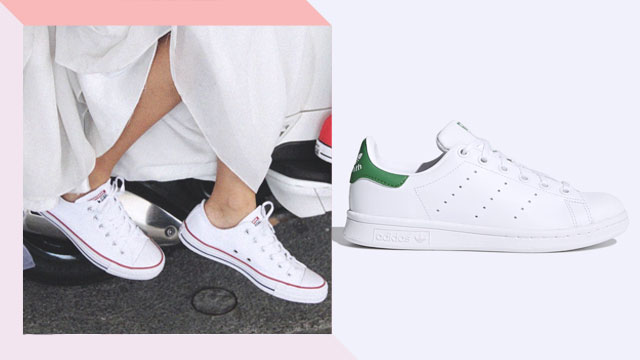 By now, you probably own at least a pair of white sneakers or two. And if you do, you probably use them often thanks to their versatility—you can wear them with an LBD, your fave white-shirt-and-jeans combo, and maybe even to weddings! But if you're looking to beef up your sneaker collection, you'll want to go back to the basics: those classic sneaker styles from decades ago that made white sneakers trend in the first place.
We round up 10 classic white sneakers that have stood the test of time.
1. Stan Smith
P5,300, Adidas

With how ubiquitous the Adidas Stan Smith is these days, you'd be surprised to know that the Three Stripes actually pulled it out back in 2012 after being in the market for nearly 60 years. In 2014, Adidas reintroduced the classic pair with an aggressive social media campaign leading it to appear on magazine covers and runway shows, and the sneaker has made a huge comeback since. It must be thanks to its no-nonsense style, featuring a predominantly white color and its famous perforated three stripes along the sides of the tennis shoe.
ADVERTISEMENT - CONTINUE READING BELOW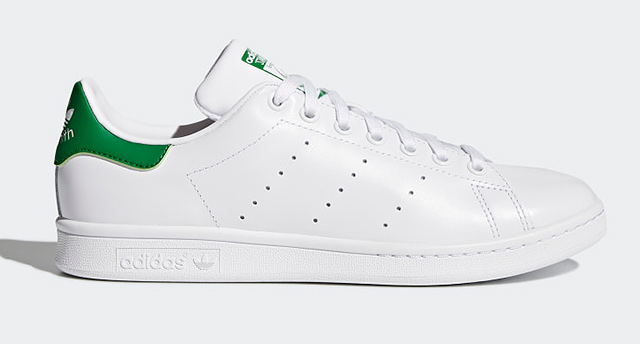 Available online.
2. Air Force 1
P4,795, Nike
Originally introduced as a high-top sneaker for the court in 1982, the Nike Air Force 1 was given a makeover a year later, appearing in a low-cut silhouette-the one we're more familiar with now—which became a more popular choice for shoppers. Its triple white colorway makes it a no-brainer choice because it goes with just about anything you wear!
Available online.
3. Jack Purcell
P3,549, Zalora
Released way back in 1935, the Jack Purcell is a classic pair made popular by its signature "smile." In 2015, Converse came out with a modern take on the timeless pair, making it more functional and comfortable without losing its classic style. The sneaker features a two-ply duck canvas, a streamlined toecap, and of course, the distinctive "smile."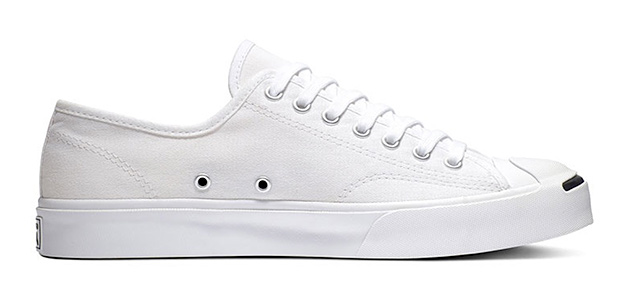 Available online.
4. Mexico 66
P6,990, Lazada
Fun fact: In 1966, Kihachiro Onitsuka, the brand's pioneer, created the popular Mexico 66 specially for the Japanese Olympics team for the 1968 Summer Olympics held in Mexico. You might also know that Uma Thurman wore the yellow version of this pair in Quentin Tarantino's  Kill Bill. This sneaker style is Onitsuka Tiger's first pair to feature the signature Tiger stripes—and this white, red, and blue combo is the perfect pair for your preppy yet sporty looks.
ADVERTISEMENT - CONTINUE READING BELOW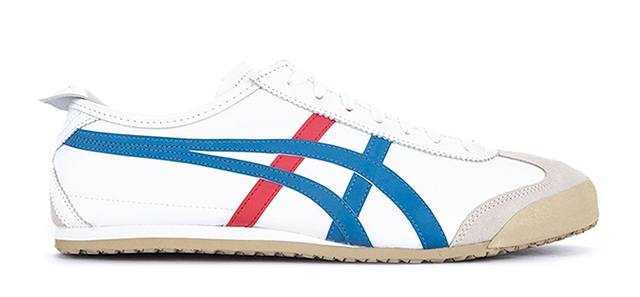 Available online.
5. 2750 Cotu Classic
Believe it or not, Superga is over a hundred years old. It was in Turin, Italy where founder Walter Martiny first produced the classic 2750 Cotu Classic sneakers, and the fact that people (Duchess of Cambridge Kate Middleton included) still wear the sneaker style to this day says a lot about the pair's timelessness. Its crisp white color and no-nonsense silhouette make it one of the most versatile pairs you can wear.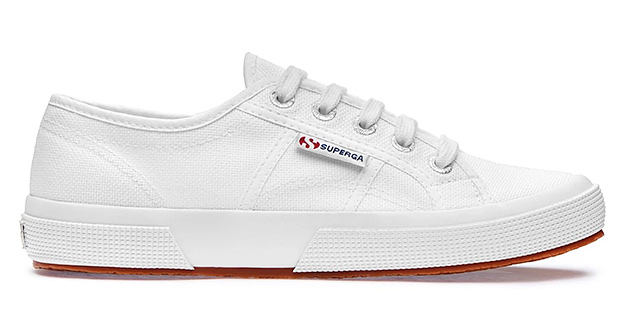 Available on Zalora and Lazada.

6. Heritage Classic Basket Sneakers
P4,800, Lazada
Puma's Heritage Classic Basket sneakers are the leather version of the sneaker brand's popular Clyde silhouette (which features suede uppers), but because of its clean design and versatile look, it made its way to the sneaker Hall of Fame as well. The sneaker features leather uppers, broad shoelaces with flat lacing, and an abrasion-resistant outsole made of rubber.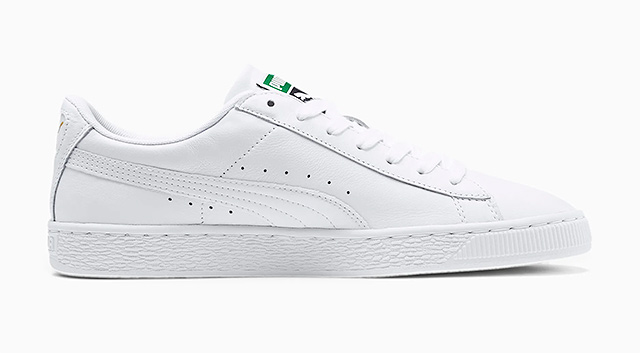 Available online. 
7. Nylite
P4,790, Lazada
Can you believe that Tretorn has been around since 1891? But it wasn't until 1967 that they launched the very first luxury tennis sneaker in the world, the Nylite. Tennis stars Bjorn Borg and Martina Navratilova were constantly seen in the classic kicks until the sneakers reached celebrity status in the '70s. The sneakers are known for its predominantly white color and navy blue gullwing. They were updated in recent years to provide a more comfortable fit—as well as more color options for the gullwing. 
ADVERTISEMENT - CONTINUE READING BELOW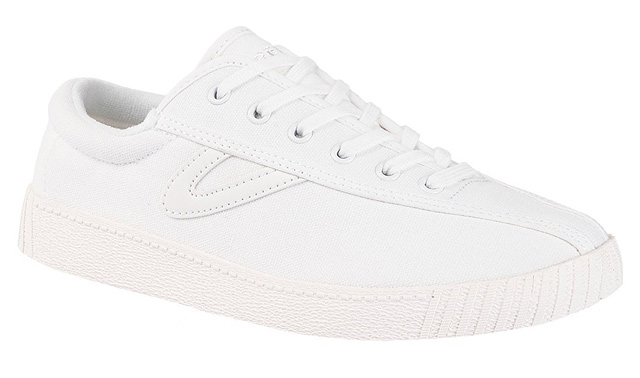 Available online.
8. Superstar
P5,300, Adidas
Adidas first came out with the Superstar in 1969, which means the silhouette has been around for over 50 years now. Originally designed for basketball players, the Adidas Superstar dominated the court in the mid-'70s, with the likes of Kareem Abdul-Jabbar, George Gervin, George Irvine, and Bob Verga seen wearing the kicks during games. The Superstars also played a huge role in hip-hop culture in the '80s, when hip-hop personalities wore the pair. Today, its classic shell-toe cap and distinctive three stripes are still being worn with casual outfits and athleisure looks.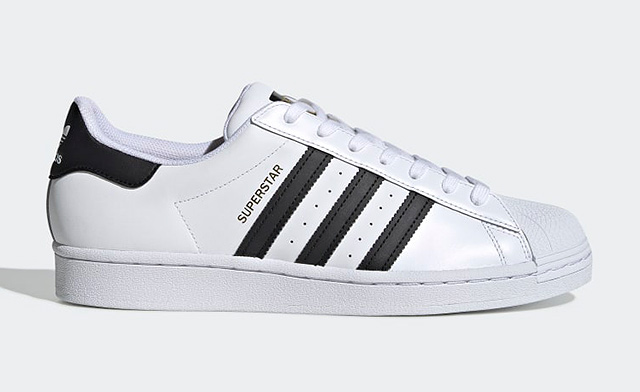 Available online.
9. Classic Cortez
P4,195, Nike
You might remember this pair from the 1994 movie Forrest Gump—specifically the scene where Jenny gives Forrest a pair of Cortez sneakers as a gift. Originally released in 1972, the famous running pair has since become available in a wide variety of styles and colors, but you'll find that there will always be a demand for the classic white, red, and blue colorway no matter what year it is—a testament to the sneaker's timeless look.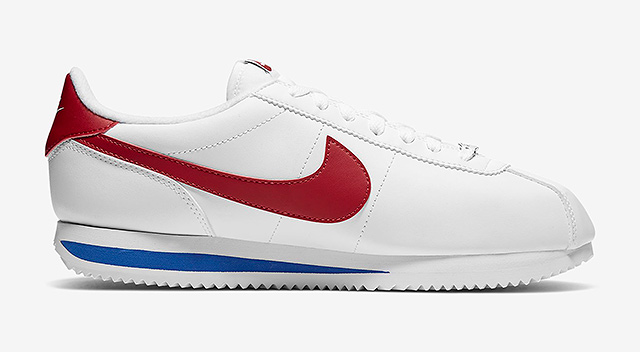 Available online.
10. Chuck Taylor All Star
P3,799, Zalora
The Chuck Taylor All Stars were first introduced in 1922 and became a widely popular basketball sneaker in the '30s and '40s. It wasn't exclusively for the court, though. The U.S. Armed Forces also chose the pair to be their training shoes throughout World War II. The pair became even more popular since—nearly every high school and collegiate basketball player wore the Chuck Taylors. These white low-top Chucks feature predominantly white uppers, the Converse All Star branding on the tongue, and the brand's trademark diamond-patterned outsole. If you were a punk rock kid growing up in the '90s or early 2000s, you probably owned overworn Chucks that you kept looking dirty because they're cooler that way—and yes, they still are, even to this day.
ADVERTISEMENT - CONTINUE READING BELOW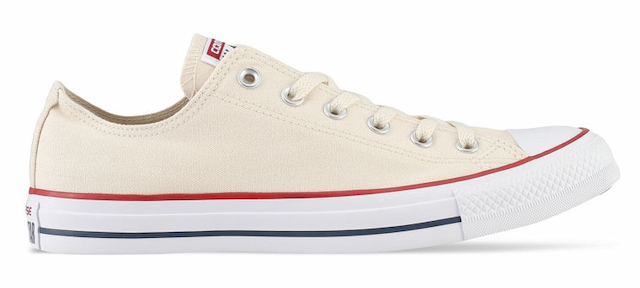 Available online.
Load More Stories