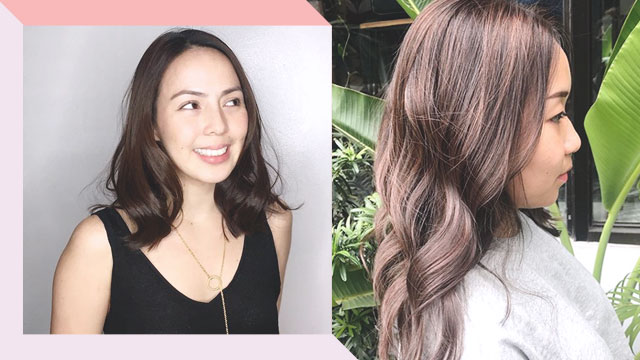 Apart from maintaining a proper skincare routine or a healthy lifestyle, playing up your hairstyle is another secret to looking your best in your 30s, 40s. Here, hairstylists Jing Monis of Jing Monis Salon, Jof Fantone of The Color Bar, and Anton Toa of Hair Works share some of the hairstyles you can try if you want to easily freshen up your look: 
ADVERTISEMENT - CONTINUE READING BELOW
1. Find a brown hair color that flatters your skin tone. 
This warm hair color remains to be popular among Pinays—there are certain shades, however, that can make or break your look. Brassy, orangey tones, for example, "can make [your hair] look dull and damaged—the typical signs of aging hair," Prevention reports. 
CONTINUE READING BELOW
Recommended Videos
"The brown color that [best] complements your skin tone will naturally give you that youthful glow," explains Jof Fantone. According to the hair expert, ladies with a cool complexion can try dark chocolate, chestnut, mocha, and dark auburn. Meanwhile, Pinays with a warmer tone will glow with a caramel, honey, golden brown, or mahogany (purple) hair color. 
ADVERTISEMENT - CONTINUE READING BELOW
ADVERTISEMENT - CONTINUE READING BELOW
2. Try getting balayage highlights. 
Highlights "help brighten one's face and add style to a haircut," explains Anton Toa. Some highlights, though, can come off as too chunky, which can sometimes make fine, thinning hair appear even thinner. 
Jing Monis highly recommends women to try balayage highlights. It's a highlighting technique wherein a colorist will freehandedly paint the dye to your hair, without using any foils. This allows the colorist to pick the best placements that will flatter your features. "Before, like a long time ago, we used to only use ombré and foil types of highlights. Now, most of the clients that I have, from teenagers to working women, likes balayage," shares the hair expert. 
ADVERTISEMENT - CONTINUE READING BELOW
ADVERTISEMENT - CONTINUE READING BELOW
4. If you plan to maintain a black hair color, go for layers that will nicely frame your face... 
Anton explains: "If you want to keep your dark hair color, have it layered to add style [and dimension] to your hair." It can soften your features, too! 
5.
 ...but if you're not a fan of a layered cut, a straight, one-length type of haircut is refreshing, too. 
According to Jing, "if your hair color is black, I would suggest getting a one-length type of haircut. This will remove the extra weight of your dark hair and bring freshness to it. Remember that your haircut and hair color should still complement your skin color and face shape." That said, it's always good to have a little chat with your hairstylist before getting a chop! 
ADVERTISEMENT - CONTINUE READING BELOW
ADVERTISEMENT - CONTINUE READING BELOW
6. When in doubt, get bangs—it's the classic hairstyling secret to looking youthful. 
If you're not willing to commit to a full fringe, "adding curtain bangs will also do the trick in softening one's features," shares Jof. 
Comments
Load More Stories