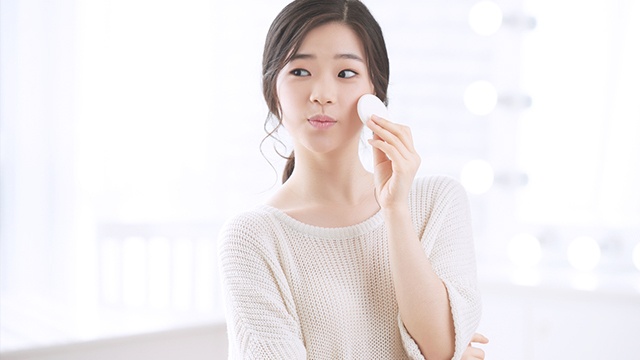 The appearance of pores on your face is a totally natural phenomenon. Everyone has them (yes, even your favorite Korean stars). However, some of us have more noticeable pores and that can be daunting. Your pore size is genetically determined, so you're either born with tiny pores or more prominent ones. The hard truth is that you can't physically change the shape of your pores without dermatological treatments. BUT, you can definitely make them look smaller on the surface.
ADVERTISEMENT - CONTINUE READING BELOW
It starts with skincare
Pores are very sensitive, so it's important to keep them in mind and give them that extra TLC when executing your daily skincare routine. Start off by keeping your face clean. Use a gentle cleanser twice daily and exfoliate once a week to remove any extra dirt and grease.
Each pore is a sebaceous gland that produces oil or sebum, your skin's natural moisturizer. This explains why your pores are more visible in the oily parts of your face. The trouble comes when you have excess oil, dirt and dead skin cells. These get trapped in your pores and cause them to expand. Yikes! So, the next time you feel lazy about washing your face, you might want to find that motivation for your pores' sake.
Know your products
Whatever your pore size (or skin type) make sure you're using the right moisturizer. Look for ingredients that amp up the hydration of your skin such as hyaluronic acid, and those that can help build collagen such as peptides. Keeping your face well hydrated helps in plumping up the skin and in minimizing the production of excess oils. Dr. Debra Jailman, dermatologist and author of Skin Rules also suggests using products with retinol. Retinol is a derivative of vitamin A. It increases cell turnover so they unclog the pores, making them appear smaller.
CONTINUE READING BELOW
Recommended Videos
And you must not ever forget, slather on that SPF! More than just delaying the effects of aging, good sun protection also helps protect your pores from getting bigger. Sun damage causes the skin to sag, thereby stretching your pores and making them expand and become more visible.
Prep your skin and tools before applying makeup
It's important that your face, hands and tools are all clean when applying makeup. It may not be visible to the naked eye, but dirt can also come from your makeup brushes or your fingers and get stuck in your pores.
You may also try using a pore minimizing primer to prep your skin like Benefit's Porefessional Face Primer to blur out your pores before applying your foundation. This provides an instant fix that mattifies your skin and visually fills in your pores. 
Pay your dermatologist a visit
Sometimes, we need the extra hands to help remove the stubborn dirt from our pores. Monthly manual extractions by your favorite derma will help deep clean your pores and keep them from being more noticeable. 
ADVERTISEMENT - CONTINUE READING BELOW
If the idea of getting pricked is not your cup of tea, you can opt for a chemical peel or a laser treatment instead. Chemical peels help minimize your pores by removing the dead skin cells that clog them. Laser treatments on the other hand penetrate your skin on a deeper level, stimulating collagen production which plumps up the skin and also reduces the appearance of pores.
Load More Stories