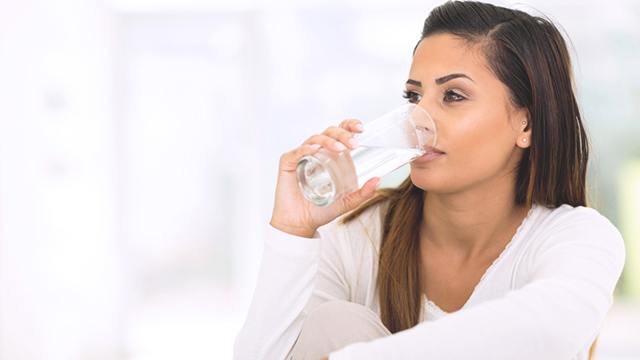 There are two kinds of doctors. One scribbles prescriptions and may say little else. The other spends a good chunk of time talking about healthy alternatives because he does not wish you to rely on drugs alone. Dr. Howard Murad is the second kind, a dermatologist who gives equal importance to both face creams and lifestyle choices.
ADVERTISEMENT - CONTINUE READING BELOW
Murad has created a world-famous skincare line, researched water retention in cells, and promoted overall health in the book Conquering Cultural Stress. After years of clinical trials and case studies, he has also debunked conventional beauty advice and promoted his own findings.
Lesson 1: Eight glasses of water a day for hydrated skin is a "sham."
CONTINUE READING BELOW
Recommended Videos
In his book, Murad cites a study by the National Research Council that recommends 2.5 liters of water a day. This information became oft-cited in media and espoused by physicians. But the second clause was left out: Most of this amount can be found in food items, such as fruits and vegetables. For Murad, it is better to "eat your water" than rely purely on a jug of water for those 2.5 liters. The water in fruits and vegetables has nutrients, and stays longer in the cells.
Lesson 2: Sitting all day is bad for the health.

Think that only smokers are doing all-day damage to their bodies? Spending most of your day sitting may come close. Circulation is slower when you are seated. This means that "feel-good brain chemicals aren't pumping as fast." To aid circulation, dedicate work breaks for walking.
Lesson 3: Some fruits and vegetables are better bought organic.
ADVERTISEMENT - CONTINUE READING BELOW
Pesticide content is high when these fruits and vegetables are not grown organically: apples, celery, cherries, grapes, lettuce, nectarines, peaches, pears, peppers, potatoes, spinach, and strawberries.
Lesson 4: Good health and skin depends on how much water your cells can retain.
Amino acids, glucosamines, essential fatty acids, lechitin, and antioxidants make the cell lining strong and prevent water from seeping out. Remember these five ingredients when starting a new, healthy diet or consulting with a nutritionist.
Lesson 5: Four days of cellphone use is equivalent to 20 minutes of exposure to the sun.
Even the digital life can have unpleasant effects on the skin. Murad recommends having one unplugged day a week. Think of it as an invigorating treat for your mind, too.
Lesson 6: Having said all this, Murad still recommends sticking to a four-step topical routine.
The conventional advice still stands: Cleanse, tone, treat, and moisturize every morning and night.
ADVERTISEMENT - CONTINUE READING BELOW
Make sure that your skin is "soft and pliable a half hour after you wash your face." If your cleanser leaves your skin dry, change it. A toner returns your skin to a pH level that helps repel bacteria, so don't skip this step. Apply repair products such as retinoids and antioxidant creams before the moisturizer. In the morning, wear a moisturizer with SPF even if you are acne-prone. Those with oily skin may need more intervention.
ADVERTISEMENT - CONTINUE READING BELOW
Use Murad's MattEffect Blotting Perfector, available at Rustan's The Beauty Source, to set your liquid foundation after moisturizing. It can also absorb midday oil without erasing your makeup. 
This story originally appeared on Townandcountry.ph.
* Minor edits have been made by the Femalenetwork.com editors.
Load More Stories