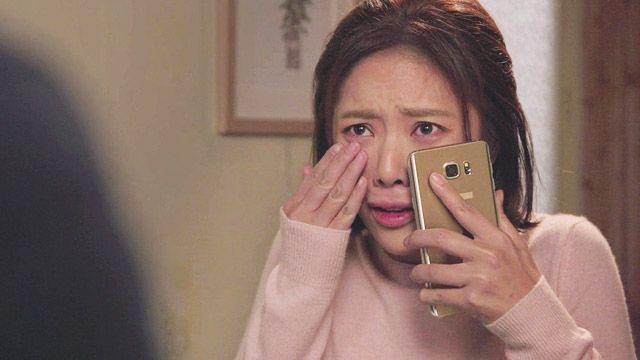 My mom is the ultimate beauty woman. In her younger years, she used to work at the now-defunct Mary Quant Cosmetics, and when I was old enough she taught me contouring long before Kim K made it famous. But of all the tips and tricks that she passed on to me, it was the basics of skincare that stuck with me the most. Granted that I ignored her advice before (whoops), I value everything now especially since my skin has totally changed once I turned 30.
ADVERTISEMENT - CONTINUE READING BELOW
See, I just woke up one day realizing that it has shifted from normal to combination. I went really dry on my cheeks and around my mouth and oily on my forehead and nose. It was very, very annoying and painful especially when the dry skin would flake. So aside from promising myself to be really disciplined about my morning and evening facial routines, I also made it a point to look for products that would get my cheeks, chin, and lips really moisturized and my T-zone settled.
CONTINUE READING BELOW
Recommended Videos
Below is a list of product combos that I've tried (and still use) for my combination skin. Of course, before you get any of these, do remember to first know what your skin wants and needs; what may work for one woman won't necessarily work for another. The point is to know what's out there, choose what works, and stick with it.
ADVERTISEMENT - CONTINUE READING BELOW
For double cleansing
Double cleansing is such a huge boon for women with combination skin. If you think the oil cleanse would make your T-zone oiler, then you're in for a great surprise since it actually takes away the excess oil while keeping your skin hydrated. Double cleansing is all about gently removing makeup, dust, and grime without drying out your skin by over-cleansing (yes, there is such a thing), so it's something that's really worth the effort every night.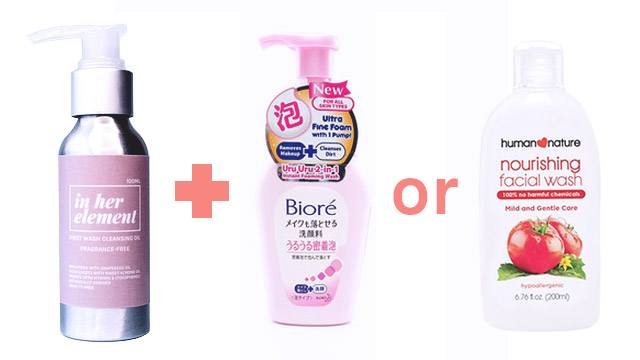 ADVERTISEMENT - CONTINUE READING BELOW
TRY: In Her Element First Wash Cleansing Oil, P450 at InHerElement.ph; Bioré Uru Uru 2 in 1 Foam Cleanser, P299 at BeautyMNL,  Human Nature Nourishing Facial Wash, P79.75 at HumanHeartNature.com
For prepping and balancing your skin
Your toner balances the pH levels of your skin, plus it also helps up the moisture without making it oily. In fact, a new K-beauty trend called the "7 Skin Method" is all about putting toner—or any watery essence—on your skin seven times for ultimate hydration.
At the very least, you must apply it once because it really goes a long way in keeping everything balanced.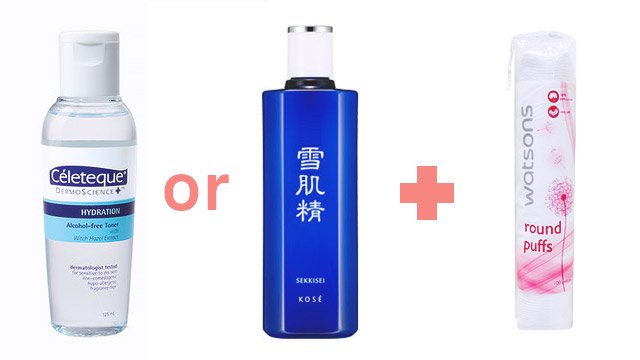 ADVERTISEMENT - CONTINUE READING BELOW
TRY: Celeteque Hydration Alcohol-Free Toner, P129 at BeautyMNL and beauty counters; KOSÉ Sekkisei Lotion, P1,845 at HappyBeauty.com.ph; cotton pads available at Watsons
For deep skin nourishment
I used to say that I don't really need serums because I thought they were redundant if you've already got moisturizers. But with parts of my face drying out so fast and with wrinkles forming on my forehead overnight, serums are now a must.
Serums are chock-full of vitamins and antioxidants that perk up your skin. Dabbing them on your skin both day and night helps with repair and can lessen the appearance of fine lines.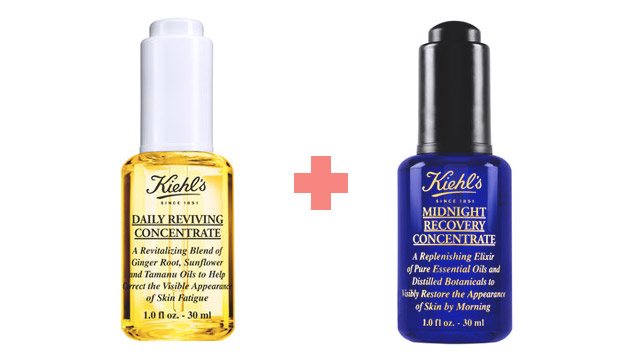 ADVERTISEMENT - CONTINUE READING BELOW
TRY: Kiehl's Day Reviving Concentrate, P2,895/30ml; Kiehl's Midnight Recovery Concentrate, P2,895/30ml, available at Kiehl's Greenbelt 5.
For moisturizing before going to bed
Night creams should never be skipped no matter how tired you are. They work as you sleep so that you'll wake up with soft and supple skin. Depending on what you need, you can go from very light hydrating creams to heavy ones. Personally, I prefer ones that are thick since they really keep my face moisturized the whole night.
Eye creams, on the other hand, are technically lighter because the skin around your eyes is thinner and more sensitive than the rest of your face. Lessen those dark circles by applying the product daily. Dab, don't tug!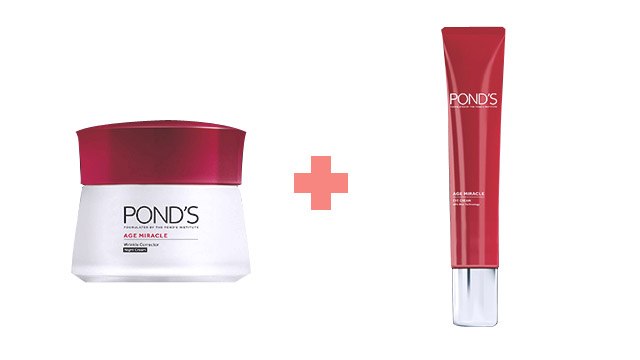 ADVERTISEMENT - CONTINUE READING BELOW
TRY: Pond's Age Miracle Wrinkle Corrector Night Cream, P725; Pond's Age Miracle Eye Cream, available at beauty counters
For moisturizing in the morning
Moisturizing and wearing sunscreen before you leave the house protects your skin from drying out and keeps it from aging faster. You can opt to use two different products, but there are many moisturizers that also double as sunscreens. Don't forget to wear lip balm to keep your lips from chapping!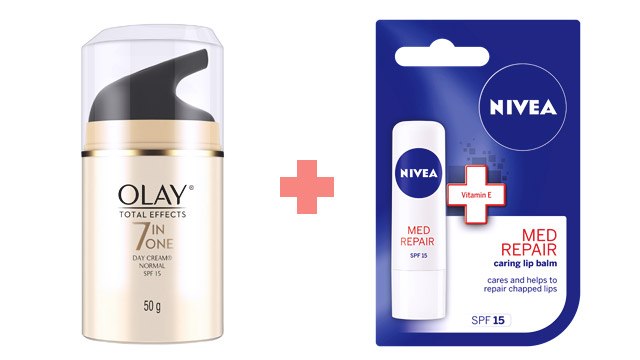 ADVERTISEMENT - CONTINUE READING BELOW
TRY: Olay Total Effects Day Moisturizer SPF 15, P799 at Lazada and at beauty counters; Nivea Med Repair Caring Lip Balm SPF 15, available at department stores and beauty counters
Comments
Load More Stories