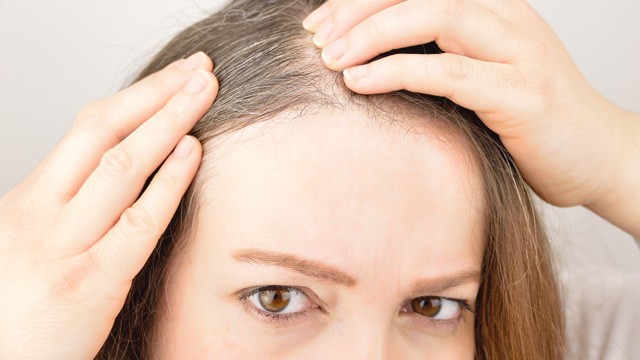 While some women have fun with getting their hair dyed gray and silver, there are many of us who still want to hold on to our dark tresses a bit longer before aging lightens them. How fast your hair grows gray really depends on your body chemistry, but there are those that experience salt-and-pepper earlier than others—sometimes in their late twenties, or even in their teens.
ADVERTISEMENT - CONTINUE READING BELOW
According to Kaiser Permanente dermatologist Jeffrey Benabio on WebMD, "hair goes gray when color-producing cells stop producing pigment. It isn't really a medical issue in some cases, but it could be a bit disheartening and even scary if you weren't expecting it to happen so soon. If you're getting more gray strands than you used to before, then any one of these could be the what's behind it: 
CONTINUE READING BELOW
Recommended Videos
Genes and ethnicity
According to a feature on Good Housekeeping, African-Americans take the longest to get grays. Asians follow suit. Caucasians get salt-and-pepper the earliest. Scientists still haven't pinpointed why this is so, but at least you know that you're probably not the youngest person to get gray hair.
Stress
Stress can cause hair fall, but while there's not clear connection between graying hair and stress, it's possible that "those who have a predisposition to gray hair" can prematurely have them when they're constantly under pressure.
ADVERTISEMENT - CONTINUE READING BELOW
Natural bleaching
Your body naturally produces hydrogen peroxide, which, if you're familiar with hair bleaching, is one ingredient that lightens your hair. When hydrogen peroxide builds up in your hair follicles as you age, melanin, which gives the dark tinge to your strands, isn't able to do its work. This makes your hair turn gray faster.
Vitamin B-12 deficiency
Pernicious anemia is when your body has low red blood cell count as you aren't absorbing enough vitamin B-12. Livestrong notes that symptoms include graying hair, as well as pale skin and lack of energy.
Thyroid dysfunctions
Certain thyroid dysfunctions can prematurely cause gray hair, and at worst, hair fall. Graves' disease, which is an "immune system disorder that results in the over production of thyroid hormones (hyperthyroidism)," can trigger premature hair aging issues. If this is the case, best see your doctor and ask if the condition can be reversed with proper medication.
ADVERTISEMENT - CONTINUE READING BELOW
Comments
Load More Stories