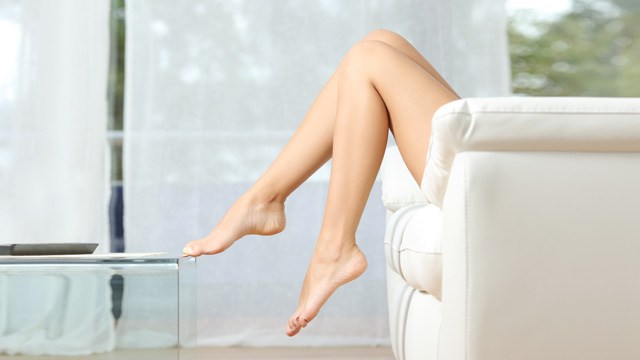 Waxing should be an endurance sport, at least that's what I think as no amount of waxing has made my tolerance level any better. Thank the gods there are several ways to make it hurt less. Read on to find out how.
Scrub
Exfoliating your skin before a waxing session does wonders. It loosens the layer of dead skin that surrounds hair follicles, which reduces the appearance of bumps and those dreaded ingrown hairs. All in all, gentle exfoliating prior to waxing makes the process much faster and therefore less painful since it allows for a better grasp on those shorter hairs. No take two needed!
Seeing red
Skip the waxing appointment if you're surfing the crimson tide (aka your period is in town, which can be awkward and gross for the aesthetician and yourself) or at least reschedule once it leaves. Studies have shown us that women have a higher pain threshold a couple of days after having their period. This isn't entirely foolproof since sensitivity levels vary, so some bit of experimentation may be in order.
ADVERTISEMENT - CONTINUE READING BELOW
Go for the pros
Don't be cheap. Seek the assistance of a professional especially if it's your first time. From experience, waxing yourself especially in sensitive areas is hella hard. I once attempted to give myself a Brazilian and I failed miserably. No matter how cheap waxing DIY kits are, it's really the expert service you are paying for. Unless you're some sadist who wants to play "he loves me, he loves me not" with your leg hairs, then go ahead and grab that do-it-yourself kit.
Length is key
According to my aesthetician, a good rule of thumb is to at least have a quarter-inch of hair before calling in for an appointment since anything shorter will not budge. Plus, any good waxer knows that too long hair shouldn't be waxed without being trimmed first. If it's too long, you just run the risk of breaking the hair without pulling it out. Remember that you want to avoid a take two. Not only because it hurts, but because getting it all in one go reduces damage to your skin.
Say goodbye to shaving
Waxing = commitment. The minute you decide to jump into waxing you need to let go of your razor. Shaving tends to make hair grow thicker. The more you keep up the waxing schedule the less dense your hair will grow back. Normally by the fourth visit all your the hair you've been waxing is now growing on the same cycle resulting to an even smoother finish.
Breathe
Your aesthetician will tell you to take deep breaths while she applies wax, then exhale while she strips the hair off. This technique can make each yank more bearable.
Kill the pain
Half an hour before your scheduled depilation, waxing salons recommend to pop an over-the-counter pain reliever. Whatever suits your fancy, ibuprofen, aspirin, or an Advil. The medication minimizes the pain you feel when those hairs are pulled off.
Load More Stories